You came this way:
Home
>
Tag: James Ferraro
Related Articles
dvd on 07/30/2012 at 05:00PM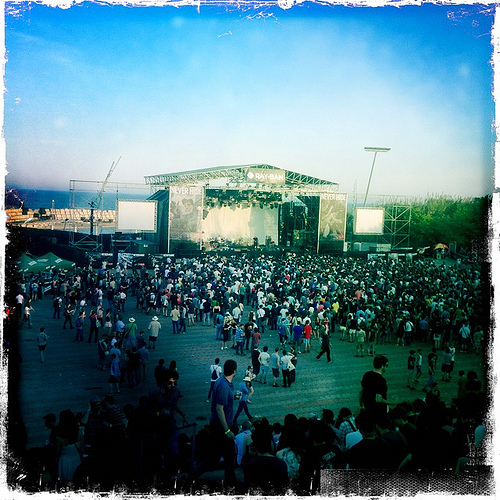 And we're back with more live music from this Summer's Primavera Sound Festival in Barcelona. We've got six artists on deck for the second batch, including:
Sharon Van Etten :: Afrocubism :: Dirty Three :: The Field :: The Pop Group :: James Ferraro
Brooklyn's Sharon Van Etten is on quite the up and up with her soulful blend of folk and pop - we've got her full set from Primavera for your listening pleasure, and don't miss her performance at the WFMU studios this past February. Afrocubism packs an impressive amount of international talent onto one stage, featuring Eliades Ochoa of Buena Vista Social Club and master Kora player Toumani Diabate backed by the finest musicians Mali and Cuba have to offer. Australian instrumental rockers Dirty Three have graciously allowed us to post their full set, including the hillariously foul banter between songs that we couldn't play on the radio. The Field's Axel Willner has been a mainstay of the Kompakt roster since 2004 and we've got the last two numbers from his mind-expanding set this Summer. The Pop Group are still going strong after transforming post-punk in the late '70s, represented here by five selections from their genre-bending set. This batch finishes strong with a sunny performance from experimental man of mystery James Ferraro. 
If you missed the first batch of Primavera 2012 uploads you can find the write up here, and the whole collection here.
Via Primavera Sound » Visit Blog
» 1 COMMENTS
andrewcsmith on 08/27/2010 at 02:21PM
James Ferraro stitches together homemade samples, gleaned from synths or his own recordings (with the occasional snippet of Beavis & Butthead) turns them into atmospheric and periodic beds of surrealistic sound, and releases them on CD-R, cassette, or sometimes VHS. When he works with Spencer Clark (as The Skaters), they play into any recording device available, and the unreglated stream-of-consciousness jams that result tend to exist in under-100 piece runs.
A few months ago at ISSUE, Ferraro played with guitarist Zac Davis unleashing waves of heavily fortified vocal samples and recurring sequenced drum noises. The second half moves somewhere between psychedelia and doom metal, as Davis's guitar lines swerve angularly among Ferraro's layers of sound, like he's narrating some kind of weird dream. I've put the whole set up here, so please enjoy.
Via ISSUE Project Room » Visit Blog
» 0 COMMENTS