You came this way:
Home
>
Tag: Hurricane Sandy
"Hurricane Sandy"
(Used 3 times)
Related Articles
ange on 03/14/2013 at 10:30AM
Even in the biggest pile of horse crap, there's gotta be pony somewhere. When Hurricane Sandy turned the freeform radio station WFMU into an island, damaging valuable equipment and sinking their annual record fair fundraiser, one of the bright post-storm rainbows was an incredible night of music at the The Bell House in Brooklyn.
The Hurricane Sandy Relief benefit featured outstanding performances from Arrington De Dionyso of Old Time Relijun, followed by the Dot Wiggin Band, Jon Spencer Blues Explosion, and Texas psych/gospel legends-rediscovered The Relatives. At the show, WFMU's comeback story paralleled the journeys of many of the evenings performers.
If you're not following the growing popularity of The Relatives, you should be. Their music and resurrection story were recently featured in the New York Times and on NPR, which means your mom might be calling to ask you about them soon. The long story short is that after 30 years, they are just now releasing their first full album of original work (available for streaming here), and it seems the world is finally ready to embrace a sound I've seen best described as "Jesus on LSD." 
Also performing that night was another comeback kid, Dot Semprini aka. Dot Wiggin, the lead singer of '60s all-female group The Shaggs. Depending on whom you ask, they were either the best band of all time or the worst. One of their classically controversial songs "My Pal Foot Foot" closed off their set that night. It's an ode to Dot's lost cat that will either make your brain hurt or remind you why Dot holds the place she does in Rock and Roll history.
As you enjoy these live sets, take a moment to send dry thoughts and financial support in the direction of the station these bands came out to celebrate. The WFMU 2013 Marathon is underway, and it's a chance to say thank you to the station that helps you discover incredible music throughout the year and who parents this very archive.
 
Via WFMU » Visit Blog
» 0 COMMENTS
jason on 11/29/2012 at 01:30PM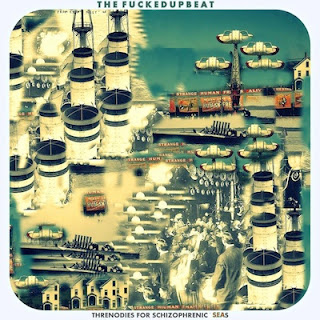 Recorded in New York at the height of Hurricane Sandy, Threnodies For Schizophrenic Seas is the latest album of "experimental schizo noir trip hop" from a duo that calls itself The Fucked Up Beat. New York's Eddie Palmer and San Diego's Brett Zehner have released eight albums since forming in 2011 as a bi-coastal email collaboration. Each release collages public domain sound samples with field recordings and live instruments.
The Fucked Up Beat's instrumentals often feel like a film noir Manhattan moment caught in a Martian timeslip. The circumstances of this recording lend an even more ominous, submerged tension that is enhanced by fantastically schizophrenic song titles like "A Sea Shanty For Staten Island Ships/ Holy the Solitudes of Skyscrapers and Pavements!" "Supermarket Goods Escape and Terrorize Local Shoppers/ and rose to build Harpsichords in their lofts" and "Wall Street Gas Panic/ who were burned alive in their innocent flannel suits on Madison Avenue."
Though the tracks are offered under a Creative Commons license that specifies "No Derivatives," you can find remix-ready source material at their site on the open source music community Opsound. I double checked with the band about the license, because their bandcamp specifies "No Derivatives" while the HAZE netlabel uses the remixable ShareAlike license. The music seems ripe for video (one of the group's own creations is embedded below) and if you would like to use the music in this or any other derivative way you can reach the band through their FMA profile.
The F*cked Up Beat - Supermarket Goods Escape and Terrorize Local Shoppers/ and rose to build Harpsichords in their lofts from The Fcked Up Beat on Vimeo.
» 0 COMMENTS
ange on 11/01/2012 at 04:00PM
» 0 COMMENTS