You came this way:
Home
>
Tag: Gary War
Related Articles
miscellaniac on 10/26/2012 at 02:37AM
Maybe you're still figuring out what to be for Halloween.  Maybe you need some ideas, and also the perfect soundtrack for sifting through your closet and that weird box under your roommate's bed to cobble something together.  This mix is for you.
» 0 COMMENTS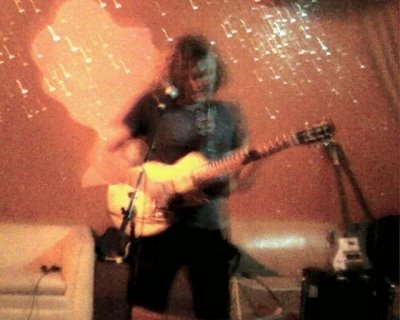 Gary War is a New York based artist who might be best known as a former member in Ariel Pink's band, but his solo career, which includes several albums that are up for download here on the Free Music Archive, is a truly unique spectacle. His songs phase in and out, with warped filters and dreamy keyboards, making a feeling of nostalgia similar to that of the music of Ariel Pink, although it is in a much more psychedelic context than Pink's music. The great thing about War's form of psychedelia is that no two listens to a song will be the same, as with each listen different layers and melodies bubble and pop, creating a new experience each time. This is great stuff!
I interviewed Gary War via email.
Let's start off with the typical "interview" questions... who is Gary War? When did you start playing music? Who are your influences?

I created the pseudonym in the mid-90's while hanging around some heavy metal guys. Its better than my real name! Around the same time, I started recording experimental cassettes under that name... I started off doing backing vocals in an Armenian dance band when I was a small kid...These days I mainly listen to Rap and watch Trailer Park Boys.
READ MORE
» 0 COMMENTS
andrewcsmith on 09/08/2010 at 07:17AM
Bobb Trimble came on stage wearing a stars-and-stripes-emblazoned t-shirt, beaming at how the rain had just given up and the mid-July sun was back. He was joined by his band The Flying Spiders (Nick Branigan, Karina Dacosta, Jon Martinez, Kris Thompson, and Gary War), formed partly due to the mythic nature of his original two albums, and partly because these albums were recently reissued on the label Secretly Canadian. But the band seems to have found its own distinct sound, separate from Trimble's original two bands The Kidds and The Crippled Dog Band.
Trimble's psych-rock—especially in a live setting—is unstable, almost schizophrenic. The slow sweep of the 1970s phaser guitar effects box makes sense for the Dead-like midtempo folk rock, but translated to the punk "Camel Song" it puts some distance between us and that aggressive, immediate four-four riff. The same thing happens in "Live Wire," which begins as a folk rock track and steadily builds momentum, and in the process nearly doubles the tempo. The music seems to be all things at once: the spaced-out distance of psychedelia, intimacies of outsider folk, and aggression of Wormtown punk.
At the end of his set, the band launched into a somewhat picked-up version of his old favorite, "One Mile From Heaven," from Iron Curtain Innocence, and the barely-syncopated solo drifted over the courtyard. When Trimble started singing, the tone of his voice was almost unrecognizable—he was in his early 20s when he recorded the original track, and his falsetto has all but faded—but the intimation of his delivery was unmistakable.
Via ISSUE Project Room » Visit Blog
» 0 COMMENTS
andrewcsmith on 07/09/2010 at 08:45AM
In celebration of this Sunday's courtyard concert at ISSUE Project Room, we've got a playlist packed with a preview of the weekend's imminent psychedelic and freak folk grab bag. Each of these artists has tons of music up on the FMA, so be sure to check them out in full—this is just a small selection.

Bobb Trimble's two early-1980s LPs, Iron Curtain Innocence and Harvest of Dreams, were for decades sought after by collectors, who would pay hundreds of dollars for original copies. More than retro recollections of psychedelia a decade late, this opening track on Harvest of Dreams, called "Premonitions: The Fantasy," couples seemingly easy going folk grooves with skewed melodic turns and slightly out-of-phase vocals mixed a little too low to hear well enough. The strain involved in listening, and the slight veiling of the high falsetto behind effects and other instruments makes it feel like an exercise in vulnerability.
Jason Sigal, on WFMU's Talk's Cheap, has more to say about this and Bobb's early career, including a wonderful half-hour interview with the band in which Bobb and the rest of the Flying Spiders alternately reminisce about the '80s and plan for the next decade. In the late '00s, Bobb got together with some of the members of The Prefab Messiahs in a band that is now called The Flying Spiders. Gary War, another musician extending psychedelia to its furthest reaches, is on guitar, with Nick Branigan on drums, Kris Thompson on bass, and Karina DaCosta on vocals.
Check out the rest of this mix to get an idea of the many other artists on the bill. Samara Lubelski is playing with Peter Nolan (of Spectre Folk) and Helen Rush of Metal Mountains, while Loren Connors, an undeniable ISSUE Project Room mainstay, is performing with his band Haunted House after a 10-year hiatus. In addition to one of his studio albums, I've also added to the mix a live performance from "Blue Octave Notebooks," a response to a Kafka text performed at ISSUE in May of 2009.
Via ISSUE Project Room » Visit Blog
» 1 COMMENTS
» MORE INFO
» 0 COMMENTS
» ALL MIXES