You came this way:
Home
>
Tag: Fundraiser
"Fundraiser"
(Used 9 times)
Related Articles
cheyenne_h on 08/01/2018 at 03:13AM
Back by popular demand, we're offering our Music History t-shirt for another year! Greg Harrison, the artist who designed the shirt, is an animator and illustrator from New Jersey. A longtime supporter and friend of WFMU, Greg has also helped the FMA with previous projects such as the Free Birthday Song Contest, the microSong challenge, and more. You can find out more about him here. 
This shirt shows off a variety of music formats from the previous century, including our beloved MP3 - the image below is a detail of the artwork. Pick one up with a $50 donation today and show off a piece of music history!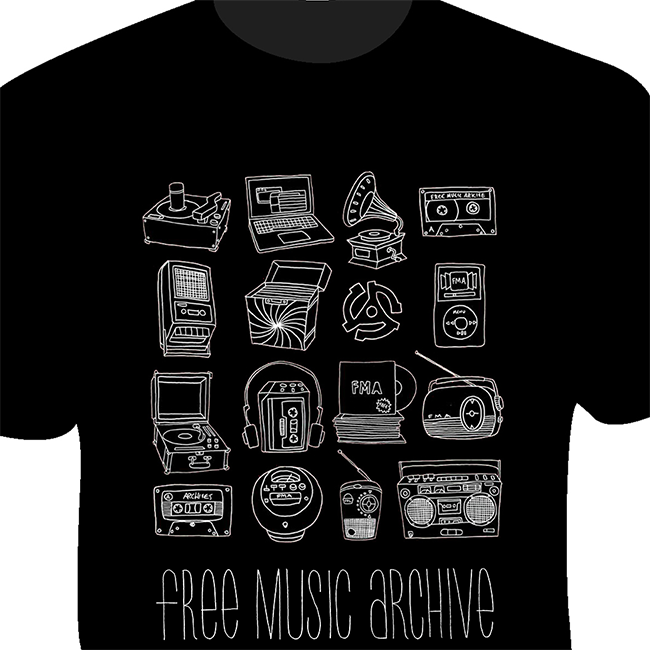 » 0 COMMENTS
cheyenne_h on 08/01/2018 at 02:49AM
We are very excited to announce this year's newest FMA swag item - a tote bag! Heather Faye Kahn, the artist who designed this bag, is an illustrator, animator and visual artist in New York. She is also the host of Hello Children, a weekly freeform radio program on WFMU whose last episode (for now) was Sept 10, 2017. You can find out more about her here. 
This bag, at 15x15 in, will fit a few vinyl records inside, or some groceries, or many many mp3s! Pick one up with a $180 one-time donation, or a $15 monthly donation (your choice).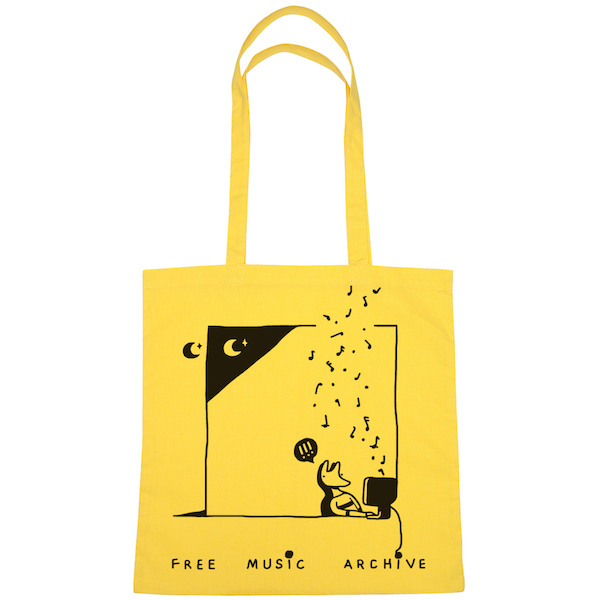 » 0 COMMENTS
cheyenne_h on 09/19/2017 at 10:18AM
*****THIS GIVEAWAY IS OVER. THANKS FOR PLAYING!********
For the next two weeks, you can enter a drawing to win a Pocket Piano from Critter & Guitari! Enter now by making a suggested donation of $100! 
From the Critter & Guitari website: 
The Pocket Piano is a fun, versatile synthesizer! It has seven synth modes, a rugged anodized aluminum and wood enclosure and 18 maple keys. It's got a 3W built-in speaker and a line out audio jack. The Pocket Piano is perfect for making music in the studio, around a campfire and at your kitchen table! The seven synth modes are:
• Vibrato Synth
• Harmonic Sweeper
• Two-Octave Arpeggiator
• Octave Cascade
• Mono FM Synth
• FM Arpeggiator
• Mono Glider
To operate, turn it on and start playing keys. Use the Mode button to select modes. Depending on the mode, you can select from four wave forms (sine, square, triangle or sawtooth) or increase the octave with the auxiliary button. Each mode has two parameters that are controlled by the two left knobs.
The following modes offer four voice polyphony: Vibrato Synth, Harmonic Sweeper, 2-Octave Arpeggio, Octave Cascade, FM Arpeggio. The remaining modes (Mono FM Synth, Mono Glider) are monophonic. The tuning knob adjusts the keyboard over two octaves and the far right knob controls volume. The 'Hold' function maintains notes that are playing and frees up your hands for other musical tasks.
The winner will be drawn on Friday, Sept 29th! See it in action here: 
For the official rules, please see our Eligibility Notice. 
» 1 COMMENTS
cheyenne_h on 09/05/2017 at 02:07PM
We are very excited to announce this year's fabulous sticker! Mayuko Fujino, the artist who designed this year's sticker, is a self-taught papercut artist from Tokyo currently based in New York City. Inspired by Japanese traditional stencil textile designs, she has been practicing her art since 1999 and takes a new approach to paper cutout technique by combining it with used magazine collage and other used/found materials. She is also the host of Play Vertigo, a weekly program on WFMU's Give The Drummer Radio. You can check out more of her artwork here.
This beautiful sticker incorporates music and movement into its design. Pick one up with a $20 donation today.
» 4 COMMENTS
cheyenne_h on 12/10/2015 at 06:00PM
Can you think of any more reasons? We're probably missing a few. Comment below!
» 3 COMMENTS