You came this way:
Home
>
Tag: French
"French"
(Used 29 times)
Related Articles
FMAmp3 on 05/03/2012 at 11:50AM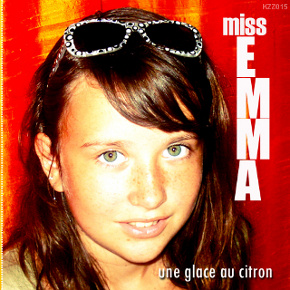 Miss Emma lives in Chambéry, France. Her dad is Juan Naveira, creator of the band Juanitos.
When Emma wrote the lyrics to her first song, "Une Glace au Citron" ("A Lemon Ice"), she gave the page to her dad and hummed the tune for him. He played it on the guitar for her.
Within a few weeks, they put together more songs, and a full-length album. Soon they were performing small concerts and appearing in the press. The video for "Une Glace au Citron" ("A Lemon Ice") became a hit on the Internet! Well-known American DJs Ursula 100 and Martinibomb have promoted Miss Emma, and she has since developed a following in the USA.
via Kazoomzoom.com, the world's first netlabel for kids!
Via Free Music Archive » Visit Blog
» 0 COMMENTS
dvd on 06/25/2010 at 11:00AM
Louise Ebrel is an acclaimed singer of Breton's emblematic traditional call and response vocal style, kan ha diskan, as well as the daughter of Eugénie Goadec of Brittany's renowned Sœurs Goadec.  She dropped by WFMU's Transpacific Sound Paradise last month for a brief performance with singing partner Ifig Flatres, a leading voice among Brittany's new generation of traditional vocalists and part of the new-roots ensemble Oktopus Kafé. 

In these duets the kaner (lead vocal) begins the verse.  After a brief overlap, the diskaner (secondary vocal) takes it up and the process is repeated.  Throughout the tune, the vocalists employ nonsense syllables to fill the space between lines.  Louise and Ifig sing in Breton, an insular Celtic language brought over to present-day Brittany from the British Isles during the Early Middle Ages.  The language is now considered endangered and is mostly spoken in Western Brittany.     
The artists were here for a Breton style Fest-Noz - "Night Festival" - held at Connolly's, 121 W 45 St. on Saturday May 22, 2010. The festival was presented by New York's Breton cultural society BZH-New York.  Their performance at WFMU was part of an episode of Transpacific Sound Paradise (hosted by Rob Weisberg) featuring music from Brittany.  You can view the playlist and listen to show in its entirety here.
Via WFMU » Visit Blog
» 0 COMMENTS
Irene_Rible on 05/30/2010 at 09:00AM
Marianne Dissard is a native of France who has been living in Tuscon, Arizona for the past two decades.  She came to America for film school in the early nineties, a time when she began filming Drunken Bees, a documentary about the Tuscon band Giant Sand.  In Tuscon she found a musical kinship with artists such as Naim Amor of the Amor Belhom Duo and Joey Burns and John Convertino of Calexico, who helped write and produce many of the songs featured on the Paris One Takes compilation of Dissard's work. 
Aside from her French collaborator and contemporary Françoiz Breut, the closest musical comparison to Dissard is Lhasa de Sela.  Both artists make the unlikely fusion of Calexico's alternative mariachi music, with the sultry, brooding tradition of a classic old world chanteuse.  My heart sunk when I discovered that Lhasa de Sela died at the beginning of this year.  Perhaps unfair to Dissard, but as I listened to this album, I couldn't help but feel Lhasa's spirit haunting in the background, like watching an actor bring an icon back to life in a biopic.
READ MORE
» 1 COMMENTS
katya-oddio on 04/16/2010 at 09:00AM
Brazillian pianist Felipe Sarro performs Opus 25 Alleluia and Opus 31 Préludes by French Romantic composer Charles-Valentin Alkan.

Alkan, one of the greatest virtuoso pianists of his day, was a friend and contemporary of Franz Liszt and Frédéric Chopin. He was a child prodigy, entering the Paris Conservatoire at the age of six. Alkan was a favorite of his teacher, Joseph Zimmermann, who also taught fellow composers Georges Bizet, César Franck, Charles Gounod, and Ambroise Thomas. In his twenties, Alkan was a famous virtuoso and teacher in elegant social circles. Liszt once stated that Alkan had the finest piano technique of anyone he knew. This Romantic composer was a luminary of his time.

Felipe Sarro began his musical training at the age of eight and studied at Academia Musical Fátima and Santa Cecília Musical Conservatory. In this album on the FMA, Sarro performs Alkan's Opus 31 Alleluia (1844) and Opus 25 Préludes dans touts les tons majeur et mineurs (1847) in entirety.
Via Oddio Overplay » Visit Blog
» 0 COMMENTS
katya-oddio on 04/09/2010 at 05:09PM
Hugo "Droopy" Contini delivers hard bop from Lorraine, France to the WFMU Free Music Archive on US National Jazz Day. Contini is part of the RawBounce Records collective and the alto sax man for The Real Dealers.
Once after rehearsal, the band had the space for a few more hours, so they recorded the album, Surpriscording now hosted at the FMA.
Via Oddio Overplay » Visit Blog
» 0 COMMENTS