You came this way:
Home
>
Tag: Free Music Archive
"Free Music Archive"
(Used 9 times)
Related Articles
ange on 12/06/2013 at 04:00PM
The Free Music Archive now has our own iPhone app! Download it here (or search "FMA" in the app store), and enjoy our library of 65,000 free and legal tracks on your iPhone. The app lets you explore music by genre, listen to the song of the day, check out hand-picked mixes, and share and download until your thumbs go raw.
The app is compeltely free, but we need your help to spread the word. Please write us a friendly review in the iTunes store. Since this is a brand new app, your review will do a ton to help improve our rankings and discovery so more folks can learn about what we do. We'd also love to hear your candid and technically specific feedback over e-mail. We know the app has its flaws, and we have grand plans for version 2.
If you have any technical questions about using the app, check our our app support page.
Don't fret Android users! We're busy seeking funds to make an Android app possible. In the meantime, one of our fans made you this.
READ MORE
Via Free Music Archive » Visit Blog
» 8 COMMENTS
ange on 01/23/2013 at 01:15PM
Good news, mix-makers! The Free Music Archive is delighted to announce that we've partnered with 8Tracks to make our library available through their lovely mix-making and sharing tools. The basic idea of 8Tracks is making simple and sharable online mixes with at least 8 tracks. Here's a peak at what that looks like: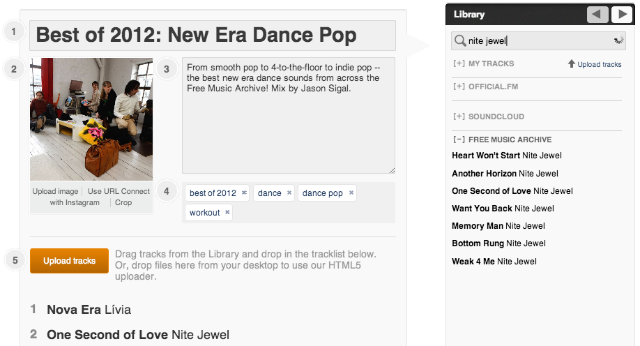 How better to celebrate the merging of two awesome music websites than with a mix tape exchange? We shared mixes featuring our favorite Punk Hooks and New Era Dance Pop. In exchange, 8Tracks has made us a mix of hidden indie rock gems. 
Enjoy this mix, and head over to make your own sometime at 8tracks.com.
Via Free Music Archive » Visit Blog
» 0 COMMENTS
ange on 11/01/2012 at 04:00PM
» 0 COMMENTS
ange on 10/31/2012 at 04:30PM
Now presenting our new HTML5 audio player! It looks exactly the same as it did before, but it can now stream the FMA music you adore using most mobile browsers.
We recommend using it in Chrome or Safari on your iOS (e.g. iPhone, iPad) or Android devices. There are a few exceptions that we're still working on. As of this blog post, the new player doesn't work on mobile Opera (iOS + Android), mobile Firefox (Android), or Android's stock browser. Leave us a comment below if you have specific feedback on how our new player is performing.
If you really, really adore this new functionality, you should send a love letter to the guy who built this for us.
Don't have a mobile device like all the other hip dogs and cats? If you enter our video remix contest with the Prelinger Archives you might just win an iPad! The deadline for entries is November 4th at 11:59pm ET.
Via Free Music Archive » Visit Blog
» 4 COMMENTS
macedonia on 06/03/2012 at 07:54PM
Just posted Radio BSOTS episode #124 online, which features nothing but tunes from the FMA.  Long overdue.
If you care to download, just head to the show notes.  You'll find one of the featured songs below...
» 0 COMMENTS
» MORE INFO
» 0 COMMENTS
» ALL MIXES
» MORE INFO
» 3 COMMENTS
» ALL MIXES
» MORE INFO
» 1 COMMENTS
» ALL MIXES