You came this way:
Home
>
Tag: Free Music Archive
"Free Music Archive"
(Used 12 times)
Related Articles
hecanjog on 07/21/2016 at 09:39AM
To celebrate 100,000 published tracks on the Free Music Archive, we've put together some data that we hope you will use for creative purposes!

There's a github repo over yonder with a handful of wavetables created using data from the first 100,000 published tracks. FMA benevolent software overlord Ross Oldenburg cooked up some more data for visualization / sonification use here: http://bit.ly/2agaoPM
To kick things off, I made a little song using the wavetables in the repo above. The wavetables created from monthly publication and creation dates were enveloped by the wavetables created from yearly publication and creation dates and used to drive a pulsar synthesizer whose pitch was modulated with the wavetables created from track durations. The pitches spell an F major Add 9 chord, because you know... FMA. :-)
Please share your creations!
» 0 COMMENTS
cheyenne_h on 07/30/2015 at 11:15AM
Hi everyone! We know that our user base is not just people looking at their desktops all the time, which is why we have launched fresh apps for mobile users! Our inaugural Android app was just released! Cruise over to the Play Store, download our app, and get ready to stream albums, browse by genre, search for songs and more!
And - of course - it's FREE! Click the link above or one of these beautiful screenshots: 
App designed by Boullevard Creatives. 
» 5 COMMENTS
ange on 04/22/2014 at 12:30AM
This month, the Free Music Archive celebrates its 5th year since it emerged from the Internet-hole. Can you imagine the web without it? In that time, the FMA has helped user generated content flourish, helped artists connect with new fans, and filled all of our personal harddrives to the brim. We are one of the largest collections of Creative Commons music online, reaching 70,000 curated tracks this Spring.
It's time for me to go, and leave this vessel in the hands of a new captain. I've accepted a new position working at Slate, and now it's time to find the next person to lead this project into its bright future.
More info about the job here.
During the transition, continue to share share all your troubles and victories with contact (@) freemusicarchive.org, and someone will always get back to you. That person right now is the wonderful Faye.
In my time at the FMA, we've worked together to remix public domain ephemera with the Prelinger Archive, and overthrow the Birthday song. We've welcomed exciting new FMA curators including AS220, Radio Bunker, Radius, CKUT and Boston Hassle. We even built an app for iPhone, and launched our own Free Song of the Day Podcast.
I've adored being a part of our parent project WFMU, and learned so much from watching how the staff, volunteers & DJs keep the magic factory full of magic. Thanks to the FMA's founding director Jason for all of his guidance and bottomless enthusiasm for the project. No one has made more mixes on the FMA than my old desk-mate WFMU's Liz B, who broadcasts her favorite FMA uploads every Monday morning on WFMU. Also infinite credit goes to WFMU's stellar volunteers Matt Marando and Mario Santana who masterfully master and upload all the sessions that come through WFMU over the years. Big kudos to Lou Z and Chris M who have led our team of volunteer submission screeners.
Thank you all again! Viva FMA!
Via Free Music Archive » Visit Blog
» 7 COMMENTS
ange on 12/06/2013 at 04:00PM
The Free Music Archive now has our own iPhone app! Download it here (or search "FMA" in the app store), and enjoy our library of 65,000 free and legal tracks on your iPhone. The app lets you explore music by genre, listen to the song of the day, check out hand-picked mixes, and share and download until your thumbs go raw.
The app is compeltely free, but we need your help to spread the word. Please write us a friendly review in the iTunes store. Since this is a brand new app, your review will do a ton to help improve our rankings and discovery so more folks can learn about what we do. We'd also love to hear your candid and technically specific feedback over e-mail. We know the app has its flaws, and we have grand plans for version 2.
If you have any technical questions about using the app, check our our app support page.
Don't fret Android users! We're busy seeking funds to make an Android app possible. In the meantime, one of our fans made you this.
READ MORE
Via Free Music Archive » Visit Blog
» 9 COMMENTS
ange on 01/23/2013 at 01:15PM
Good news, mix-makers! The Free Music Archive is delighted to announce that we've partnered with 8Tracks to make our library available through their lovely mix-making and sharing tools. The basic idea of 8Tracks is making simple and sharable online mixes with at least 8 tracks. Here's a peak at what that looks like: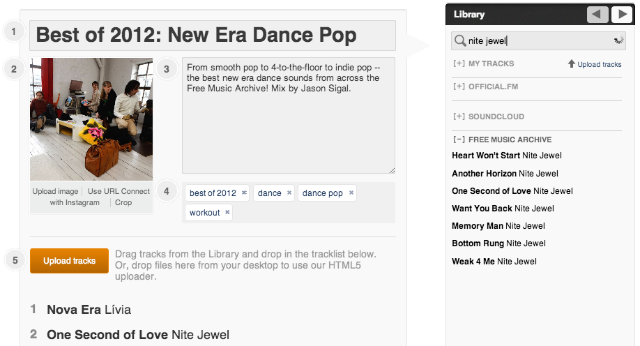 How better to celebrate the merging of two awesome music websites than with a mix tape exchange? We shared mixes featuring our favorite Punk Hooks and New Era Dance Pop. In exchange, 8Tracks has made us a mix of hidden indie rock gems. 
Enjoy this mix, and head over to make your own sometime at 8tracks.com.
Via Free Music Archive » Visit Blog
» 0 COMMENTS
» MORE INFO
» 1 COMMENTS
» ALL MIXES
» MORE INFO
» 3 COMMENTS
» ALL MIXES
» MORE INFO
» 1 COMMENTS
» ALL MIXES