You came this way:
Home
>
Tag: Finnish Underground
"Finnish Underground"
(Used 22 times)
Related Articles
ange on 12/06/2012 at 02:15PM
The Ukrainian Netlabel We Have No Zen recently assembled 40 incredible tracks from the Finnish Underground for the compilation WHNZ:47:PSYFI, including tracks by Kuupuu, Avarus, and Uton. How can we possibly describe the sounds on this mix? Musician Andrij Orel explains the collection this way--
From beercandid grooves to Homeric sweet kitten calculus, from minuscule itchy-scratchy blessings to fanfares for underpopulated hairglobe galaxies, from twiddle-it-yourself knobby prettiness to pirate jazz holograms, all ages are free to bang their heads at the roaring centipede deity's feet that are available to us through these clouds. No time killers, all love godzillers! (more)
And if that wasn't descriptive enough for you to click the play button, here's how Swedish musician Jim Barrett (a.k.a. NaDa/NaDa BaBa/Didgebaba) describes the compilation.
This is space music for those still left loving the Earth. Pulse transmission windows to other worlds. Where tribal acoustics meet 1960s American cult TV themes. Way back where, deep in the forest, we left something behind. Somehow it now lies just below the surface in the back streets and taiga of Finland. (more)
» 0 COMMENTS
FMAmp3 on 05/17/2012 at 12:00AM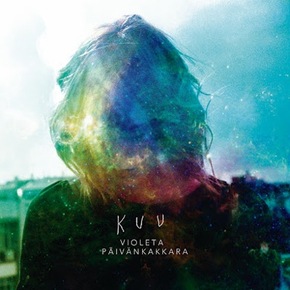 Violeta Päivänkakkara was born in Helsinki, Finland, in 1992. She has always felt drawn to cosmology, planets, nature and the dream world. She creates environments and personal and melancholic atmospheres, using instruments like the glockenspiel, guitar, piano and electronic sounds of nature, among others. She currently lives between Helsinki and Barcelona. -La Gramola
"Sateenkaari" can be found on Kuu, a collection released this week on La Gramola Netlabel.
> Violeta Päivänkakkara on Facebook | Bandcamp | FMA
Via Free Music Archive » Visit Blog
» 0 COMMENTS