You came this way:
Home
>
Tag: Fingerstyle Guitar
"Fingerstyle Guitar"
(Used 20 times)
Related Articles
dvd on 06/07/2012 at 12:00PM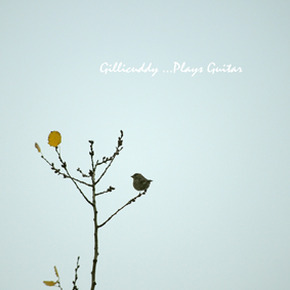 Today we're featuring a track from Andi Rohden (aka Gillicuddy) off his new album ...Plays Guitar, recently released by Moscow's Clinical Archives. Clocking in at 15 minutes, the album breezes through seven instrumental guitar pieces, all of which echo sincerity through their simple melodies and finger-picking. Gillicuddy has been releasing Creative Commons music online for quite some time now, so be sure to check his various online destinations below for more. Grab a cup of tea and enjoy "A Garden and A Library".
Gillicuddy at:
The Free Music Archive | Facebook 
SoundCloud | Bandcamp | Vimeo
Via Free Music Archive » Visit Blog
» 1 COMMENTS
Irwin on 08/16/2010 at 05:20PM
Baby Gramps made his first WFMU appearances on Nicholas Hill's Live Music Faucet in the 1990s. I became an instant fan of his Popeye-growl, shameless wordplay, and deft picking on an ancient National Steel guitar. Gramps specialized in jazz rags and reinvented campfire favorites, threw in the occasional 1930s novelty tune, and added dollops of what was known in the minstrel trade as "pure hokum." In May 1998 Gramps was touring a folk circuit that took him to NYC. For reasons that now escape memory, his schedule precluded an appearance on Nick's show (which perhaps was off the air by then), so I offered airtime. (Gramps returned again the following year.) At the time Gramps had no interest in recording or releasing albums; he just wanted to entertain live audiences. He was a natural, graceful presence, full of fun and surprises. There was something magical (and ageless) about Baby Gramps. He was a living cartoon. I recall his visits with great fondness.
Baby Gramps has a new album, Outertainment, in collaboration with Peter Stampfel (co-founder of the Holy Modal Rounders)
Via WFMU » Visit Blog
» 0 COMMENTS
mwalker on 02/11/2010 at 04:14PM
This Valentine's Day evening, a handful of our world's most soulful guitarists will gather at ISSUE Project Room to pay loving tribute to the great Jack Rose, who passed away in December at the much too young age of 38. The lineup, comprised of those friends whom he inspired and who inspired him, includes the Black Twig Pickers (the group featured on Jack's most recent album), Pelt (with whom Jack played on and off again from '95 until his death), Steve Gunn, Tom Carter, Marcia Bassett, Michael Chapman, and Glenn Jones.

I have compiled a mix from the ever-astounding well of riches that is the FMA, featuring musicians set to take part in Sunday's celebration of Jack Rose's incredible music. The mix traverses equal territory in the lands of drone and Takoma-style virtuosity, both worlds in which Jack established a voice of deeply-felt originality and undeniable importance.  The last work in the mix features Mr. Rose himself, performing live with Peter Walker -- a long-established member of a short lineage of finger-picking legends whose ranks Jack has undoubtedly joined.
Via ISSUE Project Room » Visit Blog
» 1 COMMENTS
JoeMc on 08/26/2009 at 07:59AM
Of all the new pieces of vinyl to show up in the WFMU "new bin" lately, my favorite may be Harte Records' reissue of Peter Walker's 1966 Vanguard LP Rainy Day Raga. It's a record that is so purely conceived and executed, so total unto itself, that I find it hard to select cuts to play from it. It always feels as if it should be played all at once so that you can become immersed in it, like taking a long, warm audio bath instead of the quick MP3 showers we're always taking these days.
Rainy Day Raga is so perfect that its creator, after releasing one more gem two years later, simply stopped recording. In the past couple of years, though, Peter Walker has become visibly active again, and today's post is a souvenir of that still-ongoing resurgence: an exclusive improvisation from his appearance on Irene Trudel's program in June of last year. Its informal title bears witness to a touching relationship between two folk legends.
READ MORE
Via WFMU » Visit Blog
» 0 COMMENTS
» MORE INFO
» 0 COMMENTS
» ALL MIXES