You came this way:
Home
>
Tag: Film
"Film"
(Used 242 times)
Related Articles
The production company of legendary film maker Nico Mastorakis reached out to me in December of 2017 asking if they could use my song '1990-Something Part II' in their recently released and award-winning documentary entitled Mykonos, The Soul of an Island. In the production company's own words..
"This feature documentary is about the most controversial island of the Mediterranean. It's spectacular but bitter, entertaining but critical, fun to watch yet investigative, sarcastic but emotional. It explores all slices of life, in the four months of the summer, when two million visitors come and go, five-star beach bars gross a million euros a day, busboys make $4,000 a month and tips distributed to the staff exceed one million. Mykonos of the filthy rich, the hordes of celebrities, the drugs, the deaths and the dark side where lawlessness rules. The film is not a travelogue, it delves deeply into the world of the high rollers, their excesses and extremities and the island's total takeover by the "new colonialists."
I knew that the Mykonos landscape was beautiful but I had no idea that human element was so decadent. Knowing that '1990-Something Part II' is kind dark musically, I asked how the song was going to be used. They explained that they wanted to use it "to underscore the darker elements of Mykonos". Regardless of the amount of sunshine in Mykonos, this is as close to the dark side as I ever want to get.
Those interested in purchasing the DVD can find it here on eBay.
8-6-18 Update: I finally got to see the video. I sat through over an hour of some of the darkest highlights of Mykonos and my song was nowhere to be found. At an hour and six minutes the song finally started. It turns out that they decided to use it for the back drop of a montage paparazzi footage. The song played for well over two minutes with no talking which was kind of nice because every other bit of music that was heard in the video had narration over the music.
» 0 COMMENTS
dhf510 on 11/15/2017 at 10:32PM
Manifest Destiny was a labor of love. Or of falling out of love. I funneled my emotions from a turbulent time of self-reflection into an album that I feel deeply connected to. If nothing else I think one can say that it's sincere. Along the way I felt the urge to document moments that captured the mood of the record, which turned into snapshots of each song and eventually what I have to present to you now: Manifest Destiny, the film. It's somewhere between a home movie and an art film; just as experimental as the album. These are vague allusions to the memories that inspired these songs meant for background play as you listen to the album.
You can watch/listen to it here: https://www.youtube.com/watch?v=m6JAp43G1bc
Thank you.
» 0 COMMENTS
I am a fan of different movies and TV series and I prefer to watch them at Dreamfilmen online. Last time I watched 'District 9' and I want to express my opinion towards it.
THIS IS AN AMAZING FILM. But only if you like guns, aliens, sci-fi etc..., definitely more one for the boys! The premise of the film is that an alien spaceship has made its home over Johannesburg, and the aliens (or prawns as they're known), start settling in slums.
The human residents get a bit peaved by this, and try and evict them, when something bad happens to one of the guys leading the eviction. I don't want to spoil the plot, but the story that unfolds henceforth is fantastic. The special effects are great, but the guns are really something else. If there's one bad point to it, it's that the special effects team do go about OTT with exploding humans.
There's an underlying subplot that shows that despite what people look like, we can work together to help each other. The way that the film is shot is also interesting - it's starts out being filmed a bit like a documentary, but about halfway through (and you don't even notice it) it turns into a normal film.
I would disagree with previous sentiments that this is a film only for science fiction fans. I watched it recently to see what all the fuss was about and i have to say i liked it much more than i thought i would. And i'm not a science fiction fan. I have never really been a fan of the whole alien genre but i this film was sufficiently multi-layered and there are several different messages you can take away from it. 
I think i liked it because it surprised me. It has it's comedy moments and there is a love story running through it, albeit in the background. I loved the way the film was shot and the fact that it was quite anti-hollywood, i.e. the main character wasn't particularly likeable and no-one had gleaming white teeth and cheesy one-liners (there were some quite cheesy moments however). I would recommend this film to anyone, those who think they wouldn't like it might be surprised.
» 0 COMMENTS
ange on 07/10/2013 at 12:49PM
When filmmaker Jesse Brass first stumbled upon the Faux Fetus artist Welcome Wizard, he discovered three seperate tracks that helped him profile a painter and her work. The first song "MLU" had an energy, demonstrating how passion can spark interest. To show the seriousness of the artwork, he was drawn to a dark and contemplative track called "Sheep Asleep." For the closing track, "Twelve Diseases," he found the motion and movement, "helped emphasize that her career is ahead of her and helps inspire people in the closing of her story."
His profile of how painter Melanie Norris sees beauty was recently selected as a Vimeo Staff Pick, and his next project about Toronto artists is currently up on Kickstarter. To find more Creative Commons Attribution tracks from Welcome Wizard, you can find their artist page here.
Via Music for Video » Visit Blog
» 1 COMMENTS
lizziedavis on 08/04/2012 at 03:00PM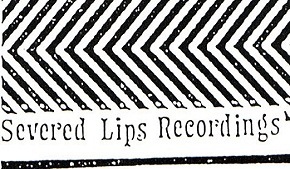 Severed Lips Recordings was a cassette label which operated out of a basement in Ringwood, NJ from 1992-2000. Somehow, their catalog of horror garage gems from an incestuous roster of artists has managed to stay under the radar, a rare feat in the "information age."
The fascinating story of Severed Lips Recordings is inspiring to anyone who's been involved in a fringe DIY community. I had the pleasure of hearing it straight from William Hellfire, the mastermind behind SLR's operations, via email.
First off, how did the label get started?
I started Severed Lips Recordings with Scott Beattie, aka Agent 78, in 1992 when we were 19 years old. Scott and I had just started playing music together and called our band Gerbil Church. The music we played was just our two Vantage guitars blasted through crappy, failing vintage amplifiers, no drummer or bassist.
I was also reworking a small set of Big Black-inspired noise rock songs and through an old band mate met Eddie Blade, whose solo agro/industrial recordings were amazing by any 4 track demo standard. I invited Todd and Eddie to learn the songs and record with me over at my basement HQ. When they got to my place, they popped a hit of LSD in my mouth. The session didn't go as planned-- instead, it was hijacked by a brand new creation, "DISCO MISSILE." Scott and I decided to take all the boom box and live recordings from these bands as well as the new Disco Missile cassette and start releasing them. We made our first release with personalized covers consisting of retro wrapping paper, string, ink, oregano, cinnamon all kinds of bits and bobs, Xerox, pen, crayon. I think we may have sold and given away about 20 or so in total.
December 1992 was the initial release party. I had also created releases out of recordings of an acid trip I took in my room with my cat and my friend Ruby Honeycat's childhood audio tapes with her friends, which consisted of a bunch of 5 year olds talking about dinosaurs and singing kid songs that made no sense. Anything I could find with original audio on it, I just made up a band name and cover for and tried to sell it.
My friends and I were very small-town and naive, and in that naive thinking had come a lovely purity. The sensibilities were childish and devilish, sweet and sadistic; we were naive anarchists not just rebelling against the political establishments but the whole ideal of reality and the homogenized art world, the corporatized social structure. Around 1989, everything started to go bad. There was very little happening and the stream of consciousness was getting thinner and thinner.
It was "mall culture" and MTV, and the minute something good would squeak its way in, there were corporate clones of it. Punk rock, the last stand of decency in the world, was being homogenized for the mall market. It was getting hard to breathe. We had to entertain ourselves--create our own music, our own culture and our own fun.
Severed Lips Recordings cassettes were $4 each. Basement shows were $2-3 bux donation, and we rented out a legion hall in butler for--get this--$65 bux! $3 dollar admission. Can't beat that. We baked cookies and made Jell-O, served coffee with cassettes and played noisy and fuzzy caricatures of psychedelic punk rock. Then in 1996, SLR started going outside the legion hall and basement and began to frequent Connections in Clifton NJ, Continental, Coney Island High and CB's NYC.
READ MORE
Via Free Music Archive » Visit Blog
» 0 COMMENTS