You came this way:
Home
>
Tag: Field Recording
Related Articles
dvd on 08/13/2012 at 11:45AM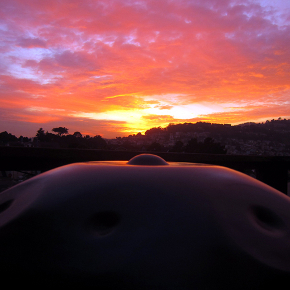 Aaron Ximm's work as Quiet American showcases an extreme attention to the audible environment with a massive collection of over 90 hours of field recordings available for free download under a Creative Commons Attribution-NonCommercial-ShareAlike license. With many more unreleased recordings, these sounds follow Aaron's travels around Vietnam, Fiji, Myanmar, Laos, Cambodia, and Nepal.
This release sees Ximm going in a slightly different direction - an album of instrumental pieces played on the Hang, an instrument similiar to a steel drum, made from two sheets of pitched steel. The sound is ethereal and meditative, a unique and fitting addition to his cannon of recordings. 
Aaron Ximm at: Free Music Archive | Quiet American | Twitter
Via Free Music Archive » Visit Blog
» 2 COMMENTS
aReW have released a new album by Richard Knight and Noise Research.
Richard Knight and Noise Research – Unified Theory (RW-033)
Richard Knight is a sonic/computational artist, usually performing with digital equipment and an emphasis on spectral ambiguity. Knight also utilises mixing desks as sound sources: a typically passive audio device subverted to become an expressive instrument. Output is derived from the tenuous area between feedback and feedforward – the hazy and perplexing cusp between order and chaos.
For this recording, both analogue and digital processes were used, combined as to blur the distinction.
Noise Research (aka UK sound manipulatist Ian Simpson) has adopted an uncompromising approach in both playing and performance which has led to his involvement as a performer with 'The Frakture Big Band' (Liverpool), Noise Club (Liverpool), Janx: The Gathering (Wirral), 'Gnod' (Manchester) Aht-N (Cumbria) & 'Fonik' (Warrington). He also actively organises and promotes performances in UK including the Pyramid Experimental Music Festival and Manchester based Electronic Organica Nights (co-organised with Richard).
Like Richard, Ian has also used both analogue & digital mediums to produce the sounds you hear on this project.
This is the first official collaboration between Richard & Ian although they have performed live together over the last couple of years. Further recording will take place this year which is to include additional musicians / artists.
I'm looking for any who wishes to review thisto get in touch (or just go ahead and review !)
» 0 COMMENTS
Field recordings are great when combined with music. I love to make field recordings myself but for my track Taperecorder going I used some recordings I found at SoundTransit and combined it with me playing a dirty Fender Rhodes piano.
I has something to do with combining depth and colors I guess.
» 0 COMMENTS