You came this way:
Home
>
Tag: Fake Techno
"Fake Techno"
(Used 11 times)
Related Articles
ange on 03/05/2013 at 11:00AM
When our excellent new curator Price Tapes joined the Free Music Archive, they suggested we add a new genre called Fake Techno. To explore this new sound, we reached out to the originator of the term Fake Techno, the effects pedal virtuoso David Harms of Mincemeat or Tenspeed. He explains that if you wanna jump on the Fake Techno bandwagon all you have to do is get a holographic eagle. Laptops not recommended.
What is Fake Techno?
Fake Techno's a term I used to describe my music starting back a couple years ago. I was working with a lot of effects and feedback loops trying to approximate the structure and sounds of techno, and it sounded good but without drum machines, synths, music making stuff, it didn't really work. It wasn't noise but it wasn't techno so I decided it was the fake version of techno.
What's your process for getting the sound you want? 
I was accidentally strict when I was starting out and was only using effect pedals to make the music. This meant it was really easy to make the wrong sounds, but now that I'm old and don't care I use shit like synths, drum machines, and midi cables. This means I gotta try extra hard to make sure the music sounds wrong lest I make 'real' techno.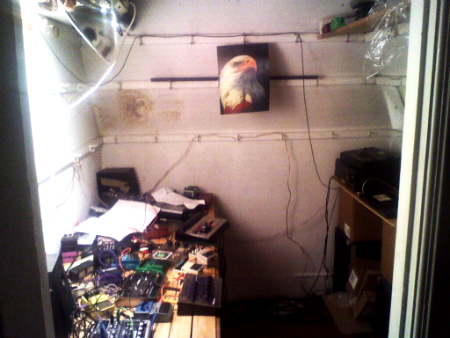 What would we find if we went into your studio? 
This is a picture of my studio. If you wanna jump on the Fake Techno bandwagon the only thing you absolutely need from this set up is a holographic eagle. Fake Techno, like noise, can be made with any pile of garbage. The only thing I can't recommend using is a laptop 'cause that's the wrong tool. If you use a laptop you're probably gonna end up making techno, or electronic music. Don't use a laptop.  
READ MORE
Via Free Music Archive » Visit Blog
» 4 COMMENTS
jason on 01/26/2013 at 04:15AM











Price Tapes is a cassette label from Providence, Rhode Island, releasing some of the best local and not-so-local contemporary experimental music. The tapes have been preserved as free downloads at the Price Tapes Tumblr, and we're pleased to host them at the FMA. Price Tapes tends toward sonic adventures by solo artists who gravitate towards Providence's thriving artist community. When they joined the FMA, Price Tapes requested we add a few new genres to our genre tree like darkwave and fake techno. What is fake techno? Let's unpack the tapes and listen:
Christopher Forgues used to make music as Kites, releasing fantastic albums like Peace Trials for Providence's Load Records, that were often classified as 'noise' or 'folk'. Lately, under the name Mark Lord, he's applying that same creative force to music that usually gets classified as techno. But it's not really that simple. Hence, 'fake techno.'  

Coppertone is the darkwave project of Sasha Wiseman. Darkwave is dark ethereal synth pop with grit, and we really should add it to our genre tree since we already host music by similar-sounding artists like Zola Jesus and Stacian.

As Pak, South Carolina's Lauren Pakradooni makes recordings out of her own handmade loop tapes, run through effects with layers of warped vocals.

Philadelphia's Davey Harms (Mincemeat or Tenspeed) recently moved to Providence where he continues to refine his distinct effects-pedal-generated beats. Price Tapes has a fantastic live excerpt, and check out Mincemeat or Tenspeed's FMA profile for lots more including The Tower, one of the best releases of 2012.

As Russian Tsarlag, Providence filmmaker and visual artist Carlos Gonzalez churns out a fascinating stream of narcoleptic no-fi downer-pop.






Price Tapes proprietor Mickey Z is a visual artist working in comics and screenprinting, to be credited for most of the Price Tapes artwork as well. 

Mickey contribtues tracks from her solo project Dungeon Broads, a plethora of off-kilter home-taped doomishness including a tribute to Lazy Magnet and collaborations with Pippi Zornoza (Bonedust) and Jacob Berendes (fujichia).

She also sings and plays viola in the experimental no wave 3-piece Bloodhuff.
Check out Price Tapes at Big Cartel for in-stock tapes, and on the FMA, where you'll find much more including Earth-Enemy's synth pop with an acoustic tribute to Black Pus, and a tape from Providence noise wunderkid Spiritual Recess.
Via price tapes » Visit Blog
» 2 COMMENTS