You came this way:
Home
>
Tag: Creative Commons
"Creative Commons"
(Used 72 times)
Related Articles
lizb on 09/08/2014 at 03:45PM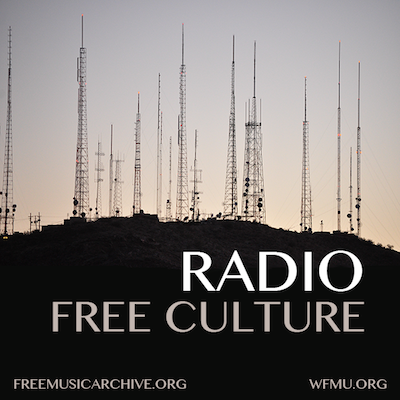 WFMU and the Free Music Archive are proud to present a new season of Radio Free Culture, a weekly podcast exploring issues at the intersection of digital culture and the arts. Our season opener is a two-part interview with FMA pal Elliot Harmon, Communications Manager at Creative Commons. We couldn't have imagined a better way to bring back Radio Free Culture than to take a look at the current state of affairs at our favorite alternative licensing operation.
Check out the first episode here, or subscribe to the podcast here (via iTunes).
» 3 COMMENTS
Melodic In Fusion is a 3-piece band from the southwest of germany writing and playing melodic punk-music for more than 10 years.
You can find all of our music for free on sites like Jamendo, last.fm or Soundcloud (pick which one you like the most)
All our songs are under "creative commons"-license which means that:
   - you all are free to download it
   - annoy your neighbours with it :-)
   - share it
   - use it as music in your videos (like Cozinha de Jack did on his brazilian punk-cooking-channel on Youtube in his Bacon Blade Chicken video, go and check it!)
   - or whatever you want to do with it ;-)
As long as you mention our band "Melodic In Fusion"And this is Melodic in Fusion
Band members are:Jan who is:
  - looking stupid…  - playing the vocals (we know that's not proper english but who cares ;-)  - playing the guitar as if he never learned it
Maus who is:
  - looking hilarious…  - playing the bass (that guitar-like-thing with two strings missing)
Dobo who is:
  - looking incredible…  - playing the drums like a drum-computer with a virus  - singing the backing vocals (believe it or not he doesn't even need a mic in the rehearsals as his voice is f***ing noisy)
All of our songs are somewhere in the melodic punk / punk rock range. Mainly being influenced by being a sucker for good melodies and fast guitars… way back in the 90's some people called it "Melodycore" :-) check it out on wikipedia… there really IS an article about that.And last but not least here's our latest work, a Youtube video for our song "Time Goes By" hope you like it:
Time Goes By - Melodic In Fusion on Youtube
If you want to know anything more, get in touch with us on Facebook or Twitter :-)
Cheers from germany :-)Melodic in Fusion
READ MORE
» 0 COMMENTS
TAGGED AS:
yellowcard
,
goldfinger
,
hot water music
,
face to face
,
the offspring
,
propagandhi
,
strike anywhere
,
descendents
,
good charlotte
,
less than jake
,
pulley
,
rancid
,
strung out
,
sum 41
,
no use for a name
,
against me
,
lagwagon
,
millencolin
,
ignite
,
satanic surfers
,
mute
,
pennywise
,
blink 182
,
no fun at all
,
anti-flag
,
nofx
,
all time low
,
bad religion
,
alternative
,
surf punk
,
pop punk
,
rise against
,
home recording
,
ska punk
,
skate punk
,
melodic hardcore
,
a day to remember
,
green day
,
saarland
,
ska
,
poppunk
,
melodycore
,
punkrock
,
creative commons
,
melodicore
,
punk
,
melodic in fusion
,
punk rock
,
melodic punk
,
See Less...
katya-oddio on 05/18/2013 at 03:00PM
Creative Commons licensing has opened a new world for collaboration. Most artists with works in the Free Music Archive share their copyrighted work with some rights reserved. Depending on the chosen license for the work, this often allows others to incorporate the work into something new without the use of lawyers and other middle men.
An avenue of collaboration that the Free Music Archive has actively promoted is the reuse of recordings in film and video. The FMA Music for Video selections offer filmmakers a sampling of the variety of music available for reuse. The FMA also has a partnership with Vimeo, the video host, helping filmmakers find just the right music to fit the setting of the film.
The collaborative music+video results have been remarkable around the world. In fact, in some cases this collaboration even benefits the world. Nonprofit organizations, not typically known for having large promotional budgets, can benefit greatly by re-purposing Creative Commons recordings licensed for reuse.
One FMA success story is the union of a recording by American artist Aaron Ximm with a public service message for sustainability organization Redress. Ximm's track is used in a promo video for the EcoChic Design Award.
Redress is a Hong Kong based NGO with a mission to promote environmental sustainability in Asia's fashion industry by reducing textile waste, pollution, water and energy consumption. We achieve this via educational sustainable fashion shows, exhibitions, competitions, seminars, research and media outreach. Our unique profile allows us to collaborate with a wide range of stakeholders. We work with multiple fashion designers, textile and garment manufacturers, retailers, schools and universities, multilateral organizations, governments, NGOs, financial institutions and media organizations.
The EcoChic Design Award is a sustainable fashion design competition inspiring emerging fashion designers and students to create mainstream clothing with minimal textile waste. Apply now.
Redress Website | YouTube | Facebook | EcoChic Design Award
Via Oddio Overplay » Visit Blog
» 0 COMMENTS
solrezza on 04/12/2013 at 05:47PM
Listen: SHORTS FOR RADIO
(We recommend listening to this program during the night)
"Old disembodied voices from another world without time, no space, no language."
Dedicated to archive.org  everything we do once done leaves belong only time knows no copy rights.
"Short for radio" is an experimental radio series which has a duration of 12 minutes is the result of research based on sound files of the 20′ to 60′ from around the world are on the archive.org in the public domain.
"Shorts for radio" is born in late 2011 with the idea of creating a small fragment virtual radio, a piece of experimental radio and sound bites to collect texts that at some point been transmitted from a media such as radio or television. Through these sound bites seek to recreate a new discourse, a play on words, a transformation of language, a gino between composition and radio-style sound, a sigh radio between a virtual world where radio turmoil mutates and languages and meanings come to different senses.
Radio is a medium that takes the form of what it represents, a voice, a sound behind a black curtain, a solitude in the middle of the night, a gaze without eyes. Something that is beyond our reach, but it's there. Understand something beyond the language of words, a language that extends through the sounds.
Each program contains a description of the files used, all additional sounds were performed and produced entirely by Sol Rezza.
Since this work was conceived from licensed files Public Domain This work is licensed under the same license.
Year: 2012
Produced by: Sol Rezza
To: Panz4 Troupé
Cover design: Daniel Iván
» 0 COMMENTS
TAGGED AS:
soundscape
,
public domain
,
broadcas
,
noise
,
voice
,
podcast
,
sol rezza
,
experimentalt
,
minimal
,
radio
,
creative commons
,
See Less...
solrezza on 04/12/2013 at 05:43PM
16 - 22 APRILE 2012 Pepite: C'è chi la chiama sound-art, musica contemporanea, suoni di ricerca, sperimentazioni acustiche o suoni di confine, noi le chiamiamo Pepite: piccoli semi di ricerca sul suono, elementi preziosi della nostra programmazione. Ogni settimana selezionati e messi in evidenza all'interno del flusso freeform della nostra programmazione.Some call it sound-art, new music, research sounds, acoustic experimentations or liminal sounds, we just call them Pepite, golden nuggets: tips on sound research, precious bits of our programming. Each week we select few Pepite and highlight them into our freefrom streaming.Gli ascolti di questa settimana arrivano da un luogo davvero particolare e raccolgono suoni che viaggiano sulla rete, voci senza corpo, senza spazio, tempo o lingua ben definita.Sono suoni che vivono di nuova vita in un progetto dell'artista argentina Sol Rezza, sono suoni e voci ricomposti in racconti radiofonici."La Radio è un medium che prende la forma di quello che rappresenta: una voce, un suono dietro una tenda scura, un senso di solitudine nel mezzo della notte, uno sguardo senza occhi. Talvolta è qualche cosa al di fuori della nostra portata, eppure lì, vicino; un qualche cosa capace di andare oltre il linguaggio delle parole, un linguaggio di suono" Con queste Pepite porgiamo il nostro orecchio a SHORTS for radio un progetto dedicato a archive.org da Panz4 TroupéSHORTS for radio è programmato nello streaming notturno di Radio Papesse—This week listening tips come from a very peculiar place and collect sounds from the web, disembodied voices from another world without time, no space, no language.Sounds that get a new life into a project by artgentinian artist Sol Rezza, sounds and voices restructured into radiphonic pieces."Radio is a medium that takes the form of what it represents, a voice, a sound behind a black curtain, a solitude in the middle of the night, a gaze without eyes. Something that is beyond our reach, but it's there. Understand something beyond the language of words, a language that extends through the sounds."With this golden nuggets we turn our ear to SHORTS for radio a project dedicated to archive.org by Panz4 TroupéSHORTS for radio is programmed in the night streaming of Radio Papesse
» 0 COMMENTS
TAGGED AS:
digital
,
broadcast
,
creative commons
,
experimental radiophonic
,
shorts for radio
,
sounds
,
experimental
,
sol rezza
,
radio
,
reviews
,
podcast
,
See Less...
» MORE INFO
» 0 COMMENTS
» ALL MIXES
» MORE INFO
» 0 COMMENTS
» ALL MIXES
» MORE INFO
» 0 COMMENTS
» ALL MIXES
» MORE INFO
» 3 COMMENTS
» ALL MIXES
» MORE INFO
» 1 COMMENTS
» ALL MIXES
» MORE INFO
» 3 COMMENTS
» ALL MIXES
» MORE INFO
» 1 COMMENTS
» ALL MIXES
» MORE INFO
» 0 COMMENTS
» ALL MIXES