You came this way:
Home
>
Tag: Cpdp
"Cpdp"
(Used 8 times)
Related Articles
burdt on 07/03/2013 at 08:36AM
The Star Spangled Banner became the official national anthem of the United States in 1931. It was written in 1814 by Francis Scott Key about his experiences in the Battle of Fort McHenry during the War of 1812. The lyrics are sung to the tune of a British drinking song called "To Anacreon in Heaven" composed by John Stafford Smith for the Anacreontic Society, an amateur musician's group from London. 
The song's four stanzas and one and a half octave range make it a challenge to perform for amateurs and professionals alike. Nevertheless, The Star Spangled Banner has been a staple of military and public events since the 19th century.
The earliest recording of The Star Spangled Banner the CPDP has processed is a Columbia Phonograph Co. brown wax cylinder performed by George J. Gaskin sometime between 1896 and 1900. He was born in Belfast Ireland and was known as "The Silver Voiced Irish Tenor." This rendition of the national anthem has many of the familiar nuances we have become accustomed to hearing, in addition to some familiar gaffes. For example, listen to his rushed phrasing after "the rocket's red glare" and his continuous struggle to hit every high note. In spite of these flaws, this recording is an excellent representation of the single-take-warts-and-all spirit of the brown wax cylinder era.
The most common performances of The Star Spangled Banner captured on cylinder are instrumental and vocal renditions by various military bands. Edison and Indestructible records had their house military bands perform renditions of this and other patriotic songs; the New York Military Band and the United States Marine Band also recorded their own versions of the song as part of patriotic medleys or on its own. One of the most popular medley versions was an Edison Blue Amberol titled "Patriotic Songs of America" performed by the New York Military Band and The Premier Quartet in 1910. The CPDP has five different takes (two of the original and three of the reissue) of this medley alone! In terms of standalone instrumental performances of the national anthem, the United States Marine Band's 1910 version for Edison Standard Records is phenomenal in its regal spirit and subdued grandiosity.
Perhaps the most interesting recording of The Star Spangled Banner the CPDP has is Harry E. Humphrey and the choir boys of St. Ignatius Loyola's "Our National Song" on Edison Blue Amberol from 1916. This version is a didactic recitation about the history of the Star Spangled Banner followed by the St. Ignatius Loyola's choir boys' wide-eyed rendering of the anthem's first stanza. Humphrey posessed a spellbinding oratorial skill and the children choir's provides a compelling coda to his poetic eloquence.
Via UCSB Cylinder Audio Archive » Visit Blog
» 0 COMMENTS
miscellaniac on 04/27/2012 at 04:00PM
Although Preservation Week 2012 is winding down, that's no reason to stop the celebration. Ease into the weekend with this mix which pays tribute to time, the past, and how some things are just too good to let lapse into oblivion.
FMA curator, Cylinder Preservation and Digitization Project (CPDP) gives us a taste of vaudevillian debauchery with Sophie Tucker.  Early 20th century Canadian folk fiddler, Isidore Soucy, is a highly jig-able offering from Excavated Shellac, also an FMA curator.
Free-psych-noise-electro-unclassifiable Oakland-based Kreamy 'Lectric Santa ruminates on dystopia.  Oneida's 2006 live performance still resonates powerfully, well into this milennium. 
Self-taught lo-fi multi-instrumentalist hyphenator, Spencer Owen, pleads with the future.  Long-running WFMU show, Antique Phonograph Music Program, shares some vintage avian ventriloquism courtesy of Edward Avis and Howard R. Garis. 
And Wooden Shjips' "For So Long" is an epic, driving collision of mind-altering sparsity that travels the path of its own stylistic origins.
» 0 COMMENTS
miscellaniac on 04/23/2012 at 04:00PM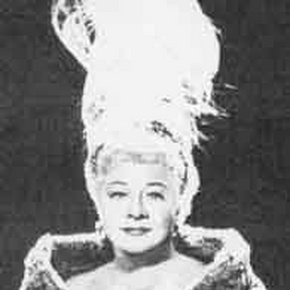 It's Preservation Week and the next best thing to a cryogenic thaw is to download a digitized cylinder recording of "Some of These Days" by the inimitable Sophie Tucker. 
Known as "The Last of the Red Hot Mamas," Sophie Tucker was more than just another early 20th century entertainer in Vaudeville, Broadway, and film.  An anachronistically progressive character, she touted the merits of being a powerful, glamorous, full-figured, older woman who was vocal about her sexual appetites.
Tucker was able to captivate audiences with raunchy humor, a texturally raspy voice, and haunting nostalgic interludes.  A Russian/Ukrainian immigrant who attempted to transcend the racial segregation that drenched the music and entertainment industry, Tucker was also a union organizer.
For those of you who think old music is boring and there's nothing in it for you, check out "Some of These Days."  Tucker's voice has a quality similar to Molly Siegel of Ponytail, that hints at boundless range.  The longing and desire of this song could sit comfortably inside of a Larkin Grimm album. 
Her energy and verve were such that if Carrie Brownstein came down with the flu, Tucker could jump in a zombie time machine and fill in as the fourth member of Wild Flag without skipping a beat.  (She belted out tunes at such an incredible volume that it nearly posed a technical difficulty for the wax cylinders capturing the recordings, a trait that sometimes affected its enduring quality.)
Tucker's weary and essentially modern crisis of loneliness are profound enough to reach us way up here in the 21st century.  In 2009 Archeophone Records released an anthology of Ms. Tucker's earliest recordings, entitled Sophie Tucker: Origins of the Red Hot Mama, 1910-1922.  Music critic, Jody Rosen, called her "a proto-feminist and taboo-shattering sensualist, and... a herald of pop musical modernity." (accessed April 23, 2012, New York Times)  Imagine what Tucker could have done with a loop pedal.
Download/listen to more cylindrical showstoppers here on the Cylinder Preservation and Digitization Project (CPDP)'s FMA curator page or check out the full searchable/browsable collection on the CPDP website.  The CPDP digitizes cylinder recordings (the earliest commercially produced recordings) in an effort to preserve and make them accessible to a wider audience and is a project of the Department of Special Collections at the Donald C. Davidson Library at UC Santa Barbara.  You can even adopt a poor orphan cylinder (Puh-leaze suh, can I have some more digitizing?) or friend the CPDP on Facebook.
To learn more about Sophie Tucker, look to the sources consulted for this blog post: Wikipedia, Jewish Women's Archive, and Jody Rosen's review of Archeophone's 2009 Tucker anthology in the New York Times.  Also, keep your eyes peeled for this feature-length documentary about Tucker, currently in the works.
Via Free Music Archive » Visit Blog
» 0 COMMENTS
burdt on 08/10/2011 at 09:00AM
Cylinders 8667 to 8671 are a mystery for several reasons.
At first glance they're run of the mill Blue Amberols. These were some of the most mass produced cylinders of the cylinder era. 
Upon closer examination, however, these cylinders are something else entirely. Here's the cataloger's note for further insight:
Custom Blue Amberol recordings, possibly from a larger set of brown wax field recordings that were recorded in Faaone Tahiti, and possibly privately pressed as Blue Amberol cylinders by Edison in New Jersey. Recordings were possibly made by anthropologists Frank Stimson or Edward S. C. Handy in 1923. Four of the five cylinders are stamped "Tahiti-#" on the rim and handwritten notes on the boxes say "Himene Chorus, Faaone, Tahiti, 1923 (Handy)."
The biggest mystery here is how these cylinders were recorded. The cataloger's note suggests that these five recordings are privately pressed dubbings of brown wax cylinders. This is almost certainly not the case because the groove widths and reproduction speeds don't match up with those belonging to production Blue Amberol cylinders of the era. Furthermore, if these were dubbed from wax cylinders, the playback noise of the second machine should be audible, but extra noise just isn't there. How were these five cylinders recorded then?
The groove width and reproduction speed matches up with that of brown wax cylinders. Perhaps a brown wax recording machine was jerry-rigged into recording onto Blue Amberols. How did the field recordists find five blank Blue Amberols then? Cylinder shaving machines existed for deleting brown wax recordings. Perhaps these were also jerry-rigged into deleting pre-existing Blue Amberol recordings.
Unless the details of their recording techniques are among their papers at the Bishop Museum in Hawaii, Handy or Stimson's Tahitian field recordings will continue to puzzle cylinder enthusiasts for the foreseeable future.
Fortunately, the contents of these recordings are as interesting as the questions behind their provenance.
The recordings fade in to an already established harmony and end abruptly as the cylinder grooves run out, a common occurrence in cylinder field recordings.
Nevertheless, what is captured is undeniably human and vital in spite of the narrow dynamic and tonal bandwith the medium allowed.
Himene is etymologically related to the word hymn and the sound these cylinders capture is a marriage of the vocal songs of native Tahitians and the sacred choral music that the European missionaries left behind. It is a haunting sound that retains its distance while remaining innately familiar.
(I have posted pictures of an additional mystery object that accompanied these cylinders after the jump.)
READ MORE
Via UCSB Cylinder Audio Archive » Visit Blog
» 5 COMMENTS
burdt on 06/22/2011 at 09:00AM
Bohumir Kryl (1875-1961) was one of the first virtuoso performers to be immortalized by audio recording technology.

He arrived in the United States at the age of 14, having spent 3 years as a circus performer in Bohemia after running away from home.

Kryl picked up the cornet after an injury during his time in the circus, becoming proficient enough to perform in street parades only after a few weeks.

In 1894 he approached Albert Bode, cornetist for the renowned Sousa's Band, for cornet lessons during one of their Indianapolis appearances. After hearing Kryl play Bode said:

That boy wants to take lessons from me, but hell, I can't teach him anything, he's better than I am.

Bohumir played for Sousa's Band until 1898, after which he performed in various outfits finally establishing his own band in 1906.

His dazzling performances and flamboyant looks wowed and thrilled crowds, as this radiant review from the Los Angeles Examiner shows:

About Kryl there is no question – even without his wonderful mass of tangled flaxen hair he would be a musical wonder. He is both and artist and magician. Caruso of the golden voice might almost envy Kryl his artificial golden throat, for Kryl sings through his cornet with a rich, clean-cut tone that carries no suggestion of metal with it – May 16, 1905.

He continued to perform well into his 60s to welcoming crowds and sold out venues, having also made dozens of solo recordings for Columbia, Edison Victor, and Zonophone.

The three selections for this week showcase his genius during the cylinder era.

"Carnival of Venice" is Kryl's signature performance, showcasing his absolute mastery of the cornet with elaborately fast passages and a difference tone so low his cornet seems to morph into a trombone or tuba even.

"Ben Bolt" is a somber meditation that shows off his subtle touch and effortlessly melodious tone, reminding us that virtuosity isn't always about being the fastest or flashiest performer.
 
"Du, Du", on the other hand, is a whimsical look into his upper register technique with trills so fast and flamboyant at times it appears that two cornetists are playing in absolute lockstep. Nevertheless, his speed and accuracy never prevent his personality from beaming through.
Via UCSB Cylinder Audio Archive » Visit Blog
» 1 COMMENTS