You came this way:
Home
>
Tag: Comedy
"Comedy"
(Used 38 times)
Related Articles
glennten on 01/28/2012 at 12:00PM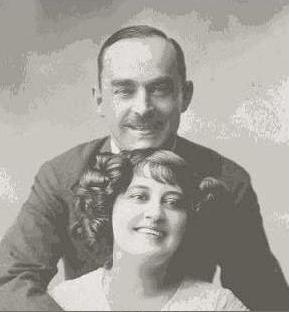 Nat M. Wills can be said to be one of America's first modern comedians. A popular vaudeville entertainer and recording artist from the early 20th century. He is best known for his "happy tramp" persona, performing satirical numbers, and parodies of popular songs of the day.
Modern American stand up draws it roots from this art form among various other traditions that were popular in the late 19th century. The material itself often used stereo typical portrayals of ethnic groups through crude impersonations (most commonly African-Americans). Unfortunately the racial tones in American vaudeville performances were very common during its time, and is evident on Wills' "No News" among several other of his recordings.
Wills was born in Fredericksburg, VA in 1873. His birth name is said to be Louis McGrath Wills, but very little is know about his early life. After his family moved to Washington D.C. he began his career on the stage at a young age, and performed in various shows throughout the United States.
Wills died at the age of 44 in 1917. He was an auto enthusiast who was said to be working on a car in his garage with the doors closed, and succumbed to Carbon monoxide poisoning. Automobiles were relatively new at the time, and it is possible that he was unaware of the poisonous fumes that were emitted from a running engine, some also speculate that he may have committed suicide.
His recordings maintain a lightheartedness, but my favorite track "Saving Up Coupons for Mother" is pretty dark as he sings about puffing away on cigarettes for coupons to ironically purchase a tombstone for his "Pa".
For further reading about Wills, and the Vaudeville genre check out No Applause--Just Throw Money: The Book That Made Vaudeville Famous by Trav S.D. And to hear more Nat Wills' there is a collection of his works available at
» 0 COMMENTS
MikeMatthews on 04/04/2011 at 04:40PM
HERE's effizode 25 of THE LAST PLACE ON EARTH with MIKE MATTHEWS!!!Click to listen to the show here...http://michaelmatthews.podomatic.com/entry/2011-04-04T00_49_53-07_00People watch TV at nightI'm doing this show instead, alright?Got a paper to write tomorrowHas something to do with something bizarroOh I went and watched THE FIGHTER one more timeI take it back, Amy Adams acted better than a mime It's funny how when you see a film againSome things you said before get tossed in a binNo there ain't no cure for the summertime bluesYes summer's almost hereSo get on your sweating gear! Hi this Mike Matthews.  Join me this week as we hear more of our interview with up and coming British performer Eliza Doolittle fresh off her big week at South by South West.  We'll also find out what Valentino the Parking Attendant and Bison Bentley are mad about regarding this show.  And we'll talk to a politician who's busy defunding one radio company so he can fund another.  Come with me to THE LAST PLACE ON EARTH!One of the cool things about having a show like this is when little things hit you during the week and you go...argh!  I can't wait to talk about it!  As if talking about it will help diffuse the "argh" from earlier.  Of course, when I actually sit down to do the show 9 times out of 10 I forget what it was I was "argh-ing" about!I just want to know, how are you watching movies on regular network or cable television anymore?  I'm not talking about the cable stations that don't show any commercials.  I'm talking the ones that now actually tell you that "this movie was modified, edited and TIME COMPRESSED."  Why on earth would you watch a movie that's been diced and sliced like that?  Are you that starved for entertainment?  Believe me, there are THOUSANDS of podcast out there, both just audio or with video that are far more worthy of your time.  I use Mediafly to listen to audio podcasts on this system made by Logitech called Squeeze Box.  It's not perfect;  shows drop out and other odd things happen.  But someone needs to make it easier for this privately produced entertainment to get to our general purpose televisions.  One of the reasons why people aren't flocking to this is because they want to just sit back and be entertained and not have to "search" or "click around" to find content.  But after watching 5 minutes of regular television, I can tell you there is no content on tv to be seen!So enjoy the show and check back here next week to hear more of our interview from that amazing band from Newfoundland called Hey Rosetta!You can subscribe on iTunes at:http://itunes.apple.com/us/podcast/michaelmatthewss-podcast/id318601461Thanks!  Mike
READ MORE
» 0 COMMENTS
MikeMatthews on 03/26/2011 at 10:52PM
HERE IS effizode 24 of THE LAST PLACE ON EARTH with special guest IRENE PENA!This is Mike Matthews bringing you another show from the one place on Earth that is the LAST place on Earth!  We have some great music waiting for us and Chely Shoehart, our 18 year old giftshop supervisor, makes a return appearance!  This week we have a very talented singer/songwriter from Seattle named Irene Pena.  She and I have an interesting backstory.  No, she's not an ex or anything like that!  We used to work at the same crazy corporation together!  And I mean CRAZY!!!  I ended up lingering within that very lopsided business far longer than Irene did, and it was to my own peril!  I ended up moving my wife and I to another state and then I got let go after a year.  Um, any cab money for the ride home, guys?  Oh, yeah, and that was one big BOYS CLUB!  And no, not the cool 80's band that featured members from The Jets and had one hit song "I Remember Holding You."  No, this was a bunch of unregulated a-holes pardon my francais!But after 2 years and several podcasts later, I don't miss that nutty company.  Yet thanks to social networks and the shrinking landscape in which we live, I was able to reconnect with Irene and hey!  She listens to the show!  So she's on this week.  Her self-penned tunes are awesome and you can hear them all right here!So my last guest, Hey Rosetta!, might be getting me onto the radio.  There was someone affiliated with them who is letting stations know about this show beyond what PRX.org can do.  At some point we might be on the radio again!  If we just remain on the Internet forever, however, I don't mind because I know that listeners like you are loyal and I shall continue producing this show for you!  I am trying to get this show on the campus radio station of the community college I go to.  Of course, they don't respond to emails, even from student accounts supplied by the very college they work for, so I must track down the program director to ask if I can play this show on their airwaves.But stronger than airwaves, please tell all your friends about this show.  We can build this thing!  It's a regular show that's out every week that promotes cool artists and gives you a fun audio alternative to all the other stuff.  Which brings me to other podcasts out there.  Really, it's all down to just radio and tv podcasts as well as big name celebrity podcasts.  Where are the in-home made podcasts?  Where are the not-big names?  I wanna hear something different!  I wanna hear a music show that's also got comedy and variety in it!  When I look up podcasts using the "music" tag, all I get is just music.  Shouldn't it have talking in it since it's called a podcast?  If it's just music, maybe it shouldn't be called a podcast.  Maybe it should be called an album!Oh, and I'm really tired of turkey meat.  Just thought I'd say that.  The ground kind.  Used to think it was amazing.  Now, just tired o' it.So as rain cascades down and various storm drains become backed up, and oh how I praise you precious storm drains!, here is effizode number 24...http://michaelmatthews.podomatic.com/entry/2011-03-26T15_10_52-07_00You can also subscribe on iTunes at http://itunes.apple.com/us/podcast/michaelmatthewss-podcast/id318601461Thanks!  Next week it's more of our interview with Eliza Doolittle who has since been at SXSW and featured in Entertainment Weekly Magazine!See you then!Mike
READ MORE
» 0 COMMENTS
TAGGED AS:
mike matthews
,
bay area
,
music
,
theater of the mind
,
podcast
,
the last place on earth
,
comedy
,
irene pena
,
seattle
,
entertainment
,
humor
,
See Less...
MikeMatthews on 03/04/2011 at 10:25PM
Hello!  This is Mike Matthews hopping on the bus and heading to this week's half-hour of happy, THE LAST PLACE ON EARTH!  We will talk to Chely Shoehart and Floyd the Floorman, find out why people on BART in the Bay Area are afraid to sit down, and we will catch up again with singer/songwriter Ben Wilkins.  So come with me into this always crowded cafe with interesting characters called THE LAST PLACE ON EARTH!We also find out this week how gas prices will get and what some cities do to keep their bus passengers' minds off...well, being on a bus.  Plus we hear music from Reggie Regan, the Red Hook Ramblers, and Los Negretes.  It's great to have Ben Wilkins back on the show.  This is actually a piece of the interview we didn't get to air where he talks about how he approached his recording session with the full intent of keeping it as "natural" as possible.We're up to "effizode" number 21!  As I write this my boxer, Basil, is really mad at me that I didn't take him for a walk yet.  He's shooting his "boxer guilt" at me.  Wow.  Now that's hard to shake!Thank you for reading this little blog attached to this new podcast.  Comment on what you think of it down below.  Next week we'll hear some of the Tristen interview that we didn't get to and we'll talk to Benita the Rodeo Queen, the Disgruntled Fiddle Player, and the Brewmaster.  Lots of people with "the" in their names.To listen to the show click on this link that takes you to my MichaelMatthews.podomatic account...http://michaelmatthews.podomatic.com/entry/2011-03-04T12_42_34-08_00You can also subscribe on iTunes at http://itunes.apple.com/us/podcast/michaelmatthewss-podcast/id318601461Enjoy and talk to you next week!MikeMikeTalks.blog.com
READ MORE
» 0 COMMENTS
MikeMatthews on 03/03/2011 at 05:43PM
Hello!  This is Mike Matthews taking the bus to THE LAST PLACE ON EARTH!  This week we have a very special guest all the way from England named Eliza Doolittle.  Her debut album has gone platinum over there and now it's being released here in the States!  We'll talk to her and find out interesting tidbits you can't find out anywhere else with a singer who is constantly honored on "you tube" in her home country.  Her album comes out here on March 22nd.  I can not believe gas prices!  They're blaming it on Libya but reports say most of their gas doesn't go to us but to Europe.  I think they blame anything to crank the prices up.  Ow, I hurt my finger, crank gas prices up.  Do my bidding!People were protesting FOX news in Wisconsin while they were there covering the union issues going on.  Now can we all get together and protest EVERYTHING that's on TV?  It's all crap!  I am forcing myself to watch the Oscar's this weekend, but then, that's it!  Amazon's competing with Netflix now with their special streaming movies feature.  I never have to watch TV again!Next week we'll feature some of the "unheard" bits of my interview with singer/songwriter Ben Wilkins.  We'll also hear from the cafe characters including Chely Shoehart, the Disgruntled Fiddle Player, Benita the Rodeo Queen, Floyd the Floorman, Valentino the Parking Attendant, Bison Bentley, The Brewmaster, and John Boehner.  I know how much you miss them!So here's EFFIZODE NUMBER 20!  Yayyy!  I've finally produced a podcast that has gone to TWENTY!!!  I'm so happy!  Listen to the Eliza interview and find out about my recent "open mic" (the first one I've done in over FIVE YEARS!!!).  Click on the link below to hear the podcast...http://michaelmatthews.podomatic.com/entry/2011-02-24T17_25_30-08_00You can subscribe on iTunes at http://itunes.apple.com/us/podcast/michaelmatthewss-podcast/id318601461Thanks!Mike
READ MORE
» 0 COMMENTS
» MORE INFO
» 1 COMMENTS
» ALL MIXES