You came this way:
Home
>
Tag: Chiptune
"Chiptune"
(Used 43 times)
Related Articles
Questo album è uno spasso!
Ha prepotentemente invaso l'audio delle mie ultime giornate. Una miscela esplosiva di chiptune music, swing e jazz che suona alle mie orecchie come qualcosa di mai ascoltato fino ad ora...
Complete review on NetMusic Life 
» 0 COMMENTS
jason on 11/09/2012 at 11:00AM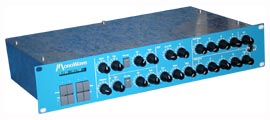 All of the tracks on this adventurous chip music compilation began with a single sample.
That's the sound of the Monowave, a Moog clone originally envisioned as a bass synth.
Hexawe, a CC-BY label for Piggy Tracker releases, put out an open call for remixes. This group of talented musicians heeded the call, looping tiny sections of the monowave sample and sequencing these instruments using their portable game console of choice. The result is Monorave, an inspiring showcase of what's possible with remixed digital soundwaves.
This compilation is truly open source in that you can download the tracker DAT files yourself and tweak them. When you do, you'll find that each song has a folder containing all the samples used in the sequence, and many of the tracks draw all of their source material from that single monowave sample.
» 0 COMMENTS
lizziedavis on 07/27/2012 at 11:15AM
This is the best chiptune-funk comp ever! To anyone who's ever made disparaging remarks about the soullessness of FM synthesis, I present this album as irrefutable evidence of the contrary. On FM FUNK MADNESS!!, synths come alive. Tracks like Blitz Lunar's "Cascade Masquerade" immediately conjure comparisons to the hits of the great Wild Cherry. The following track,"Fashion Queen" by Kulor is a natural thematic and musical successor to Madonna's "Vogue." Later in the album, the thumping bassline of Tsuyoshi Shimokura's aptly-titled "FunkOsaka" brings to mind not waveform crests and nodes, but the pulsating lights of Studio 54!
FM FUNK MADNESS!! was compiled and released by Ubiktune, a chiptune and video game music-related netlabel based out of Russia.
Via Free Music Archive » Visit Blog
» 2 COMMENTS
S27 on 08/29/2010 at 04:56PM
Doc Deem has been making music since 2000, mostly in a field known as experimental electronic, his sound wavers between danceable and maddening to more emotionally resonant, creating awe-inspiring atmospheres with cinematic scope.
His second release on S27 "The Rutherford" continues in this vein whilst expanding from his previous self-titled release, 9 tracks which are both harsh and beautiful in equal measure.
» 0 COMMENTS
LCL on 06/02/2010 at 03:55AM
   LCL netlabel just released the second volume of hte "Recto Versus" serie, where an artist from the label remixes and is remixed by other musicians, coming from LCL or invited.
   After Volfoniq on volume 1, the second opus of the "Recto Versus" serie puts an artist from the label at the center of a vast collaborative work that lasted for one year and spreads over several countries.
   The aim of the project is to push further the use of creative commons licences and promote them widely, while exploring all the aspects of a musician style with his own eyes and foreign ones.

   Arrogalla involved several artists from Sardegna (his birthplace) that produce folk related electronic music just like him, as well as european, american and asian producers from various musical styles.
   Thru 20 tricky tracks, together, they expose their vision of a generous and universal musical language, using numerous sonic vocables : dub, ska, lofi, dubstep, minimal, electronica, chiptune, funk, deviant hiphop, grime ...

   Explore this compilation on FMA, and learn more on the release page on LCL netlabel website.
READ MORE
Via LCL (LibreCommeLair) » Visit Blog
» 0 COMMENTS
TAGGED AS:
jambassa remixes arrogalla
,
dr dub
,
dubstep
,
triphop
,
netaudio
,
mp3
,
arrogalla
,
ras amerlock
,
chiptune
,
electronica
,
dub
,
download
,
netlabel
,
compilation
,
dadub remixes arrogalla
,
volfoniq
,
lofi
,
hiphop
,
release
,
free
,
lcl
,
remix
,
See Less...
» MORE INFO
» 1 COMMENTS
» ALL MIXES
» MORE INFO
» 0 COMMENTS
» ALL MIXES
» MORE INFO
» 0 COMMENTS
» ALL MIXES