You came this way:
Home
>
Tag: Chicago
"Chicago"
(Used 25 times)
Related Articles
FMAmp3 on 04/26/2012 at 04:00PM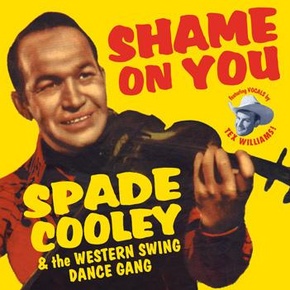 One of the most notorious figures in country music history is western swing pioneer Spade Cooley. Cooley was known as the "King of Western Swing" in his heyday, but due to a gruesome incident in his private life, he is often viewed these days more as the Sid Vicious of Western Swing. His is a model lesson in how a brilliant musical legacy can be overshadowed by unsavory personal problems. (via JoeMc, "He Did It Then" —> Read More)
This song features Tex Williams on vocals, and can be found on Shame On You, a set of music from Space Cooley & The Western Swing Dance Gang featuring Tex. The collection was issued by Bloodshot Records' Bloodshot Revival Series.
The Bloodshot Revival Series is a fantastic historical resource for country music in the early/mid 1900s, with a focus on the music of Bloodshot's hometown of Chicago.
Browse more promotional Bloodshot Revival/Soundies tracks on the FMA, and pick up these fantastic reissues at Bloodshot Records. Show 'em some love in honor of Preservation Week (#preswk12)!
Via Free Music Archive » Visit Blog
» 0 COMMENTS
studio11 on 02/18/2011 at 05:30PM
For their inaugural Free Music Archive release, Studio 11 founders Alex Gross and Dan Scalpone caught up with James Curd, international house D.J. and creator of Greenskeepers Music. Alex comments,
The history of Studio 11 and Greenskeepers dates back over a decade. As young pioneers on the Chicago music scene, Studio 11 founder Dan Scalpone and I would find ourselves at bars and pickup jams with the likes of original GK members Coban Rudish and Mark Share. So naturally, when the band needed some work on their 2005 release "Pleetch"(OM Records), Studio 11 was an obvious choice. The album was completed in Chicago and New York, and off the band went to tour the world.  It wasn't until 2006 that I caught back up with the guys. Having completed their 2006 release "Polo Club"(OM Records), the band invited me out to New York for their album release party at Love nightclub in Greenwich Village. The performance was a showstopper, highlighted by classy costume wear and righteous onstage swagger. Of notable memory was Nick Maurer's Sgt. Pepperesque stage coat, sunglasses, and sarcastic antics.
Following this, time and difference reinvented the Greenskeepers. In recent years GK founder James Curd hashed out a new sound, lineup, and workflow with a majority of the material being completed in Chicago at Studio 11. Additionally, James aggressively expanded his D.J. career, completing releases and remixes for the likes of D.F.A, Drop U.K., Groove Armada, Hercules And Love Affair, Mos Def and Lenny Kravitz, Colette, Derrick Carter, Gene Farris, Om Records, and more. I can't say enough good things about working with James in the studio. Not only is he one of Chicago's most innovative musicians, he is astoundingly prolific – with releases totaling in the hundreds.
Dan caught up with James for an interview:
READ MORE
Via Studio 11 Chicago » Visit Blog
» 0 COMMENTS
TAGGED AS:
derrick carter
,
groove armada
,
house
,
greenskeepers
,
mixing
,
chicago
,
dj
,
ziggy franklin
,
disco
,
music
,
lotion
,
recording
,
james curd
,
colette
,
om records
,
dance
,
greens-keepers
,
mastering
,
australia
,
See Less...
katya-oddio on 12/22/2009 at 07:00AM
Wesley Willis (1963-2003) was an artist and musician from Chicago who released hundreds of songs with his own unique sense of humor. His chronic schizophrenia was reflected in his work which leaned toward the bizarre and obscene. Willis gained a cult following and major label attention.
One of his labels, the prominent independent Alternative Tentacles described Wesley's work as "simultaneously disturbing, hilarious, blunt, and intoxicating. Wesley's sheer excitement and unaffected honesty about every cultural phenomenon, defined his music as truly individual, and truly punk rock."

Sadly, in 2002 Wesley was diagnosed with Chronic Myelogenous Leukemia (CML). He underwent emergency surgery in June 2003, and passed away in August of the same year.

Hiji, a.k.a. M-Halo, soon thereafter organized a tribute album to honor Wesley Willis. Work for LOVED LIKE A MILKSHAKE: A WESLEY WILLIS TRIBUTE ALBUM began when Hiji posted a Craigslist listing suggesting a tribute of cover songs. The response was positive and the following 18 songs were selected. The final product was released for free online in November 2003 and produced by M-Halo with mastering and additional production by Tom Gordon.
Enjoy the entire album LOVED LIKE A MILKSHAKE: A WESLEY WILLIS TRIBUTE ALBUM on FMA!
Via Oddio Overplay » Visit Blog
» 0 COMMENTS