You came this way:
Home
>
Tag: California
"California"
(Used 15 times)
Related Articles
MikeMatthews on 04/09/2011 at 04:58AM
HERE is EFFIZODE 26 of THE LAST PLACE ON EARTH with MIKE MATTHEWS and his special guest HEY ROSETTA!Listen here...http://michaelmatthews.podomatic.com/entry/2011-04-08T21_42_32-07_00Hello this is Mike Matthews boarding the bus that takes us to THE LAST PLACE ON EARTH.  Today's half hour of happy includes more of our interview with the phenomenal Newfoundland band Hey Rosetta! plus Chely Shoehart our 18 year old giftshop supervisor discovers a horrible secret about herself and Floyd the Floorman finally puts his foot down!  In a bucket!  What's up with him?  It's all coming up next at THE LAST PLACE ON EARTH!Glen Beck is leaving Fox.  Here's the thing...it's not like he's retiring.  He's still going to be on radio and doing little features and still having a presence across the so called "un-liberal media."  Is the Tea Party turning into a party of quitters?  Palin?  Beck?  Is it "we're going to take BACK America!" or "I'm going to take a nap...on my BACK."This week we explore the very prevalent phenomena in our culture of aging rockstars.  What was once deemed cooler than cool is now turning into a bunch of guys who can't hit high notes that smoked way too much and just aged like the rest of us...or aged worse than the rest of us (but had fun doing it!).  I'm hearing a lot lately about what it's like to work for Google.  I think that I will never be able to work there, but if I did I would be treated to free laptops, free computer swag of all sorts, a cafeteria that is being completely misnomered by calling it that for it's more like a gourmet restaurant with incredibly healthy food and every service under the sun: on sight doctors, fitness trainers, doggy kennels, childcare.  Utopia has been found on Earth and its name, strangely enough, is Google!Oh, by the way, here's something else I found out...If you're looking for a job and you think you've got an "in" somewhere and it turns out one day that your "in" person tells you, "Oh, you want a job here?  I can't help you.  You have to apply like everybody else."  This happened to a friend of mine.  How is that person even an "in" person?  People claim they "know" people all the time.  If you live here in the Bay Area, stop thinking that you're special that you know someone at Pixar!  EVERYONE knows someone at Pixar!  Someone in my computer class said they knew someone at Pixar and they "were so cool to work for!"  Yeah, you know what?  It's Hollywood.  When they're making a movie, nobody goes home.  It's work all day and night.  You have no life.  Working for Pixar is your life so you might as well find a nice little overpriced (even in this economy) condo in Emeryville and just not even move in cuz you'll never live there.  I had my head bitten off in computer class for saying that.  "No programmers have lives!" said one of the young pock marked fresh faces sitting next to me.  Well, go for it, little youngin'!  Tell me how that works out for you when you're 40 and you've gone through 80 relationships with women who didn't want to stick around because you were never around cuz you were working on the next disney-formulaic movie to get nominated (and not win) for Best Picture.Oh...excuse me.  I watched a Lewis Black special last night.  in a ranting mood!In my intro song for this week's show I sing about how I overheard someone (this also happened to be in my computer class...god I get some material from that class!) get upset because someone else was invading their personal space.  You know what invades my personal space?  I've said it before, but people yelling on their cellphones in a public place.  How can we be living in 2011, the cellphone being around for well over 20 years, and people are still yelling on those?  Etiquette, people!  I don't care how your friends talk on the cellphone when in the privacy of your own group, when you're loud, you're loud!  We can ALL here you!  If we were smart, we should all tell you EXACTLY WHAT YOU SAID when you end your call.  You want privacy?  I don't think so!Thanks a lot Lewis!  You've made my blog more ranty than usual.  Okay.  Well, enjoy this week's show.  Hey Rosetta! and their lead singer, Tim Baker, talk to us in more of our interesting interview with them, plus, as you read earlier, craziness ensues with some of the cafe characters.  Subscribe on iTunes at...http://itunes.apple.com/us/podcast/michaelmatthewss-podcast/id318601461Next week it's more of our interview with singer/songwriter Irene Pena as well as a visit from the Disgruntled Fiddle Player and the Brewmaster.  We could all use a brew these days!MikeMikeTalks.blog.com
READ MORE
» 0 COMMENTS
Nat_Roe on 11/26/2010 at 03:30PM
A couple weeks back LA noise titans slash cultural lynchpins Robedoor did me the honor of recording a live session in WFMU's studios during a rare and excessively brief East Coast tour. Although Robedoor began as a two-piece drone band with dozens of releases on just about every cool noise label out there, the recent addition of Geddes Gengras as a drummer has brought the band closer to the unholy realm of doom metal.
Alex Brown supplied (among other things) keyboard riffs that form the backbone of the jams - his rig is so bass heavy that I actually couldn't tell whether he was up too loud in the mix or whether the floor was just shaking. Britt Brown played guitar and vocals, with a slew of pedals to throw off any semblence of the concept of a "song". The track "I thought you were the Devil" is off Robedoor's recent LP on Important Records, Burners. Parallel Wanderer, by far the longest track in this session, will appear as a full side of a yet untitled upcoming LP. This seems to be following Robedoor's usual method of writing songs: jamming it out with live improv until the completed song idea emerges from the murky depths.
Or maybe the secret to Robedoor's success is putting beer in every meal they eat? Alex runs an excellent and hilarious food blog called Hot Knives that seems to indicate a predilection for hoppy breakfast dishes. Speaking as somebody who loves nothing more than the rhetoric of high end menus, the Hot Knives archives are great because you get classy dishes with rock and roll commentary. For god's sake, he teaches you how to make the "über pre-choucroute", Kimchi from scratch!
Then again, Robedoor's ability to touch on a hundred genres at one is probably because Robedoor members are so involved with underground noise culture. Britt Brown runs Not Not Fun records, which has released a ton of material from many perennial WFMU favorites. I'd explain more, but there really aren't words. I'd recommend blasting this live session over your best sound system while nerding out to lists of releases from Not Not Fun and Robedoor on discogs.
Thanks to Jason Sigal for these photos and for help with engineering the recording.
Via WFMU » Visit Blog
» 0 COMMENTS
efd on 04/08/2010 at 12:00PM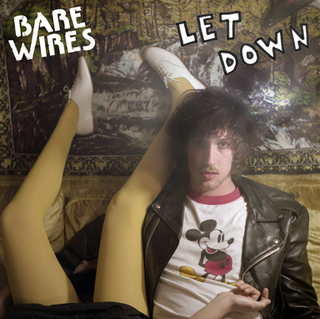 Back on the night of Tuesday, June 30, I was checking out a bunch of singles that had recently been added to the WFMU New Bin. As soon as dropped the tonearm onto "Let Down" by the Bare Wires I was hooked by the arresting feedback-laden guitar combined with the breathy, almost sweet-sounding vocals. Encouraged, I flipped the record over and was rewarded by "Looking For Some Action," which sounded like it almost could have been an old Real Kids outtake.
I played both sides of the single that night, and then played it again (just one side) the following week. And the week after that. And the week after that. I played that record for 12 weeks in a row, and the only thing that stopped me from playing it on that 13th week was that I'd gotten myself a copy of their LP, Artificial Clouds.
About halfway through those twelve weeks of repeated spins I contacted Matthew Melton, the Bare Wires' singer/guitar player/songwriter, with hopes that the band would be heading out east from their base in Oakland, CA. Sadly no such tour was forthcoming at the time, but the cliche "good things come to those who wait" is a cliche for a reason. In March they set off on an extensive tour across the country and back, and we're very happy that they came by to record a set at WFMU on what would have otherwise been a free Saturday afternoon in New York City.
Ironically, for all the talk of that single, by the time the band made it out this way they'd gone through some lineup changes and written a bunch of new songs and neither song from the single is currently in their repertoire. That's certainly not to say that their set was a disappointment - it absolutely was not. Melton is continuing to write short catchy garage-punk songs -- enough for another LP, which will be coming out in a few months on John Dwyer's (Oh-Sees, Coachwhips, etc.) label Castle Face.

While we wait for that album to come out, give a listen to this fantastic live set, which includes songs from the new LP as well as some from Artificial Clouds.

Thanks to Bare Wires for coming down, and to Diane Kamikaze for working her usual magic behind the board.

Bare Wires are on tour now, tourdates here
Via WFMU » Visit Blog
» 0 COMMENTS
lavenders on 12/15/2009 at 09:00PM
We love when our friend White Rainbow comes to town. He's known for having the finest, most potent sound machines and is super generous with his product. As soon as he started recording this surreal sprout session the walls in our studio began to melt, the cables tangled themselves into intricate designs on the floor and time started to move at a snail's pace. When we woke up, there was no trace of the White Rainbow. Was it all a dream? Is this reality?
Find more to freak out to with this set from White Rainbow at our Tonalism happening as part of the all night GLOW Festival in Santa Monica, CA.
Via dublab » Visit Blog
» 1 COMMENTS