You came this way:
Home
>
Tag: Brazilian
"Brazilian"
(Used 50 times)
Related Articles
A Na Cara & Coragem produções está organizando sua terceira coletânea da série "#Partiu" e convida a todos os interessados a participar e este ano o Homenageado será a 
Banda Cólera
  e será lançado Online no dia 13 de Dezembro em diversos canais distintos na Internet.
READ MORE
» 0 COMMENTS
Infinito... 
Não há palavra melhor para caracterizar este disco. Uma odisséia que não finda, onde se pode navegar nos ventos calmos do universo musical, em qualquer direção, a qualquer momento. 
Nossos sentidos captam essa expressão logo em um primeiro ato, onde a música brasileira regional se une a elementos mundiais, passando por diversas nuances até chegar a ... ou melhor, até recomeçar. 
Isso é "Infinito", primeiro disco oficial do Lá Eles, composto por Beto Wilson, Ivanzinho e Felipe Pomar, que transcende, experimenta, incorpora, inova,cria... 
Este disco prova que, na música não há limites. Não tem início e nem terá fim. 

Download (disco completo): www.mediafire.com?x3cmw7g7pwlg93w
» 0 COMMENTS
"Quincas" is part of the soundtrack of Brazilian film Quincas Berro Dágua, based on a novel from Brazilian author Jorge Amado, originally named "A Morte e a Morte de Quincas Berro d'Água." I've never seen the film, but the book... actually, the author, is one of my favorites.
The story happens in the Northeastern state of Bahia - from where the writer is from; a place full of beaches and known for a society of very calm and easy-going people. Quincas, the main character, lives a low-profile life until one day, fed up of his own style, decides to let loose and enjoy life. He dies twice, and that's basically all I can say without spoiling it.
I came across this soundtrack from well known Brazilian composer and producer Beto Villares and thought this song was beautiful. Very representative for those who know the character. Very easy to listen to if you're just browsing around, searching for some new music.
» 0 COMMENTS
I first heard Circo Vivant when I was working as a producer back in São Paulo, a couple of years ago. We were organizing a few shows as part of one of the SP's many independent festivals, in a small, alternative, live music place; one of those bookstores-turned-bar. The group, originally from the Northeast of the country, to be more specific - from the city of Olinda, was playing at the occasion. We had never heard of them before. There was a slight tension in the air, but a lot of excitement too.
Hmmm…

I remember calling some friends during the first song: "Guys, do you wanna dance and have some decent amount of fun? Then come and check this out!".

Circo Vivant is a great band to be seen live (take them to your country!).
The natural energy of their songs added to an extremely energetic and full of attitude lead singer is just one of those great combinations. Everything flows.

I kept imagining how they would sound on their debut album - that they enthusiastically talked about, and was still being recorded at the time...

… Well, this is how it sounds:

Afroaméricalatinidade, Circo Vivant's first album, is just as the name suggests, a mix of all sorts of African and Latin American influences, so common to our ears in Brazil that it feels almost natural. Very… Brazilian I would say. ;-)

Produced by Sonic Jr., the album plays around some pretty serious stuff: funk, soul, afrobeat, ska, rock and the traditional frevo - known as one of the most popular rhythms of the state of Pernambuco.

Saravá!


For the complete album: http://www.circovivant.com
» 0 COMMENTS
FMAmp3 on 04/11/2012 at 01:00PM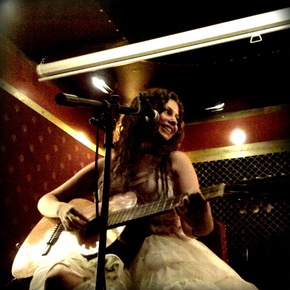 Maya Solovéy is a trilingual singer/songwriter who lived in Massachusettes, Ecuador, and Spain before settling in New York. She sings in Portuguese, Spanish and English.
"A Vida" is sung in Portuguese over Brazilian-style guitar. It can be found on Maya Solovéy, I:II , a Creative Commons BY-NC-SA release.
If you've enjoyed Maya Solovey's music thus far, you can invest in her next EP and receive commissions just by spreading the word—a pretty cool idea from the new fundraising platform Sokap.
Via Free Music Archive » Visit Blog
» 0 COMMENTS
» MORE INFO
» 2 COMMENTS
» ALL MIXES
» MORE INFO
» 0 COMMENTS
» ALL MIXES