You came this way:
Home
>
Tag: Bob Barta
Related Articles
ange on 03/05/2013 at 01:59PM
The votes are all in from our incredible panel of judges, and these three winning songs took the cake!
At this party everybody gets a present now that we have this dynamic Free Birthday Song Repository available for your projects. If you explore for a while, you'll find birthday songs that are incredibly touching, starring adorable children, offered in multiple languages, full of every foul word imaginable, and fun to share with your friends. Plus, the special happy birthday song that America just isn't ready for.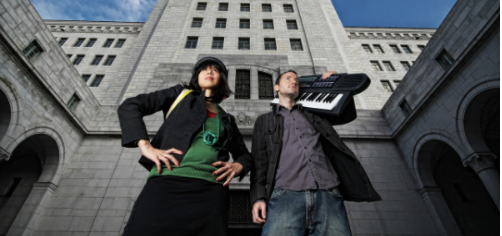 FIRST PLACE: MONK TURNER + FASCINOMA
After collaborating on the concept album Emergency Songs, Monk Turner + Fascinoma weren't sure is they would ever work together again. "I almost killed him a few times," Fascinoma told us. Monk explains that when they collaborate she's the John Lennon and he's the Paul McCartney. She brings a certain kind of melancholy, and he brings a pop sensibility. You can hear how these different styles compliment each other in their winning song. "It's Your Birthday!" captures a feeling of heartfelt well-wishing with a sound so polished you'll want to run out and buy a tablet computer.
Though the winning song lacks the opportunity to shout out the birthday person's name, there is room to build in a call and response element. You can download the sheet music in the key of B (pdf, google doc) or the key of C (pdf, google doc). Also, check out the alternative versions of the song including two piano tracks and an instrumental version.
READ MORE
Via Free Music Archive » Visit Blog
» 4 COMMENTS