You came this way:
Home
>
Tag: Blues
"Blues"
(Used 142 times)
Related Articles
MC_Cullah on 05/09/2018 at 12:18PM
Why, man he doth bestride the narrow world like a "Cullahsus"; and we petty men walk under his huge legs and peep about to find ourselves dishonorable graves.
With his aptly named brand new genre-transcending album of Cullahsus, Cullah takes us back to his roots (Well, as "roots" as it gets for a 27-year-old who has already released 12 albums). His powerful voice, funky beats, and that Milwaukee melodic spirit that never left now accompanies every song. Budgeting his food solely from the small amount money he makes from Spotify since he has refused to fully commercialize his music; he declares his resolute spirit through "King Jebediah (The Falcon Messiah)". The themes infused the album are a lack of control of circumstances to a larger benevolent beast. In Cullah's case, King Jebediah seems to be the music itself that he creates and is provided by.
This is the first year that he has been able to concentrate his efforts solely on creating his music. Unhindered by other responsibilities, in "Hurrycane" and "Helios 3" he seems to be both overwhelmed and liberated in the storms and boundless space of creativity. Despite these new joys and pains, a bit of the previous "Cullahmity" album influences "Cullahsus". A heartbroken Irish trill echoes in "The Grief of Ceridwen" illustrating the loneliness that comes with the freedom expressed in his other songs.
Find out more on his website: http://cullah.com
READ MORE
» 1 COMMENTS
TAGGED AS:
rockandroll
,
funk
,
folk
,
hiphop
,
soul
,
rock
,
world
,
banjo
,
electrofunk
,
rb
,
voice
,
country
,
electro
,
blues-rock
,
vocal
,
irish
,
story
,
blues
,
song
,
psychadelic
,
singing
,
rap
,
See Less...
silb on 02/18/2016 at 01:23PM
There are lots of music gigs that take place across the UK every week and getting tickets to see your favourites can become quite expensive so I've listed below some of the biggest music festivals taking place across the UK that won't cost you a penny.
BBC Radio 1's Big Weekend
As the biggest free music festival in Europe, this list wouldn't be complete with the legendary BBC Radio 1's Big Weekend.
It takes place in a different location each year, with this year's taking place in Exeter. Global superstars such as; Taylor Swift, Foo Fighters, Muse and many more all get involved, it easily attracts some of the biggest names in the industry for a free evening of some of the hottest music around.
Most tickets are given to local residents in the city that it takes place but you can still register online for a chance to score tickets.
Monmouth Festival
This festival is considered one of the longest running, largest and best free, volunteer organised festivals in Europe.
Taking place in south east Wales the Monmouth Festival happens over nine days bringing an eclectic mix of genres, with classical and country being played one day and ska and dance the next. It's grown to now include a carnival element as well as a burgeoning fringe aspect.
MoFest
As the biggest free music event in Scotland, MoFest puts Montrose on the map. This festival is celebrated at the end of May with 3 days of every kind of genres of music you can think of. Jools Holland will be headlining at this year's festival with his Rhythm and Blues Orchestra.
If Montrose East Links outdoor venue takes your heart, finding accommodation in Montrose won't be too difficult as they have a wide range of quality hotels and houses for rent.
Godiva Festival
Taking its name from Lady Godiva's famous ride upon a horse in the town naked, festival goers are will be pleased to know that the Godiva Festival has been confirmed for 2016. With a massive audience of around 141,000 visitors last year, Coventry City Council can be thanked for ensuring the biggest free family music festival will be taking place again.
Local bands battle it out for the Godiva Calling Competition while signed bands also compete to play at the festival you're sure to get the best talent on stage.
The Willow Festival
While last year's festival had to be cancelled the Willow Festival has been confirmed for the 8th -10th July 2016. It will be their 10th anniversary and it promises to be huge. In 2014, a crowd of around 63,000 turned out to hear 178 live bands and solo acts.
Head to Peterborough in the east of England for the Willow Festival   
Folk on the Quay
With four outdoor music stages and two ceilidh dances you can get your folk on in Poole from 25-26 June 2016. You'll get to see some colourful traditional morris dancers strutting their stuff while you relax in the Thistle Hotel.
Birmingham Jazz and Blues Festival
You can listen to Jazz and Blues in over 40 venues from the heart of Birmingham, organised by Big Bear Records which is reputed to be one of the longest established independent record companies in the UK since 1968. The Birmingham Jazz and Blues festival will take place during July with an estimated over 170 performances taking place.
Upton Blues Festival
Recently awarded the Festival of the Year by the British Blues Awards 2015, the Uptown Music festival will not disappoint. With all their main stage acts already confirmed all the biggest Blues names will be appearing though good luck if you have a particular band in mind, as the day and time of each performer haven't been released.
Worcester Music Festival
For three days of free music head along to the Worcester Music Festival between the 16th and 18th of September. As a celebration of original music the Worcester Music Festival is in its ninth year, has now grown to include a camping element to the festival.
A key highlight is the free music clinics for kids and adults to engage and rekindle any passions for music that might have been left behind.
Liverpool International Music Festival
Winners of the Best festival for emerging talent the Liverpool International Music Festival is only four years old! From the 21st to the 24th July you can listen to anything from budding artists and DJ's between the ages of 13-25 from across Merseyside to household names.
There's a great family zone section with plenty of opportunities for younger kids to get their feet tapping to the beat. Everyone can enjoy the festival as Liverpool lives up to its reputation as a UNESCO City of Music.
While we've only listed the completely free events there are plenty of events that provide a mix of ticketed and free music events, the Edinburgh Fringe is well-known for its huge reach but we've tried to list events where free music is the main attraction that takes place across several days.
» 0 COMMENTS
"Things Left Unsaid" is not only the testimony of a precise moment, but rather the result of a long research, composition and improvisation done by the band: there's a  common area where  musical elements from diametrically opposed musical worlds such as jazz and contemporary music, rock and blues coexist without forgetting the melodic vocation in each composition.
Samurau: the band  (Michele Sanna - guitars; Matteo Muntoni – el.bass; Alessandro Garau- drums) after a long period of mutual courtship and knowledge among the members, was officially founded in 2014: the aim is to satisfy the need to blend in total freedom, sounds, music, different styles through their own compositions.
» 0 COMMENTS
With his raw, acoustic, often multi layered music and heart tugging songs, London,UK resident Jeff Bell has generated significant consumer interest. Musically Left-field and traditional Roots, Blues Rock, Jeff Bell is an intuitive song-writer, captivating vocalist and multi instrumentalist who combines clever, commercial melodies and lyrics that lay truths uncomfortably bare. Jeff has released five albums, including one six track EP. His sixth album- 'Artisans Hands' is set for release in the coming months. Thanks for reading. Influences: Steve Marriott~Iggy Pop~ Vaughan Williams Lateral Press 2012 www.lateralpress.co.uk
Can't upload song to site? But links below will take you straight there! 
Website, http://www.jeffbellmusic.com
Albums, http://www.cdbaby.com/Artist/jeffbell4
Blogg, http://jeffbellmusic.blogspot.co.uk/
Various Sites, http://www.stumbleupon.com/stumbler/jeffbell25
» 0 COMMENTS
FMAmp3 on 03/29/2012 at 04:00PM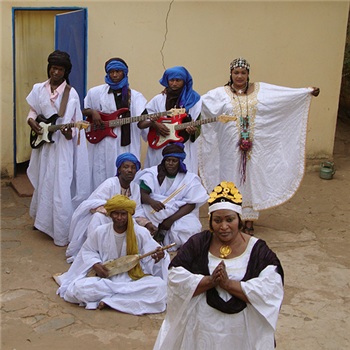 A cousin of the Farka Touré family, Khaïra Arby took Mali's national music competition by storm in 1970 when she was just eleven years old. But despite her gift for song, she soon found herself given to marriage with a man who forbade singing. After years of frustration, Khaira Arby divorced to embark on a career in music. She joined Mali's national band and blossomed into a renowned solo artist in the 1990s, known as "The Nightingale of the North" to the south's "Songbird of Wassoulou," Oumou Sangaré.
On the heels of her first international release, Khaïra Arby visited the KEXP studios in Seattle for this live performance on The Best Ambiance with Jon Kertzer. She performed with her band from the deserts north of Tombouctou, Kevin Suggs with songs in the Sonrai, Arabic, Tamashek, and Bambara languages of the Sahara. Video after the jump, with more on KEXP's blog.
Khaira Arby is on Facebook & Twitter. MP3s @ iTunes
READ MORE
Via Free Music Archive » Visit Blog
» 0 COMMENTS
TAGGED AS:
blues
,
jon kertzer
,
mali
,
africa
,
kexp
,
north african
,
desert rock
,
the best ambiance
,
khaira arby
,
african
,
See Less...
» MORE INFO
» 1 COMMENTS
» ALL MIXES
» MORE INFO
» 0 COMMENTS
» ALL MIXES
» MORE INFO
» 0 COMMENTS
» ALL MIXES
» MORE INFO
» 0 COMMENTS
» ALL MIXES
» MORE INFO
» 0 COMMENTS
» ALL MIXES