You came this way:
Home
>
Tag: Bloodshot Revival
Related Articles
lizziedavis on 08/03/2012 at 12:00PM
Hank Penny should be a household name. But the reason he isn't is the same reason that this release cooks: attitude. Seems Hank wouldn't take shit from anybody. As a result, he burned a lot of bridges and missed more than a few opportunities to further his career.
He started his first band, the Radio Cowboys, in 1935 and later became a regular on the Boone County Jamboree out of Cincinnati. He acted in a couple of Westerns, yukked it up on Spade Cooley's TV show in the 40's, DJ'd here and there across California and Kansas, and tore up clubs across the country from the 30's to the 70's. (via.)
A couple years ago, Bloodshot Records put together 30 of Hank's best as part of its Bloodshot Revival country reissue series. Sample what you've been missing with "Alabama Jubilee" below.
Via Free Music Archive » Visit Blog
» 5 COMMENTS
miscellaniac on 04/27/2012 at 04:00PM
Although Preservation Week 2012 is winding down, that's no reason to stop the celebration. Ease into the weekend with this mix which pays tribute to time, the past, and how some things are just too good to let lapse into oblivion.
FMA curator, Cylinder Preservation and Digitization Project (CPDP) gives us a taste of vaudevillian debauchery with Sophie Tucker.  Early 20th century Canadian folk fiddler, Isidore Soucy, is a highly jig-able offering from Excavated Shellac, also an FMA curator.
Free-psych-noise-electro-unclassifiable Oakland-based Kreamy 'Lectric Santa ruminates on dystopia.  Oneida's 2006 live performance still resonates powerfully, well into this milennium. 
Self-taught lo-fi multi-instrumentalist hyphenator, Spencer Owen, pleads with the future.  Long-running WFMU show, Antique Phonograph Music Program, shares some vintage avian ventriloquism courtesy of Edward Avis and Howard R. Garis. 
And Wooden Shjips' "For So Long" is an epic, driving collision of mind-altering sparsity that travels the path of its own stylistic origins.
» 0 COMMENTS
FMAmp3 on 04/26/2012 at 04:00PM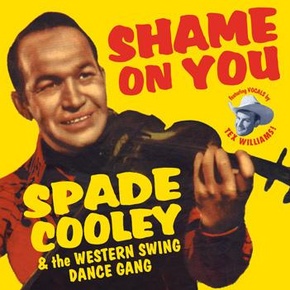 One of the most notorious figures in country music history is western swing pioneer Spade Cooley. Cooley was known as the "King of Western Swing" in his heyday, but due to a gruesome incident in his private life, he is often viewed these days more as the Sid Vicious of Western Swing. His is a model lesson in how a brilliant musical legacy can be overshadowed by unsavory personal problems. (via JoeMc, "He Did It Then" —> Read More)
This song features Tex Williams on vocals, and can be found on Shame On You, a set of music from Space Cooley & The Western Swing Dance Gang featuring Tex. The collection was issued by Bloodshot Records' Bloodshot Revival Series.
The Bloodshot Revival Series is a fantastic historical resource for country music in the early/mid 1900s, with a focus on the music of Bloodshot's hometown of Chicago.
Browse more promotional Bloodshot Revival/Soundies tracks on the FMA, and pick up these fantastic reissues at Bloodshot Records. Show 'em some love in honor of Preservation Week (#preswk12)!
Via Free Music Archive » Visit Blog
» 0 COMMENTS