You came this way:
Home
>
Tag: Blocsonic
"Blocsonic"
(Used 10 times)
Related Articles
dvd on 07/19/2012 at 01:00PM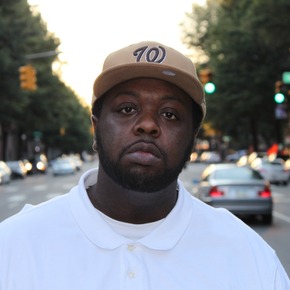 The lastest full-length release from Richmond, Virginia (RVA) area emcee/producer The Honorable Sleaze just dropped today thanks to our friends at blocSonic. Broad Street Boogie stays faithful to the underground aesthetic, mixing funk & soul samples with skilled production and hazy daze lyrics. Check out "Higher" for a taste, and if you dig it head on over to his artist page for lots more. When he's not making his own music, Sleaze runs the Just Plain Sounds netlabel. 
Via Free Music Archive » Visit Blog
» 2 COMMENTS
Progolog on 03/10/2012 at 03:30PM
A new Blocsonic release that lit up my ultimate weekend playlist. mGee have published their release "Stand" containing only 2 tracks. In this case, this small release weights more heavier in it's sound. The two songs are currently running on heavy rotation and i think this ain't gonna change very soon. 
"Let me introduce to you our fortyFive series of releases. fortyFives are our take on the classic 7" single format. An A side, a B side and tracks no longer than 6 minutes in length. Because of this, it's the perfect format to allow us the freedom to quickly surprise you with new music any day of the week by any current or future artists. They send us the music, we quickly get it to you. 

For this premiere fortyFive, we've got a little something by blocSonic's founder and creator Mike Gregoire aka mGee. Later this year he's serving as a guinea pig to test out a new hybrid release model with a two part album release, "Tourist Trap, Parts 1 & 2" (more details to come later this year). Until then, he plans on releasing the occasional fortyFive for you to enjoy.

On this one you'll find a brand new track called "Stand" which samples the great Josh Woodward song "Let It In" and a remastered and updated version of the first track he released via mgee.blocsonic.com back in 2010, "Kick It Along The Transit Line (fortyFive Version)".
Via Progolog » Visit Blog
» 0 COMMENTS
blocsonic on 02/16/2012 at 12:00AM
Back in the early 2000s, I began discovering the incredibly diverse world of netlabels/netaudio. At first, my exploration was hindered due to my lack of commitment to the need of listening to such a large array of music only to discover a very few gems that appealed to my tastes. By 2006 I had come to realize that there wasn't any easy button to discovering music I love. I also decided that I'd take it upon myself to create that easy button for others to discover the vibrant music scene more easily than I was able to. That easy button became blocSonic.com and was launched in January of 2007.
For the first two years, I concentrated on the series of releases for which blocSonic was created, the netBloc series. A series of releases that collects 10-12 personal netaudio favorites into a fully realized compilation album that comes with complete album art, a PDF booklet with extensive liner-notes and is available in multiple audio formats, including lossless FLAC. In those first two years, 26 volumes were released that shined the spotlight on a widely eclectic range of netaudio from all over the world. The netBloc series quickly generated interest among music listeners, netaudio artists and netlabels alike.
Then in 2009 came the natural next step… releasing blocSonic original albums alongside the netBloc series. That year saw the release of the first four blocSonic originals… Just Plain Ant's "Dig Deep", Formula's "The Catastrophic Connection", Luck & Ripps' "The Catastrophic Connection" and CM aka Creative's "Classic Material Vol. 3: UI Radio".
Along with new netBloc and original releases, 2010 came with it's own additions to the blocSonic release line-up… maxi-singles and EPs known as maxBlocs and blocSonic's own brand of deluxe edition re-releases called Xtended Editions.
2011 was a year of refining the blocSonic release schedule and planning for more growth this year.
In January blocSonic celebrated its fifth year with what became known as MUTE month — four releases by the cross-atlantic team of Tha Silent Partner and UNknown (Formula) known as MUTE.
Since launching, blocSonic's audience has only grown and continues to do so now even as I plan future additions to the release line-up, a new site design and other exciting changes. The future is bright for netaudio and for blocSonic. I can't wait to let you in on what I've got cooking!
For now, get to know blocSonic or simply catch up… with this selection of 50 highlights from the 2007-2012 archives.
Peace
Mike Gregoire
Founder/Curator blocSonic.com
Via blocSonic » Visit Blog
» 0 COMMENTS
TAGGED AS:
downtempo
,
electropop
,
rock
,
blocsonic
,
electro
,
electronic
,
pop
,
trip-hop
,
hip-hop
,
netlabel
,
See Less...
blocsonic on 03/09/2011 at 05:15PM
» 0 COMMENTS
blocsonic on 08/04/2010 at 12:21AM
Just Plain Ant is back with another fresh collection of his unique brand of hip-hop — beats, jazzy samples and a host of guests who each add their own flavor to the mix. Among the guests we've got blocSonic regulars such as Joey Ripps, Ohbliv and Sleaze. We've also got some new names — Black Liquid, Braintrust, Mic Jordan, Gordy Michael, NOTE, Octavion Xcellence, Photosynthesizers and last but not least… the INCREDIBLE… Chuck D! That's right… the legendary Public Enemy front man took time out of his busy schedule to drop a verse!
As you'll read in Ant's PDF liner-notes, this album was a long time in the making and has undergone a few changes along the way… but in my opinion, it was worth it… Ant turned out another fantastic release! I hope you'll enjoy it as much as I do.
Thanks in advance for checking it out! Remember… keep the music moving… share it… blog it… podcast it!
Grab "Rumble, Young Man, Rumble" here.
Via blocSonic » Visit Blog
» 0 COMMENTS