You came this way:
Home
>
Tag: Black Twig Pickers
Related Articles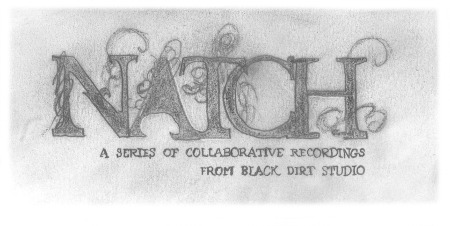 NATCH is a series of collaborative recordings from Black Dirt Studio. Music comes naturally. Give a kid a drum and stick, sit 'em at a piano, tether 'em to a Flying V jacked into a half stack and listen to the sparks fly.
The series serves a few different goals - one, to bring musicians together in a recording enviroment without the usual hangups which can weasel their way into a proper album session. NATCH sessions are open format - the artists are free to approach the time in any way they'd like, from improvisation to cover songs to instant composition to sound enviroments to original prewritten material to a simple exploration of the process. The second goal of the series is to tie together the threads of the current broad musical landscape into a more coherent web illustrating how close so much music is in its purest intent. The landing spots of so many disperate artists can be much closer than they may seem from afar. These sessions hope to zoom in the scope of many a listener without the perscribed box and bow of a commercial release. The third and most important goal is to have fun, make some music, and let others enjoy it!
The first session took place in January of 2012 and the plan is for the series to be ongoing. Initially artists who had previously been through the studio doors were the first to be invited but the list of forthcoming contributors has grown beyond that stable.
NATCH 0 is the prquel to the series, a document of a session from 2007 booked by Dave Nuss (NNCK, Sabbath Assembly) featuring him, Rahdunes, Stellar Om Source and Aswara.
NATCH 1 is the first session from the series featuring the Black Twig Pickers and Steve Gunn.
NATCH 2 features Dave Shuford (D Charles Speer, NNCK, Rhyton), Margot Bianca (Flown) and Pigeons.
As of today, there are two more sessions in the can, awaiting release...
READ MORE
Via NATCH » Visit Blog
» 0 COMMENTS
mwalker on 03/19/2010 at 10:00AM
To provide you with a small but satisfying taste of the incredible Jack Rose memorial held at ISSUE last month, the Black Twig Pickers have graciously shared some tunes from their joyously raucous set, which in many ways served as the centerpiece of the concert. The Twigs (Nathan Bowles, Mike Gangloff, Isak Howell) recorded with Jack on the eponymously-titled 2009 album (though Gangloff's and Rose's musical relationship goes way back to the early days of Pelt) and all four share the wondrous ability to effortlessly channel old-time prewar folk into a music eternally fresh, tangibly soulful, uniquely personal, and still wholly authentic to the long lineage of tradition. Furthermore, all share a deep musicality transcending any boundaries of style or genre; thus, it came as no surprise when Mike and Nathan joined Pelt + Tony Conrad for the final set of the evening and unleashed a blistering, monolithic wall of acoustic drone that absorbed and subsumed the kaleidoscope of emotions that preceded it. You'll have to wait on that set, but really, there's not nearly so much difference from Pelt and the Black Twig Pickers' music as surface impressions might suggest. 
Via ISSUE Project Room » Visit Blog
» 0 COMMENTS