You came this way:
Home
>
Tag: Birthday Songs
Related Articles
cheyenne_h on 10/24/2016 at 02:16PM
AppleBerry Blues (May) is a Youtuber in Toronto who runs the Youtube channel "Birthday Songs" which has been running since July 2016 and already boasts around 100 videos. She is currently a student and spends most of her time attending classes, writing and studying. She's also on Facebook. FMA Director Cheyenne tracked her down and asked her some questions about her channel and how it's bringing fresh eyes (and ears!) to many of our Free Birthday Songs. We at FMA HQ are especially pleased that the charmingly-NSFW "Foul Mouthed Birthday Robot" got a video and does a little dance:
FMA: Why did you decide to start making birthday song videos and posting them online?
ABB: I wanted to have a Youtube channel with videos that could be watched forever and never become dated.  Since birthdays are celebrated by people everyday I thought birthdays would be a good topic.  I also wanted to have a Youtube channel with a positive focus and I generally feel that birthdays have a lot of positive energy associated with them.
FMA: What's your favorite part about making birthday song videos?
ABB: I have the freedom to be creative and do anything I want because I work alone on the channel. I enjoy that I can wake up with an idea on a Saturday morning, and have a video using that idea posted for the world to see by Saturday afternoon. One day I might be working on secret birthday codes, the next day I might do a collage, the following day I might sketch something, the next day I might collect some birthday themed pictures from flickr and assemble them.  I don't really have a plan, I just do whatever feels inspiring that day with the channel.
FMA: Had you known about the Free Music Archive for long before you started making videos with birthday songs from our public domain collection?
ABB: I had never heard of the FMA before working on my birthday channel.  After deciding to make Birthday Song videos, I stumbled upon the FMA while searching for free birthday songs online. As of October 14, I've used 46 songs from the FMA. Some I've used more than once. 1 song  I've used 7 times! In total I have made 84 videos from birthday songs from the FMA. The songs I used the most are:

1. Happy Birthday To You Alternative by Armin Rüdiger Vieweg (7 times)
2. Simple New Happy Birthday Melody by Sascha Ende (5 times)
3. Swine Flu Birthday by The Mostly Bad Virus (4 times)
4. The PD Happy Birthday Song by Iron Curtain (4 times)
5. Happy Birthday by Technetium (4 times)
FMA: What do you use to make the videos (software, equipment, etc)?
ABB: I use a pocket size spiral notebook that I take everywhere where; I jot down ideas whenever they come to mind. My computer, a Dell Pentium 4 running Windows XP. The software I use includes PowerPoint 2003 and Windows Movie Maker 5.1. I also use a FujiFilm FinePixL30 that I use for photography.
FMA: Do you post anywhere besides YouTube? Why or why not?
ABB: Youtube is the main place that I post videos.  I log into youtube everyday to upload a video and respond to any comments. At the end of September, I posted some videos on Dailymotion.  I haven't decided if I will keep posting videos on Dailymotion and have honestly only logged in a few times since initially posting some videos.I also started a new facebook page at the end of September and directly share my birthday videos from youtube to facebook. I have only posted 6 videos directly onto Facebook.  After seeing the Danish documentary, Facebookistan, I purposely spend as little time on Facebook as possible. I was never really a major facebook fan anyway but seeing that documentary solidified my reasons for using it as little as possible.
Lots more after the jump!
READ MORE
» 1 COMMENTS
ange on 06/14/2013 at 01:00AM
A new lawsuit being filed today aims to have "Happy Birthday From You" given its rightful place in the public domain. As Eriq Gardner writes for the Hollywood Reporter, the film company Good Morning to You Productions Corp. is working on a documentary about the birthday song, and has filed a suit on behalf of all those who have paid for the rights to use it.
As we follow the case closely, you can always check out our Free Birthday Song Repository of over 140 free birthday songs that are licensed Creative Commons Attribution, and watch a video we produced of birthday song alternatives used in Film and Television. 
Via Free Music Archive » Visit Blog
» 3 COMMENTS
ange on 03/05/2013 at 01:59PM
The votes are all in from our incredible panel of judges, and these three winning songs took the cake!
At this party everybody gets a present now that we have this dynamic Free Birthday Song Repository available for your projects. If you explore for a while, you'll find birthday songs that are incredibly touching, starring adorable children, offered in multiple languages, full of every foul word imaginable, and fun to share with your friends. Plus, the special happy birthday song that America just isn't ready for.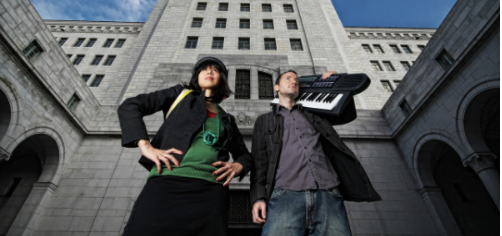 FIRST PLACE: MONK TURNER + FASCINOMA
After collaborating on the concept album Emergency Songs, Monk Turner + Fascinoma weren't sure is they would ever work together again. "I almost killed him a few times," Fascinoma told us. Monk explains that when they collaborate she's the John Lennon and he's the Paul McCartney. She brings a certain kind of melancholy, and he brings a pop sensibility. You can hear how these different styles compliment each other in their winning song. "It's Your Birthday!" captures a feeling of heartfelt well-wishing with a sound so polished you'll want to run out and buy a tablet computer.
Though the winning song lacks the opportunity to shout out the birthday person's name, there is room to build in a call and response element. You can download the sheet music in the key of B (pdf, google doc) or the key of C (pdf, google doc). Also, check out the alternative versions of the song including two piano tracks and an instrumental version.
READ MORE
Via Free Music Archive » Visit Blog
» 4 COMMENTS