You came this way:
Home
>
Tag: Bedroom Pop
"Bedroom Pop"
(Used 22 times)
Related Articles
CJSW_Music on 08/15/2013 at 01:30PM
Calgary has seen many bands come and go, but for many, there remains a special place on our iTunes playlist for psych-pop experimenters Hunter-Gatherer.
Taking the swirling cacophony of Animal Collective and channeling it through the fuzz of early-90's guitar pop, Hunter-Gatherer quickly amassed a devoted following, playing Sled Island and other high-profile gigs, before members went on to other projects (including The Cable-Knits, an outfit with a similar sound). On their sole release, a four song cassette from 2009, the band's pairing of dreamy vocals and spiky guitars laid the groundwork, along with Braids and Women, for many of Calgary's young indie bands (Gretchen, Faux Fur, et al). You might have to "hunt" for their tape, but once you find it, I "gather" you'll fall in love.
Via CJSW » Visit Blog
» 0 COMMENTS
emcecil on 06/16/2012 at 10:30AM
Martin Newell missed UK punk.  Or, rather, it missed him.  "I felt that punk was a party which had been partly my idea," he told me through recent e-mail correspondence, "but which I then ended up not going to because it was already too crowded."
He'd skirt the party's periphery some years later, through various in-roads in the late '70s and '80s, but he'd already been making music years before young, excited Brits would shrug off glam-rock hangovers and coalesce into their own units, such as the Damned, the Clash and, of course, the Sex Pistols.
Indeed, before glam flamboyance rolled over to punk's increasingly rabid trappings, Newell was already a seasoned player in the heady bacchanal popularized by Slade, the Sweet and Mott the Hoople.  At 20 years of age, he served as the frontman to Plod, a raucous glitter group who played often to great response, recorded a series of clap-and-stomp "hits" in '75, then folded due to what he now characterizes as "a dodgy record company."  (Italy's Rave-Up Records issued the recordings on LP some 35 years later.)  At Plod's demise, he wasted little time in joining another group, Gypp, and they continued to mine glam territory, now tempering it with prog-like exploration.
Their exploration was largely on-stage, however.  "Gypp was a great live band," said Newell, "and a brilliant bunch of guys. I'd just had three years on the road with them and was very frustrated with not being able to spend time recording."
Exacerbating that frustration with Gypp's slim recording schedule was the band's lack of positive critical reviews -- of which there were some, but not enough -- and as the '70s wore on, Newell found himself through with Gypp, done with life on the road.  But not with music altogether.
READ MORE
» 0 COMMENTS
dvd on 06/15/2012 at 12:00PM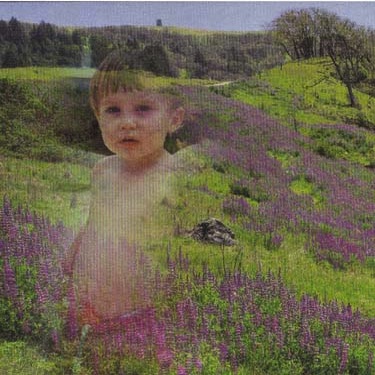 Today's MP3 is another lo-fi offering from a new member of the bedroom psychedelia milieu. Tom Kitty Oliver is the solo project of Andrew Hamlet, who lit up the blog scene with his electronic project Pressed And, a longtime collaboration with friend Mat Jones (check out this track from their "Visual EP" Imbue Up).
Hamlet's debut tape Life on Loop (which he describes as, "more Ayahuasca journey than weekend shroom fun") is availabone on Bandcamp, but he's offering two tracks to share/download here on the FMA.
Via Free Music Archive » Visit Blog
» 0 COMMENTS