You came this way:
Home
>
Tag: Balkan
"Balkan"
(Used 29 times)
Related Articles
LCL on 01/05/2015 at 12:55PM
An adventurous and somewhat trippy Dub journey through the rich archives of the French label "Libre Comme Lair." Expect an hour of sensual psychedelic sound scapes, playful weirdness, wicked bass lines & rousing brass with lots of delay-ay-ay!
Check out the website of Libre Comme Lair.. all the music I've used can be found here for free!: http://www.lclweb.org/
Originally broadcasted on November 28 2014 for the weekly DJ show "Solta a Franga" at the dutch radio station Concertzender. http://bit.ly/1poEbd9
READ MORE
» 0 COMMENTS
We are The Freak Fandango Orchestra and we came to save the world! Ok, so maybe we won't save the world, but we're about to make it a whole lot more interesting with a NEW ALBUM, filled with a lot of great songs that will brighten up your day. We'll go to the studio in january to record 9 songs for our album. Six brand new Freak Fandango songs, two awesome traditional pieces and one of our oldest songs which will be re-arranged. Also the booklet will have a lot of great artwork from different artists and we will design brand new T-Shirts.
To do all this we still need a bit of help from you. Visit our crowdfunding campaign, get cool rewards and join us to save the world!
http://www.verkami.com/projects/7294
The Background
We're a band from Barcelona, Spain. Since 2007 we've been performing our energetic live shows, mixing east european folk music, polka, gypsy music from the Balkans and a big dose of punk-rock. We play a lot of shows around Barcelona but also at international venues, like at the New York Gypsy Festival in 2011 for example.
READ MORE
» 0 COMMENTS
ange on 03/30/2013 at 02:48PM
For the fifth year, WFMU's Transpacific Sound Paradise brought us a live broadcast from the massive annual Balkan and Eastern European music and dance bacchanal, the Zlatne Uste Golden Festival. We present here 14 different artists who performed this year, who are performing everything from Bulgarian dance staples, to music from the Golden Age of Egyptian Cinema, to traditional polyphonic acappella folk from Georgia.
Black Sea Hotel is the Brooklyn-based vocal quartet of Corinna, Joy, Sarah and Willa. Their set from last year included traditional songs learned under a plum tree in Bulgaria, but with their own distinct twists and arrangements, since many of the songs were originally sung by larger choirs.

Brazda is a New York-based Balkan band that plays fresh arrangements of traditional repertoire from Bulgaria, Macedonia, Greece, and beyond.

Supruli is a Georgian choir directed by Carl Linich (also of Tenores de Aterúe). Its members have studied in Georgia -- listen and hear why polyphonic singing is so captivating to music scholars.

Yale Women's Slavic Chorus performs songs from Macedonia, Russia, Georgia, and Bulgaria.

Zikrayat, who specialize in Egyptian film music's golden era, accompanied by live dancing on stage at the Golden Festival for this rendition of the song "Tahey" by an unknown composer whose song now lives on.
If this trove doesn't satisfy your Balkan and Eastern European jams fix until the festival returns in next January, be sure to explore our collections from 2012, 2011, 2010 & 2009.
None of this would have been possible without Rob Weisberg, host of Transpacific Sound Paradise. He'd also like to thank the Golden Festival founders and organizers, the Zlatne Uste Balkan Brass Band and the festival committee; co-host and tech guru Irene Trudel; and to the rest of our our illustrious crew: Mark Koch, Juan Aboites, Chuck Dean, Dan Barker, Jason Sigal, Matthew Cherchio, Bryan Koniarz, Ariana Hellerman, Katie Gentile & Nick the Bard.
Via WFMU » Visit Blog
» 0 COMMENTS
jason on 01/18/2013 at 08:00AM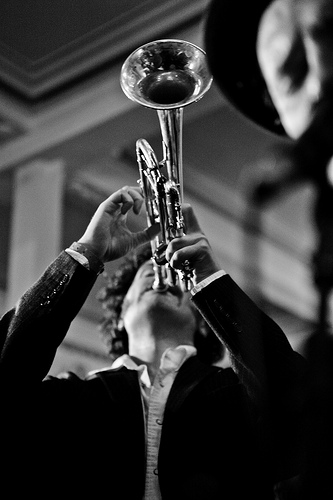 For much of the last three decades, Zlatne Uste was the singular Balkan brass band on the U.S. eastern seaboard. Their influence has spread rapidly in recent years. Newer groups like What Cheer? Brigade, Raya Brass Band and Slavic Soul Party have not only helped introduce a new generation to the irresistible melodies, rhythms, and timbres of Roma (Gypsy) Music, but infused everything from Bollywood, hip-hop and dabke into a genre that knows no bounds.
They're among the 60+ groups performing at this year's Zlatne Uste Golden Festival, where the spirit of Balkan brass is a jumping off point to celebrate a wide range of traditional music. Bulgarian women's choirs, Turkish folk, Norwegian hardingfele, Egyptian film music, Georgian throat singing, and flamenco are all part of the mix. It's an incredible grass roots event where generations join hands for circle dances in complex time signatures. Traditional food and drink are included with your ticket, with all profits donated to Balkan educational & relief organizations. The 28th annual party kicks off tonight (Jan 18th-19th) at Brooklyn's Grand Prospect Hall.
WFMU's Transpacific Sound Paradise presents a special live broadcast from the Golden Festival's main stage on Saturday Jan 19th, 6-9pmET (91.1-FM NYC | wfmu.org). It's the fifth year that WFMU and the Free Music Archive document performances across the festival's multiple stages.
This mix offers a sampling of Golden Festival archives from recent years (2009, 2010, 2011, 2012) as well as tracks from artists scheduled to perform at this year's event.
Zlatne Uste kick things off with a Čoček, one of the most common Balkan brass styles, performed live in the WFMU studios for Transpacific Sound Paradise.

Provience RI's 19-piece street band the What Cheer? Brigade play brass music "with the intensity of metal." A crowd favorite whether they're playing a house show, Lollapalooza, or legendary brass festivals like Guca (Serbia) and Sziget (Hungary).

Rooted in the tradition of Bulgaria's a capella women's choirs, Black Sea Hotel performed "Malo Selo," a song named after the village in Bosnia-Herzegovia, live on Irene Irudel's WFMU program.

Young classical virtuosos The Rosen Sisters perform "Ruchenitsa," a Bulgarian line dance in 7/8.

Toronto's Ventanas meld sephardic, flamenco, and Balkan traditions on "Gusta Mi Magla."

"Merzifon Karsilama" is a bride-meeting song from Merzifon, Amasya in northern Turkey, performed by Turku: Nomads of the Silk Road.

The guitar duo Isra-Alien Band draws on Israeli musical traditions for "Brogez/Sholem."

Rakiya peform an electrified Roma tune "Sa Bas Tute."

Zikrayat, specialize in Egyptian film music's golden era, accompanied by live dancing on stage at the Golden Festival for this rendition of the song "Tahey" by an unknown composer whose song now lives on.

Raya Brass Band put a Brooklyn spin on Balkan brass, take a listen to a room packed with people gettin' down to "Riff Cloud" during last year's Golden Festival, and don't miss 'em this year!

Photos by Oresti Tsonopoulos: Raya Brass Band (top) & What Cheer? Brigade, Golden Festival 2012. 
Via Free Music Archive » Visit Blog
» 0 COMMENTS
robw on 03/09/2010 at 05:45PM
For a quarter of a century, NY Balkan music scene pioneers the Zlatne Uste Balkan Brass Band have organized the annual Golden Festival. a massive two-night grassroots Balkan and East European music and dance festival at the Good Shepherd School, 620 Isham Street (near Broadway and 207 St.) in upper Manhattan. The festival is the biggest event of its kind in New York City: The second night (Saturday) is a marathon featuring 40-50 bands and artists performing on three stages from 6pm until 4 in the morning. See: http://www.goldenfest.zlatneuste.org/

With the help of co-host / tech guru Irene Trudel and our peerless crew, WFMU's Transpacific Sound Paradise broadcast all the music from the Golden Festival's Kafana stage from 6pm until midnight on Saturday January 16th. Kafana is Serbo-Croatian for "cafe"; the stage is located conveniently near the food!

We are now proud to present a collection of recordings from the festival on the Free Music Archive. The full collection is here, while a mix of highlights is available at right (please click "i" for more info about each artist).

>> 2010 Golden Festival photo gallery on Flickr
>> 2010 Golden Festival mp3 collection on the Free Music Archive
READ MORE
Via WFMU » Visit Blog
» 0 COMMENTS
» MORE INFO
» 2 COMMENTS
» ALL MIXES