You came this way:
Home
>
Tag: African
"African"
(Used 26 times)
Related Articles
FMAmp3 on 03/29/2012 at 04:00PM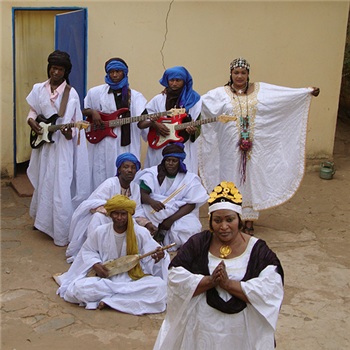 A cousin of the Farka Touré family, Khaïra Arby took Mali's national music competition by storm in 1970 when she was just eleven years old. But despite her gift for song, she soon found herself given to marriage with a man who forbade singing. After years of frustration, Khaira Arby divorced to embark on a career in music. She joined Mali's national band and blossomed into a renowned solo artist in the 1990s, known as "The Nightingale of the North" to the south's "Songbird of Wassoulou," Oumou Sangaré.
On the heels of her first international release, Khaïra Arby visited the KEXP studios in Seattle for this live performance on The Best Ambiance with Jon Kertzer. She performed with her band from the deserts north of Tombouctou, Kevin Suggs with songs in the Sonrai, Arabic, Tamashek, and Bambara languages of the Sahara. Video after the jump, with more on KEXP's blog.
Khaira Arby is on Facebook & Twitter. MP3s @ iTunes
READ MORE
Via Free Music Archive » Visit Blog
» 0 COMMENTS
TAGGED AS:
blues
,
jon kertzer
,
mali
,
africa
,
kexp
,
north african
,
desert rock
,
the best ambiance
,
khaira arby
,
african
,
See Less...
hopscotch on 10/04/2011 at 06:47PM
FESTI 40 is a music and Culture festival in Fada N'Gourma Burkina Faso happening this year December 16th to the 18th . This festival brings together some of the best traditional musicians in West Africa (Mali, Benin, Ivory-Cost) to a small and poor town in east Burkina Faso for a 3 days of an amazing festival. Every night there are 5 to 6 performances, during the day they have different round tables and discussions. 
One day in the festival is dedicated to women. During that day the round table debates are about the position and empowerment of women in this society. The night is dedicated to women performers. Some well know women performers in recent years were - Awe Deme, Habidou Sawadogo, Khira Arby and others. 
This is a unique event which takes place in one of the poorest regions in the world where most of the conveniences we take for granted do not exist. With minimal resources this organization has created an unforgettable event.
Our part in the production of the festival 
I am the leader of an international group of volunteers who take care of the technical side of the festival, including amplified sound, lighting, and -- perhaps most importantly -- documentation. We transport some equipment from our home continents, while renting other pieces on-site when possible..
THE MUSIC and MUSICIANS
Every year, our trip to FESTI 40 presents an exciting opportunity to organize recording sessions for local artists, and we use our recording equipment to produce albums to which the artists own the rights and benefit from.
One recent example is the amazing blind guitar player Solo Dja Kabako. We recorded him in his house after the festival and pressed CDs for him. He owns the master and all the rights, and with this CD we were able to organize a 3-show tour of Europe. 
You can sample the music on the Free Music Archive -http://freemusicarchive.org/music/FESTU/
This CD is also available as a thank you gift to FESTI 40 donors, and if the project is successful, we will press at least two new albums which will benefit more artists from the festival.
a little more
Below is a link in our label hopscotch records site where you can watch some more videos  from the festival and get an idea about how unique it is. 
http://hopscotchrecords.com/web/african_project/index.html
Where the money goes to ?
1. Renting equipment – last year there was no light system, which was very sad. On top of that the sound system available was horrible (the speakers and the amps -- we bring the mics and everything else).
2. Production of  CDs and DVDs - this money goes to cover printing and pressing costs.   The more money raised the more CDs and DVDs we can make. These CD's go directly to the artists . 
I truly hope this could work, it will be unbelievable to be able to bring this kind of support to this festival and to these musicians.
Thank you everybody, from everybody involved in this festival and the people of Fada N'Gourma deeply appreciate your support.
» 0 COMMENTS
kexpfan on 08/27/2010 at 09:15AM
Renowned jazz violinist Regina Carter took an interesting turn with her album Reverse Thread by interpreting a wide range of African songs (both modern and traditional) with her own unique twist. She's joined by Malian kora master Yacouba Sissoko and accordionist Will Holshouser for a live KEXP performance and you can see the results are quite lovely. –W. Myers / KEXP

Via KEXP » Visit Blog
» 2 COMMENTS
katya-oddio on 05/14/2010 at 06:15PM
Australian label Patterns Community Sound Centre may not have a website any longer, but they have left a legacy through their recordings. This debut EP by Lagos Disco Machine is testimony. With thumb pianos, effects, and found sounds, the WARM ORANGE EP entertains your ears and brain with organic and electronic sound layers. Lagos Disco Machine is a misleading name, as only one selection is a dance track. In face, track three, "Lord Pear," sounds more like a tribal field recording. For clocking in at about 20 minutes, this EP takes your ears all over the place and back again. Enjoy it here at the FMA.

Via Oddio Overplay » Visit Blog
» 0 COMMENTS
JoeMc on 01/06/2010 at 04:34PM
When I logged on to the FMA this morning, I really wanted to hear something happy, something that would make me feel a little more excited about starting my day. Lo and behold, after a couple of "not quite right"s, I found my tonic for today: Smokey!
I talk not of bears or Miracles here, but of Mr. Smokey Hormel, a man who needs no introduction to guitar enthusiasts. He's one of those guys whose guitar tone is pretty much recognizable out of the box; you've no doubt heard him on records by Tom Waits, Beck, Joe Strummer, Johnny Cash, and about five thousand other people. Lately, Smokey has gotten interested in Congolese dance music from the late 50s and early 60s, and that's the kind of stuff he's doing with his new outfit, Smokey's Secret Family.
Back in September of last year, Smokey's Secret Family appeared on one of WFMU's broadcasts from Barbés in Brooklyn, a series of remote broadcasts shepherded by Rob Weisberg of the Transpacific Sound Paradise program (Saturdays, 6 to 9). Here is a track from that concert, and a fine one it is.
READ MORE
Via WFMU » Visit Blog
» 0 COMMENTS
» MORE INFO
» 4 COMMENTS
» ALL MIXES
» MORE INFO
» 1 COMMENTS
» ALL MIXES
» MORE INFO
» 4 COMMENTS
» ALL MIXES
» MORE INFO
» 0 COMMENTS
» ALL MIXES