You came this way:
Home
>
Tag: Africa
"Africa"
(Used 16 times)
Related Articles
FMAmp3 on 03/29/2012 at 04:00PM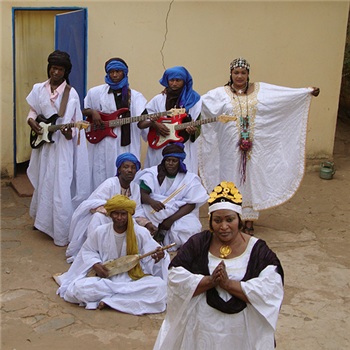 A cousin of the Farka Touré family, Khaïra Arby took Mali's national music competition by storm in 1970 when she was just eleven years old. But despite her gift for song, she soon found herself given to marriage with a man who forbade singing. After years of frustration, Khaira Arby divorced to embark on a career in music. She joined Mali's national band and blossomed into a renowned solo artist in the 1990s, known as "The Nightingale of the North" to the south's "Songbird of Wassoulou," Oumou Sangaré.
On the heels of her first international release, Khaïra Arby visited the KEXP studios in Seattle for this live performance on The Best Ambiance with Jon Kertzer. She performed with her band from the deserts north of Tombouctou, Kevin Suggs with songs in the Sonrai, Arabic, Tamashek, and Bambara languages of the Sahara. Video after the jump, with more on KEXP's blog.
Khaira Arby is on Facebook & Twitter. MP3s @ iTunes
READ MORE
Via Free Music Archive » Visit Blog
» 0 COMMENTS
TAGGED AS:
blues
,
jon kertzer
,
mali
,
africa
,
kexp
,
north african
,
desert rock
,
the best ambiance
,
khaira arby
,
african
,
See Less...
kexpfan on 08/27/2010 at 09:15AM
Renowned jazz violinist Regina Carter took an interesting turn with her album Reverse Thread by interpreting a wide range of African songs (both modern and traditional) with her own unique twist. She's joined by Malian kora master Yacouba Sissoko and accordionist Will Holshouser for a live KEXP performance and you can see the results are quite lovely. –W. Myers / KEXP

Via KEXP » Visit Blog
» 2 COMMENTS
» MORE INFO
» 4 COMMENTS
» ALL MIXES
» MORE INFO
» 1 COMMENTS
» ALL MIXES
» MORE INFO
» 0 COMMENTS
» ALL MIXES
» MORE INFO
» 0 COMMENTS
» ALL MIXES
» MORE INFO
» 0 COMMENTS
» ALL MIXES
Most Interesting Related Tracks