You came this way:
Home
>
Tag: Acoustic Guitar
"Acoustic Guitar"
(Used 125 times)
Related Articles
Mikkie_Mills on 06/04/2019 at 04:13PM
Although many benefits of essential oils are common knowledge these days, their use is often medicinal in nature. However, we should definitely consider the additional benefits of these powerful, natural oils, starting with their remarkable ability to enlighten and inspire. For a guitarist, essential oils can be used to spark creativity in both mind, body, and spirit.
To spark your creativity as a guitarist, you can use essential oils topically to ease pain from overuse, such as calluses and headaches, to boost your overall mood, or even to promote more restorative sleep. However, when used to enhance creativity, essential oils mostly work on the basis of aromatherapy.
Aromatherapy involves the actual essence of the plant, and the distillation process produces a highly concentrated by-product. The brain, particularly the brain's hypersensitive olfactory nerve, reacts to these powerfully concentrated scents in a variety of positive ways. However, it's important to note that not all essential oils are the same. Many reputable companies, such as Young Living, founded by D Gary Young, are committed to producing high-grade essential oils in their purest form. The goal of aromatherapy for a guitarist seeking inspiration and creativity is to experience a euphoric state that stimulates creative output, which can be achieved through both inhalation and absorption.
Of course, we've covered the science behind essential oils and how the brain responds to their use, but how can a musician evoke this enlightened state of consciousness? We'll explore the specific creative benefits of essential oils and how both budding and professional guitarists can use them, both in and out of the studio, to refresh themselves and unleash a creativity that's uniquely their own.
Many essential oils can be used in their purest form, such as the ones we will discuss below. However, if you prefer a less intense fragrance experience, you can blend with a carrier oil such as sunflower or olive. Let's take a closer look at the oils themselves and how you can use both inhalation and absorption to extract their benefits.
Using Lavender Essential Oil:
Soothing and inspiring, lavender essential oil is simple to use since you don't have to couple it with a carrier oil. Lavender is lauded for its ability to inspire honest, reflective communication with ourselves, and it promotes a more relaxed frame of mind overall. You can diffuse a few drops, or you can mix it with a little water to mist on your face and body.
Using Tangerine Essential Oil:
Tangerine oil is delicate and uplifting, and it is used to evoke a happy, carefree mood to inspire creative output. Like lavender, you can use it without a carrier oil. Simple rub a few drops on your skin, diffuse it, or add water and your desired strength of oil to a spray bottle and douse your skin. Tangerine oil is also an excellent complement to your bath water, so add a few drops before you soak, and enjoy its playful fragrance.
Using Peppermint Essential Oil:
Known for its ability to refresh and renew, peppermint oil definitely offers a soulful sanctuary for the work-weary guitarist. You can breathe it in directly, massage aching temples, or diffuse to clear your head, regain your focus, and combat fatigue.
Using Jasmine Essential Oil:
This oil is unique because it notably serves a much-desired purpose for the musician: to inspire confidence. It's best to diffuse this oil or add to a warm bath for optimal benefits.
The above are just a sampling of the many oils available that can boost your creativity while providing key health-related benefits such as pain relief. Whether your choose to diffuse, directly apply, or douse yourself in a warm, relaxing bath, allow the natural power of essential oils to whisk away your inhibitions and release your creativity and renewed sense of passion and purpose as a guitarist.
» 0 COMMENTS
dvd on 06/07/2012 at 12:00PM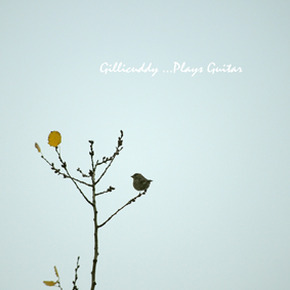 Today we're featuring a track from Andi Rohden (aka Gillicuddy) off his new album ...Plays Guitar, recently released by Moscow's Clinical Archives. Clocking in at 15 minutes, the album breezes through seven instrumental guitar pieces, all of which echo sincerity through their simple melodies and finger-picking. Gillicuddy has been releasing Creative Commons music online for quite some time now, so be sure to check his various online destinations below for more. Grab a cup of tea and enjoy "A Garden and A Library".
Gillicuddy at:
The Free Music Archive | Facebook 
SoundCloud | Bandcamp | Vimeo
Via Free Music Archive » Visit Blog
» 1 COMMENTS