You came this way:
Home
>
Tag: 78 Rpm
"78 Rpm"
(Used 3 times)
Related Articles
dvd on 08/29/2012 at 01:00PM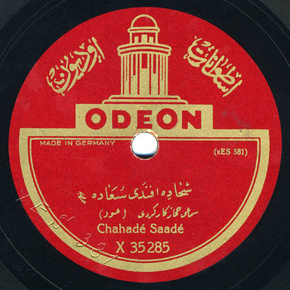 If you're not already familiar, Excavated Shellac has a wealth of historical recordings from all over the world stockpiled at their FMA curator portal. One of their first contributions was this amazing recording from Chahadé Saadé.
Saadé was a Lebanese musician and this oud solo, probably recorded in Syria circa 1926, was likely composed by the late 19th century Istanbul Armenian composer Tatyos Efendi. This digital recording was recovered from the original 10.5" 78 disc, so you'll hear some accoustic artifacts common to the format. In fact, this is a remarkably high quality recording considering its age, so don't worry about the noise -- that's just the sound of authenticity!
Via Free Music Archive » Visit Blog
» 0 COMMENTS
katya-oddio on 12/24/2010 at 09:30AM
Twelve years ago, the vintage recordings website Dawn of Sound released a compact disc collection of public domain early recording artifacts called Voices of Christmas Past. The recordings were cylinders and acetates from 1898 to 1922. Every year after the release, the website was inundated with requests for the CD. Once it was out of print, Dawn of Sound released it online for free.

Apart from the religious material, there are some fun winter-themed treats, two pieces from Tchaikovsky's Nutcracker, and some spoken old time radio theatre selections.

Dawn of Sound writes:

The artists featured here were pioneer recordings artists whose names were well known in the era they lived. They helped start what is now known today as the record industry. They were popular artist in their time, and their records sold well in an era when movies were silent and radio and television did not yet exist.

Of all things Christmas nothing is more traditional than the singing of carols and songs....
READ MORE
Via Oddio Overplay » Visit Blog
» 2 COMMENTS