robw on 01/19/2011 at 03:00PM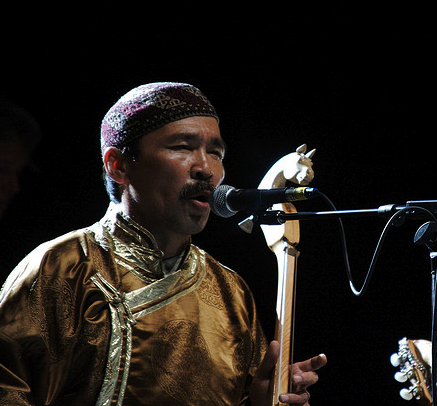 This winter has felt a bit like Siberia in WFMU's hometown of Jersey City, so it's the perfect time for what may be a New Jersey radio first: a twin bill of live sets by bands from Siberia, live on Transpacific Sound Paradise with Rob Weisberg this Saturday, January 22nd from 6-9PM.
Kicking things off is the first and still greatest traditional band from Tuva in southern Siberia, Huun Huur Tu. The tireless overtone-singing spike-fiddle-wielding marvels serenade us in-studio midway through a winter North American tour that includes a gig at Joe's Pub in NY on Saturday January 29.
Later in the show, Sibirskaya Vechora, an award-winning ensemble from the Krasnoyarsk region of central Siberia, steps up to the mics. The group, dedicated to researching and preserving regional traditions, performs traditional songs from Siberia and other parts of Russia.
In 2008, Sibirskaya Vechora carried out a cultural heritage research project titled 'Young Voices for Ancient Songs.' One of its results was the CD "Muziki, Viryazukhi Moi", which contains 13 songs recorded during ethnographic expeditions and performed by Sibirskaya Vechora. The album is available form the Free Music Archive, courtesy of Sibirskaya Vechora and CEC Arts Link.
Huun Huur Tu and Sibirskaya Vechora perform live on Transpacific Sound Paradise with Rob Weisberg this Saturday, January 22nd from 6-9PM, on WFMU 91.1 FM in the New York Metropolitan area and 90.1 in New York's Hudson Valley.
Via WFMU » Visit Blog
» 0 COMMENTS
robw on 03/09/2010 at 05:45PM
For a quarter of a century, NY Balkan music scene pioneers the Zlatne Uste Balkan Brass Band have organized the annual Golden Festival. a massive two-night grassroots Balkan and East European music and dance festival at the Good Shepherd School, 620 Isham Street (near Broadway and 207 St.) in upper Manhattan. The festival is the biggest event of its kind in New York City: The second night (Saturday) is a marathon featuring 40-50 bands and artists performing on three stages from 6pm until 4 in the morning. See: http://www.goldenfest.zlatneuste.org/

With the help of co-host / tech guru Irene Trudel and our peerless crew, WFMU's Transpacific Sound Paradise broadcast all the music from the Golden Festival's Kafana stage from 6pm until midnight on Saturday January 16th. Kafana is Serbo-Croatian for "cafe"; the stage is located conveniently near the food!

We are now proud to present a collection of recordings from the festival on the Free Music Archive. The full collection is here, while a mix of highlights is available at right (please click "i" for more info about each artist).

>> 2010 Golden Festival photo gallery on Flickr
>> 2010 Golden Festival mp3 collection on the Free Music Archive
READ MORE
Via WFMU » Visit Blog
» 0 COMMENTS