You came this way:
Home
>
lizziedavis
lizziedavis
(FMA Admin)
Mini Profile
lizziedavis on 08/16/2012 at 12:00PM
Radioactive Pussy is audio activist performance art at its finest and simultaneously most raw. Utilizing the folk traditions of the past and updating them with current situations, the issues and music they present are intended to activate and generally motivate the listener. (via.) The band includes experimental stalwart Chuck Bettis as well as Yuko Tonohira, cofounder of Todos Somos Japon, a group that communicates political dialogues among people in and outside of Japan through the bilingual website jfissures.org.
Radioactive Pussy held their first performance on July 24th, 2012 at NYC's Zebulon. You can find the whole set here on the FMA. Listen to one of the "raw documents" of the political performance below in the form of "Fuck Nukes!"
Via Free Music Archive » Visit Blog
» 2 COMMENTS
lizziedavis on 08/04/2012 at 03:00PM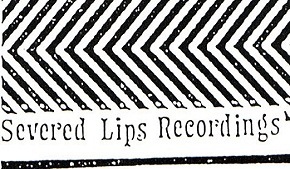 Severed Lips Recordings was a cassette label which operated out of a basement in Ringwood, NJ from 1992-2000. Somehow, their catalog of horror garage gems from an incestuous roster of artists has managed to stay under the radar, a rare feat in the "information age."
The fascinating story of Severed Lips Recordings is inspiring to anyone who's been involved in a fringe DIY community. I had the pleasure of hearing it straight from William Hellfire, the mastermind behind SLR's operations, via email.
First off, how did the label get started?
I started Severed Lips Recordings with Scott Beattie, aka Agent 78, in 1992 when we were 19 years old. Scott and I had just started playing music together and called our band Gerbil Church. The music we played was just our two Vantage guitars blasted through crappy, failing vintage amplifiers, no drummer or bassist.
I was also reworking a small set of Big Black-inspired noise rock songs and through an old band mate met Eddie Blade, whose solo agro/industrial recordings were amazing by any 4 track demo standard. I invited Todd and Eddie to learn the songs and record with me over at my basement HQ. When they got to my place, they popped a hit of LSD in my mouth. The session didn't go as planned-- instead, it was hijacked by a brand new creation, "DISCO MISSILE." Scott and I decided to take all the boom box and live recordings from these bands as well as the new Disco Missile cassette and start releasing them. We made our first release with personalized covers consisting of retro wrapping paper, string, ink, oregano, cinnamon all kinds of bits and bobs, Xerox, pen, crayon. I think we may have sold and given away about 20 or so in total.
December 1992 was the initial release party. I had also created releases out of recordings of an acid trip I took in my room with my cat and my friend Ruby Honeycat's childhood audio tapes with her friends, which consisted of a bunch of 5 year olds talking about dinosaurs and singing kid songs that made no sense. Anything I could find with original audio on it, I just made up a band name and cover for and tried to sell it.
My friends and I were very small-town and naive, and in that naive thinking had come a lovely purity. The sensibilities were childish and devilish, sweet and sadistic; we were naive anarchists not just rebelling against the political establishments but the whole ideal of reality and the homogenized art world, the corporatized social structure. Around 1989, everything started to go bad. There was very little happening and the stream of consciousness was getting thinner and thinner.
It was "mall culture" and MTV, and the minute something good would squeak its way in, there were corporate clones of it. Punk rock, the last stand of decency in the world, was being homogenized for the mall market. It was getting hard to breathe. We had to entertain ourselves--create our own music, our own culture and our own fun.
Severed Lips Recordings cassettes were $4 each. Basement shows were $2-3 bux donation, and we rented out a legion hall in butler for--get this--$65 bux! $3 dollar admission. Can't beat that. We baked cookies and made Jell-O, served coffee with cassettes and played noisy and fuzzy caricatures of psychedelic punk rock. Then in 1996, SLR started going outside the legion hall and basement and began to frequent Connections in Clifton NJ, Continental, Coney Island High and CB's NYC.
READ MORE
Via Free Music Archive » Visit Blog
» 0 COMMENTS
lizziedavis Is a Fan Of...
Javelin
,
Future Islands
,
Quasi
,
AIDS Wolf
,
Teenage Jesus & the Jerks
,
The Slits
,
Women
,
Cleaners From Venus
,
Destroyer
,
Freakapuss
,
Ty Segall
,
Los Vigilantes
,
Oneohtrix Point Never
,
Tonstartssbandht
,
caUSE co-MOTION
,
Dynomite Cat
,
Andrew Cedermark
,
Bad Noids
,
Dan Friel
,
Black Pus
,
Grass Widow
,
Black Dice
,
Julian Lynch
,
Gary War
,
Ed Schrader's Music Beat
,
The Dears
,
Sunset Rubdown
,
Grasshopper
,
Phemale
,
Phillip Seymour Hoffman
,
Les Savy Fav
,
Lame Drivers
,
Cave Bears
,
Skeletons
,
The Units
,
Pissed Jeans
,
Sun Araw
,
Suishou no Fune
,
Milk Music
,
PC Worship
,
Dog Leather
,
Disco Missile
,
Ponytail
,
Os Mutantes
,
Fat Worm of Error
,
Bush Tetras
,
Thurston Moore
,
Deerhunter
,
C. Spencer Yeh
,
R. Stevie Moore
,
Noveller
,
U.S. Girls
,
Xiu Xiu
,
Gang Of Four
,
Kurt Vile
,
Swans
,
Russian Tsarlag
,
Man Forever
,
The Luddites
,
Dan Deacon
,
Suicide
,
Eola
,
Ami Dang
,
Múm
,
Throbbing Gristle
,
Al Jolson
,
Dirty Beaches
,
Times New Viking
,
Double Dagger
,
Nate Wooley
,
Chat Logs
,
USAISAMONSTER
,
Puro Instinct
,
Hubble
,
Deerhoof
,
Jeffrey Lewis
,
Crystal Stilts
,
Ariel Pink's Haunted Graffiti
,
Love is All
,
Owen Pallett
,
Dustin Wong
,
Extra Life
,
Ducktails
,
Trevor Wilson
,
The Fresh & Onlys
,
Psychedelic Horseshit
,
Dirty Projectors
,
Armageddon Gospel Revival
,
Radio Shock
,
The Dead Science
,
You Say Party! We Say Die!
,
Zs
,
Guardian Alien
,
Lightning Bolt
,
Roomrunner
,
Juan Wauters
,
Daniel Johnston
,
GDFX
,
Psychic TV
,
DJ Dog Dick
,
Magik Markers
,
AMANDA
,
Potty Mouth
,
Blue Sabbath Black Fiji
,
Night Birds