Mini Profile
jason on 08/02/2010 at 04:00PM
I noticed -- well how couldn't I? -- the provocative cover of coolrunnings' Babes Forever EP posted on bloachas.org. Naturally, I wondered what kind of music could possibly go along with its X-rated (as-in NSFW) but also as in extreme sports) cover art.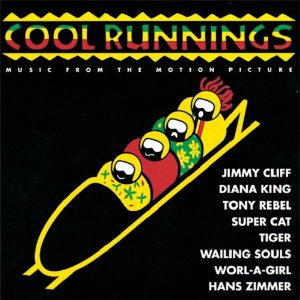 Turns out Knoxville's COOLRUNNINGS has already released 2 free EPs and a series of individual songs [including Nick Lowe and Talking Heads covers] these past few months, all in anticipation of their forthcoming full-length. The Buffalo and Babes Forever EPs are both full of song titles that almost match the ridiculousness of the band's name (a movie whose soundtrack [pictured R] I happen to've listened to a lot when I was 8 years-old).
The music is a surprisingly earnest range of detailed-yet-unpolished drummachine-fueled guitar-pop sounds. "Better Things" reminds me of Okay's Low Road/High Road-style one-word anthems. From there the BF EP seems to get better with every song; the spacious "When I Got High With You" and angular dance-punk of "Trippin Balls At Dur Weinerschnitzel". Then the 7-song EP ends by morphing the '88new-wave X '02 dancepunk beginnings of "Slumberland" into an epic Arcade Firey lo-fi symphonic coda, with a choir repeating "you're going to die" over a warped hushed synth. I'm left very much looking forward to hearing where coolrunnings winds up at the end of the debut LP, and hoping they won't need naked skateboarders to help get their music heard this time around.
I'm reminded a bit of Joe McGasko's post from the other day, looking back at a time (1912) when the shocking directness of this cover would've been impossible to fathom. Coolrunnings the Band is very representative of this musical era; I'm surprised by how relevant Cool Runnings can seem.
Speaking of the blochalas blog, once upon a time they hosted all kindsa user-submitted reviews and illegal rips, but in the aftermath of #musicblogocide2k10 now bloachalas.org only features music that wants to be free 245 comments on the post marking their decision to only offer legal downloads, and Daily Swarm coverage of their switch