You came this way:
Home
>
jason
>
Blog
>
Welcome Ampeater Music to the FMA! Mount Eerie, Cerberus Shoal, Pistolera & more
jason
(FMA Admin)
Mini Profile
jason on 08/11/2010 at 01:00PM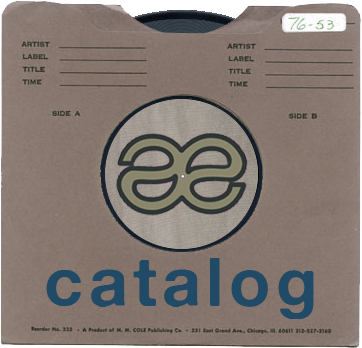 Somewhere in the realm between/beyond music blogs and record labels exists the awesome hybrid known as Ampeater Music and their excellent digital 7'' series. In their own words:
Ampeater Music is a website devoted to bridging the gap between unsigned (or just plain underexposed) artists and music lovers everywhere. Every day we feature a different artist on what we call The Ampeater Review. Each featured artist submits a "digital 7-inch" which we then complement with a detailed review and offer as a free download. Our goal is to help music lovers everywhere connect with new artists, and in turn help artists reach out to new listeners.
I've always thought of the digital seven-inch as a cost-effective way to discover new artists, packaged in a cool format, recommended by a label whose taste you can trust. I love the digital 7'' concept, of which Ampeater is one of the finest examples (shout outs also to Bad Panda and Beko-DSL (Digital Single Label).

Ampeater already has over one hundred digital 7''s under their belt, which is a ton to dig into if you haven't been keeping up on your daily dose.

So to get you up to speed, I co-curated this introductory mix along with Ampeater's Ben Heller (also of Serious Business). It's chock full of artists who've been in heavy rotation on WFMU, already have music on the FMA, and/or are just plain rad and we want to help spread the word! 

Cerberus Shoal is the precursor to Strange Maine FMA heroes Big Blood  ::  Philly 6-piece Normal Love have released music on HIgh Two and performed at WFMU DJ Bethany's curated night at ISSUE Project Room.  ::  If you like that Chad VanGaalen, check out "City of Electric Light" live on CBC Radio 3.  ::  Debo Band and Pistolera have both performed live on WFMU's Transpacific Sound Paradise  ::  Life Partners feature Greg Kelley and a member of Major Stars  ::  White Suns are making some of the heaviest sludge Brooklyn's ever heard  :: Mount Eerie aka Phil Elvrum/Microphones needs no introduction

Oh, that's enough from me. Hit that Download Album button if you haven't already and let's let the music do the talking!