Mini Profile
jason on 10/31/2010 at 12:00PM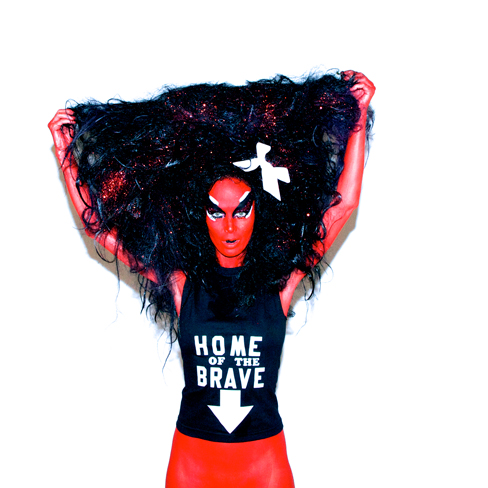 Just in time for Halloween, the FMA debuts Home of the Brave, the first new album in 13 years from The Voluptuous Horror of Karen Black. TVHOKB is an avant-garde/theatrical/punk/metal project (think The Plasmatics and Alice Cooper) founded in 1990 by NYC artists Samoa and Kembra Pfahler. From their performance at the 2008 Whitney Biennial:
Pfahler and Samoa formed The Voluptuous Horror in 1990 after ten years of making Super 8 horror films and visual and performance art that they felt would benefit from a musical soundtrack...Named in honor of cult horror film heroine Karen Black, Pfahler's band performs heavy-bottomed punk-metal songs amid elaborate hand-constructed sets where she engages an animalistic, fetishistic practice of acting out transgressive physical feats
While Pfahler's vocals and lyrics bring a trash-art/theatrical element ("I suck the shit out of your ass / to get on TV" she sings in Actresstocracy), musically this album smokes a modern-ized strain of classic hard rock bordering on metal and glam. The music's composed by bassist Adam Cardone (of the Toilet Boys). Magal drums with "pure carnal power" and Dave Weston shreds on guitar.
The Voluptuous Horror is best experienced live, and NYC locals can catch an all-ages show at Santos Party House [UPDATE: Don Hill's due to this] along with Hussle Club and Karen Black co-founder Samoa.
   >> Home of the Brave [full album]