Mini Profile
jason on 10/15/2009 at 12:44PM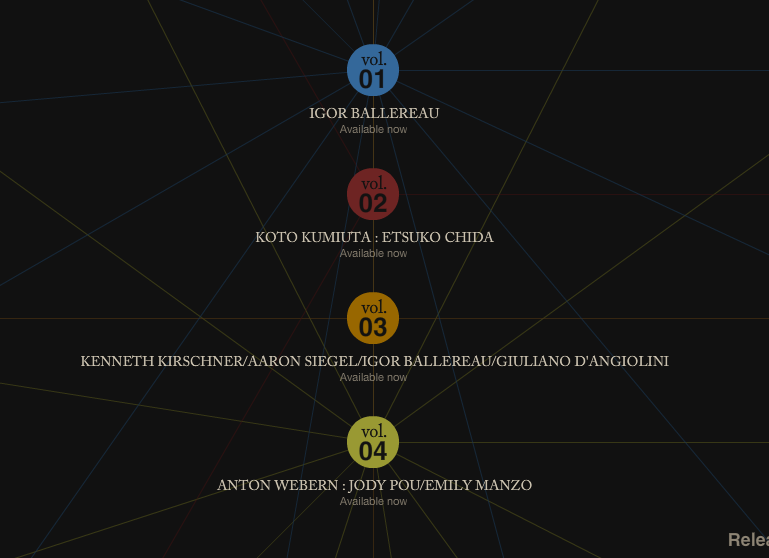 SHSK'H is a netlabel founded in November 2007 by avant-garde French composer Igor Ballereau, and the American-born soprano Jody Pou. The label curates a diverse, century-spanning mix of some of the finest avant-garde composition. The label began with Vol.1, an album featuring the spacious compositions of Igor Ballereau. (*audio samples from each album after the jump!)
Vol.2 offers three traditional Japanese compositions for koto and voice dating back to the 1600s, performed by Etsuko Chida. This is the release that tipped me off to SHSK'H, thanks to a feature on Free Albums Galore.
SHSK'H Vol.3 is a collaboration between Ballereau and contemporary avant-garde composers Kenneth Kirschner (specializing in ambient/electronic composition), percussionist Aaron Siegel (who contributes a wonderful timpani piece), and Italian composer Giuliano D'Angiolini. The album also features notable musicians like bassist Tom Blancarte, who recently performed with Peter Evans and Brandon Seabrook on WFMU's Long Rally program (mp3s).
On Vol. 4, the latest release from SHSK'H, vocalist Jody Pou and pianist Emily Manzo reinvigorate the work of the Austrian composer Anton Webern. Webern was a follower of pioneering serialist composer Arnold Schoenberg, a contemporary of Pierre Boulez, and a precurser to Stockhousen's electronic ventures into spatialization and serialism.
If you're wondering how to pronounce SHSK'H, check out their amazing website, SHSK'H.com. The site's design fits the experimental nature of the music perfectly -- the albums dangle on strings, and each record spins like a turntable. In a recent feature on Communication Arts, the site's design/development team Knowawall explained, "Igor and Jody of SHSK'H encouraged us to think outside the constraints of a traditional site and continuously pushed us to present them with something unexpected". Full SHSK'H releases are available to stream and download for free under Creative Commons Attribution-NonCommercial licenses (with an optional donation), and I suggest heading over to SHSK'H for the full experience.