You came this way:
Home
>
jason
>
Blog
>
HADOPI the French 3-strikes anti-piracy law/agency, meet Mr. Hadopi, the album by Vicnet on Da ! Heard It
jason
(FMA Admin)
Mini Profile
jason on 10/26/2010 at 03:30PM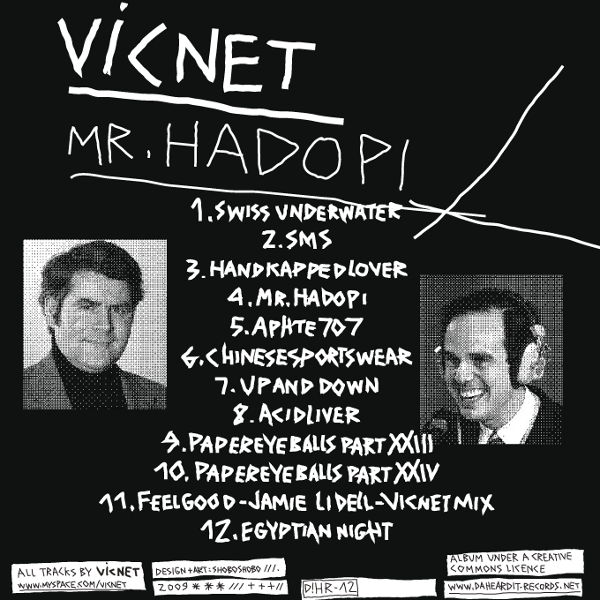 HADOPI is the French agency that handles the three-strikes anti-piracy law. 3rd strikes = you struck out of access to the Internet. And this week, Billboard revealed that French Internet Service Providers are sending out receiving 25,000 notices a day to alleged infringers from copyright holders. But the French government seems more than eager to invest in "anti-piracy" measures no matter the cost (monetarily or otherwise). Another interesting aspect of France's War On Piracy: they're subsidizing digital music sales to get young people (aged 12-25) into the habit of paying for mp3s (read more at Wired Epicenter / ars Technica).
I'm fascinated by all of this, and I'm hoping to find someone who can skype/call/stop-by to offer some insight during my WFMU-FM radio show & podcast (airs this Thursday morning NYC time). But France's HADOPI agency has not responded to my inquiry (they must be innundated with Outgoing mail), and neither has the author of La Bataille Hadopi. Does anyone have any tips/suggestions?
Speaking of Hadopi, how about some Mr Hadopi? It's an album by Paris-based artist Vincent Tordjman aka Vicnet. This release made a poignent opening to the year via the French netlabel Da ! Heard It, who write:

 

While Vicnet seems to mock future victims of the new Hadopi 2.0 law by welcoming with glee the Sarkozy government's initiative with his second album Mr. Hadopi, this album is more of a cry against an ubiquitous hypocrisy and a vibrant ode to free culture. Penniless and starving from long months of finicky work in the cold on this free album, he limited his desires-and eating habits- to the bare minimum, and changed his methods to create a purer music, less digital and warmer: a technoid and monstrously funky pump, lively and hyperactive.