Mini Profile
jason on 04/09/2010 at 09:15AM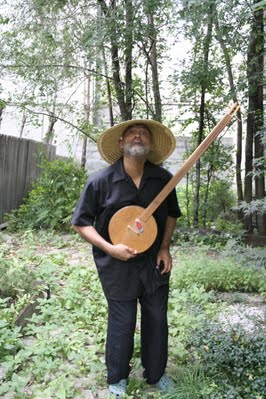 "Wow man, what were you thinking about when you wrote that?" Cooper-Moore asks himself in the note accomanying his recent retrospective. Divided into three sets and sampling work that had not been documented on his official releases (for labels like AUM Fidelity and Hopscotch), this collection is as diverse as the various identities Cooper-Moore has accumulated since 1946, when he was born, "Gene Y Ashton," in Virginia's Blue Ridge Mountains.
First, Cooper-Moore is a master musician; he began playing piano in church and turned to jazz at a young age, collaborating with the likes of David S. Ware in the 1970s. He went on to design and build instruments -- the electric mouth bow, a three-stringed fretless banjo, an ashimba-style xylophone -- which are works of art unto themselves. His penchant for creating music literally from scratch -- for building instruments from clay, paper, and bamboo as well as for his unconstrained approach to music -- is complemented by a rooted sense of art that came before, and of art as a folk tradition. For years, Cooper-Moore was the primary storyteller in a series of Sunday-night folktale sessions that took place in Brooklyn's Prospect Park, weaving ageless stories from Russia, Africa, and Native America with tales inspired by these traditions. Cooper-Moore is also a teacher and a music therapist who has given workshops around the world. A video from one such workshop, a master class in Holon, Israel (sponsored by FMA curator Halas Radio), appears after the jump.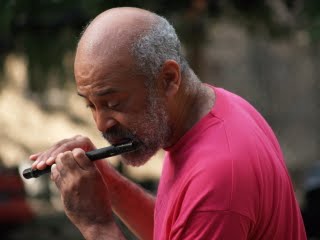 The retrospective encompasses all this and more. It includes live performances, short excersizes, and vocal pieces -- many composed for theatrical productions. Though some are purportedly fragments of a larger idea, they seem to work together to paint a larger picture; a flashback through twenty years in the life of Cooper-Moore, with snapshots of his creative mind at various points in time. Each piece is accompanied by detailed notes, available here on the Free Music Archive by clicking on the name of the song (or on the "i" that appears if you use the pop-up / embeddable player). These notes can also be downloaded or viewed online from the link in each album description.
Cooper-Moore: A Retrospective 1990-2010:  Set 1  |   Set 2  |  Set 3
In his introductory note on the retrospective's original Google Site (which he says he may take down this Saturday due to limited bandwidth, but has encouraged us to share), Cooper-Moore recalls an initial reluctance to look back rather than forward. Upon further inspection, he decided it would be a worthy endeaver "in order to gather up and move forward into the future". So this fascinating retrospective can also be thought of as a hint at what's next from one of the most creative musical minds of our time.
I've attached a few of my favorites from this incredible collection below, but encourage you to delve in to sets 1, 2, and 3 in their entirety. The FMA also hosts a fantastic ISSUE Project Room performance from a night curated by WFMU's music director Brian Turner, as well as a performance from the Brecht Forum featuring a collaboration with Elliott Sharp performed. Oh, and please follow the jump for the aforementioned video (via Halas Radio, who've also curated a performance from Cooper-Moore's duo with Assif Tsachar, Digital Primitives)
digitalartlab  —  July 02, 2009  — Master Class #1 - As the guests of the Israeli Center for Digital Art, Cooper-Moore visits a music class in Holon, a group of refugees new to Israel, and the students of the Democratic Arab School in Jaffa.

Cooper-Moore is an American jazz pianist, composer and instrument builder/designer based in New York City. Among the many instruments Moore has built are "a deedly-bo, a three-string fretless banjo and a mouth bow."

According to Cooper-Moore: "I have taken stuff out a dumpster to make an instrument which I have used at gigs. If you put me somewhere, and I had to play and didn't have an instrument, I'd get everything I needed and make an instrument within a few hours."