You came this way:
Home
>
jason
>
Blog
>
Fight For Your Right To Copy: Beastie Boys, "Now Get Busy"
jason
(FMA Admin)
Mini Profile
jason on 05/05/2012 at 01:11PM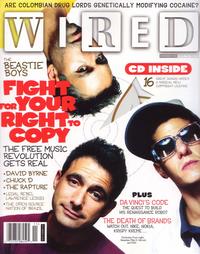 I was devastated to learn that Adam "MCA" Yauch left us on Friday. His life is full of moments to celebrate: License to Ill-era shenanigans on Japanese TV; the dense sample-based lyricism of Paul's Boutique; his return to the bass on Check Your Head and Ill Communication informed by the decade of musical exploration that followed the group's formation in NYC's hardcore scene.
The list of musical accomplishments could go on and on, but Youch used his position to advocate for causes he believed in. He organized the Free Tibet concert and more recently supported the Occupy Wall Street movement. He was not only a video director and filmmaker—including a 2008 documentary on rising high school basketball stars centered around Harlem's legendary Rucker Park—but a supporter of worldwide independent film. In 2008 he founded Oscilloscope Laboratories, releasing fifty films so far including Exit Through The Gift Shop, documentaries on Scott Walker, Youssou N'Dour, and William S. Burroughs.
One of the causes Adam Yauch fought for was your right to copy. The Beastie Boys began working with sample-based music before the Biz Markie lawsuit sparked the development of a sample-clearing industry. Although many of the samples on Paul's Boutique were cleared at the time at an expense of $300,000, if it were produced under today's copyright regime, some of those individual samples would have run a hefty $3-mil and the 2.5x platinum record would have lost $20 million dollars. In other words, it's not possible to make a record like that any more.
The Beastie Boys were early advocates for Creative Commons, and released today's featured track, "Now Get Busy," under the NonCommercial Sampling Plus license. The license was developed by Creative Commons in collaboration with Negativland, and though it was recently retired, it was a truly pioneering effort.
"Now Get Busy" kicked off 2004's Wired Magazine Creative Commons compilation The WIRED CD: Rip, Sample, Mash, Share alongside David Byrne, Chuck D, Spoon, Gilberto Gil, Le Tigre and many more. Less than two years after the launch of CC's first licensing suite, this was a high profile introduction to the movement, and the Beastie Boys were featured on the magazine's cover as digital music pioneers. In an interview with Eric Steuer, the Beastie Boys discuss why they were quick to embrace Internet radio and promotional mp3 downloads via their Grand Royal label, and Yauch shares his perspective on sampling as an art form:
"It's totally context...because not every sample is a huge chunk of a song. We might take a tiny little insignificant sound from a record and then slow it way down and put it deep in the mix with, like, 30 other sounds on top of it. It's not even a recognizable sample at that point. Which is a lot different than taking a huge, obvious piece from some hit song that everyone knows and saying whatever you want to on top of that loop. An example that's often brought up in court when we get sued over sampling is a Biz Markie track where he more or less used a whole Gilbert O'Sullivan song. Because it was such an obvious sample, it's the example lawyers use when trying to prove that sampling is stealing. And that's really frustrating to us as artists who sample, because sampling can be a totally different thing than that." (read more)
We asked for favorite MCA moments over at our Facebook page, and got some great tips along—feel free to chime in!