You came this way:
Home
>
jason
>
Blog
>
100 Years of Holiday Music: Who's Been Naughty, Who's Been Nice, Who's In the Public Domain
jason
(FMA Admin)
Mini Profile
jason on 12/22/2011 at 04:03PM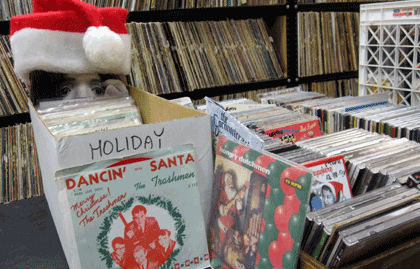 Pictured above is the holiday music bin that WFMU-FM music director Brian Turner puts together this time of year for the radio station's DJs to peruse.
The FMA has a virtual holiday bin as well, pointing to mixes from years past along with albums like The 8bits of Christmas, People Like Us at Christian Marclay's Sounds of Christmas, a psychedelic cassingle from Wooden Shjips, recordings from the U.S. Marine Band, Voices of Christmas Past, and many more holiday gems.  Browse by album at the Holiday Music Tag page, or browse by track at the Holiday Genre.
We are always on the lookout for quality recordings of free & legal holiday sounds, both traditional and unconventional.  Since so many popular holiday songs that are believed to be in the public domain are actually under copyright, it is important to provide these types of resources for Creative Commons and Public Domain holiday music.  DIY Musician compiled a helpful list of songs that are public domain, as well as songs that are still under copyright.
Below are a few holiday Creative Commons BY-NC-SA recordings from over a century ago, including popular Christmas carols from Germany at the turn of the century and a great Albert Whelan story from the UK, and BIlly Murray, courtesy of the Cylinder Archive.
I hope your holidaze are filled with good cheer, and good music! Feel free to share your holiday music recommendations by leaving a comment.