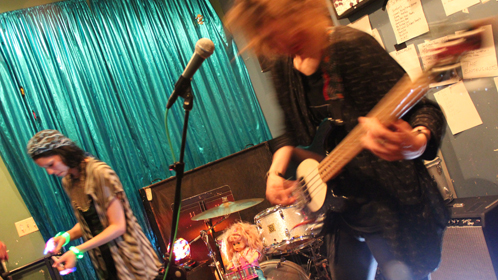 Jealousy in the Love Room (pic by Yvonne Szymczak)
This picture captures the last moment before the lights went out, the strobes came on, and everything went weird.  Great weird: disorienting, non-linear, exploratory, and those other catchy faves trippy, spacey, and whoah...
San Francisco-based Mark Treise's 4-year running project Jealousy takes a wildly disparate set of inspirations and distills them, coherently and brilliantly, through a bass guitar and his voice.  The bass is relentless, repetetive and symphonic; his voice is high & textural and occasionally takes on the cadence of Genesis Breyer P-Orridge.  Lyrics are abstract poetry that often seems to be on about some sex stuff or other.  Jealousy has been described as having come to fruition with last year's excellent Moniker Records LP "Viles" (dl the whole thing here on the FMA).  But while Mark has indeed sharpened his focus, this session on my radio show displays him very much still searching.  4 of the 5 songs played were largely improvised.
Mark was joined on this session by Alison Peery, who played theremin and the handheld Korg Monotron synth - Hawkwind-style swoops and sweeps abound.  The songs were dark as pitch, but the vibe here was very laid-back and open to whatever might happen.
Here's some major trippy light show video, shot by Yvonne Szymczak & David Van Dokkum.


Jealousy Live on WFMU from WFMU on Vimeo.
And here are some handy links:
Jealousy on the FMA, comprising the entire "Viles" LP, plus a live session on my radio show, and on Keili's
Jealousy on Myspace, Moniker Records on the FMA
Via WFMU » Visit Blog
» 1 COMMENTS
Obviously, you start with Suicide.  Then you hit the dusty highway & head backwards, about 15 years.  On the way, you stop at a Howard Johnson's where you pick up smokes and an underage girl.  Leaving, you spot a shoebox on the ground - it's filled with a stranger's snapshots, postcards and love-letters.  You take it, because this will contain your memories.  Heading back to the future, you make a pitstop in downtown NYC ca. 1981, just to wash up.
Now that you've got the basic ingredients for Dirty Beaches, you just need the right chef.  He is Alex Zhang Hungtai, a bi-coastal Canadian of Taiwanese birth and no place of his own.  Though currently, Montreal seems to be doing quite nicely.
Alex and guitarist Shub Roy recently made their first visit to WFMU, and I'm the lucky sumbitch who got to host & record them, while trying not to get drool on their sweet gear.  Korg MS-10 synth!  Ace Tone analog delay!  A homemade fuzz pedal!  Real nice mic too, I forgot to ask what that was.
Anyway, we're all real excited to share their live set with you, including an interview where we learn of other things happening in Montreal, and some upcoming releases, including 2 of Alex's film soundtrack projects.  An Italian horror film!!

Check out the video of their performance, and here's more Dirty Beaches on the FMA.
Via WFMU » Visit Blog
» 0 COMMENTS
Scott Williams Is a Fan Of...
Ignatz
,
Bruce Russell
,
Projekt Karpaty Magiczne / Magic Carpathians
,
Dirty Beaches
,
Oneida
,
Kurt Vile
,
ST37
,
Faust
,
Flaming Fire
,
Mors Ontologica
,
Suicide
,
Animals & Men
,
Kinski
,
Wooden Shjips
,
Bobb Trimble
,
Gary Wilson
,
King Kong Ding Dong
,
Hayvanlar Alemi
,
Angels in America
,
Steve Wynn
,
Xiao He
,
U.S. Girls
,
Glove Compartment
,
Mink Lungs
,
Phil Reavis
,
Bomis Prendin
,
Lucky Dragons
,
Nat Roe
,
Big Blood
,
Harmonia
,
Ethan Persoff
,
Amen Dunes
,
Jealousy
,
Brian Joseph Davis
,
Bolmongani
,
Bronhard/Going/Public
,
Grouper
,
Citay