Mini Profile
Free Music Archive MP3 of the Day's Blog
FMAmp3 on 05/17/2012 at 12:00AM
Via Free Music Archive » Visit Blog
» 0 COMMENTS
FMAmp3 on 05/11/2012 at 10:30AM
Via Free Music Archive » Visit Blog
» 0 COMMENTS
FMAmp3 on 05/09/2012 at 11:30AM
Via Free Music Archive » Visit Blog
» 0 COMMENTS
FMAmp3 on 05/07/2012 at 12:30PM
Via Bad Panda Records » Visit Blog
» 0 COMMENTS
FMAmp3 on 05/03/2012 at 11:50AM
Via Free Music Archive » Visit Blog
» 0 COMMENTS
FMAmp3 on 04/26/2012 at 04:00PM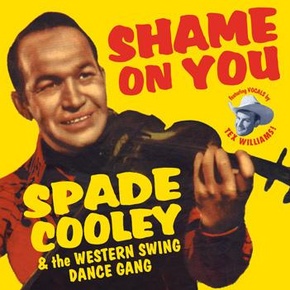 One of the most notorious figures in country music history is western swing pioneer Spade Cooley. Cooley was known as the "King of Western Swing" in his heyday, but due to a gruesome incident in his private life, he is often viewed these days more as the Sid Vicious of Western Swing. His is a model lesson in how a brilliant musical legacy can be overshadowed by unsavory personal problems. (via JoeMc, "He Did It Then" —> Read More)
This song features Tex Williams on vocals, and can be found on Shame On You, a set of music from Space Cooley & The Western Swing Dance Gang featuring Tex. The collection was issued by Bloodshot Records' Bloodshot Revival Series.
The Bloodshot Revival Series is a fantastic historical resource for country music in the early/mid 1900s, with a focus on the music of Bloodshot's hometown of Chicago.
Browse more promotional Bloodshot Revival/Soundies tracks on the FMA, and pick up these fantastic reissues at Bloodshot Records. Show 'em some love in honor of Preservation Week (#preswk12)!
Via Free Music Archive » Visit Blog
» 0 COMMENTS
FMAmp3 on 04/19/2012 at 05:00PM
Via Free Music Archive » Visit Blog
» 3 COMMENTS
FMAmp3 on 04/18/2012 at 01:00PM
Via Free Music Archive » Visit Blog
» 2 COMMENTS
FMAmp3 on 04/17/2012 at 03:00PM
Via Free Music Archive » Visit Blog
» 6 COMMENTS
FMAmp3 on 04/16/2012 at 11:50AM
Via Free Music Archive » Visit Blog
» 1 COMMENTS