Mini Profile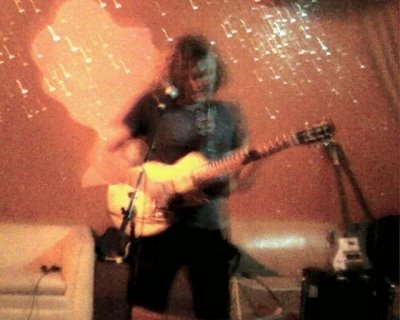 Gary War is a New York based artist who might be best known as a former member in Ariel Pink's band, but his solo career, which includes several albums that are up for download here on the Free Music Archive, is a truly unique spectacle. His songs phase in and out, with warped filters and dreamy keyboards, making a feeling of nostalgia similar to that of the music of Ariel Pink, although it is in a much more psychedelic context than Pink's music. The great thing about War's form of psychedelia is that no two listens to a song will be the same, as with each listen different layers and melodies bubble and pop, creating a new experience each time. This is great stuff!
I interviewed Gary War via email.
Let's start off with the typical "interview" questions... who is Gary War? When did you start playing music? Who are your influences?

I created the pseudonym in the mid-90's while hanging around some heavy metal guys. Its better than my real name! Around the same time, I started recording experimental cassettes under that name... I started off doing backing vocals in an Armenian dance band when I was a small kid...These days I mainly listen to Rap and watch Trailer Park Boys.
Your records use a lot of different effects on them, many of which are not too common in modern pop music... things like strong phasers and warpy flangers. When did you start using these effects? Do you have any favorite pedals?
Around high school I started messing around with a bunch of them together, getting different textures and thats how its been going since. Depending on the song, any combination can work. Set up 6 for each foot and see.
I feel like in a way, with the songs on your records being so disjointed and effected, it almost goes to the listener to interpret how the song itself "goes." This is something I've always liked about your music, as it feels very catered to a personal, intense sort of listening where everyone who does will have their own experience. Do you agree with this?
Yeah definitely. The songs all have strict structure but I try to layer them so that listeners can extract new things each time and interpret different textures depending on their mood going in.
You've done a few collaborations: Roman Soldiers with Blank Dogs, "Surfer Girl" with Velvet Davenport and Ariel Pink, a song with Kurt Vile, and more. Any current ones underway?
I'm working on a a project called Human Teenager with my friend Taylor who previously played in Infinity Window. I'm also going to produce a solo record for Beans of Anti-Pop Consortium.
Your video for "Hope for the Future" has all these awesome images from what appears to be some kind of 60's rock opera sort of movie. Where do the images from that video come from?
I'm not sure really. Someone just made it and put it online.
Are there any new artists who have recently caught your attention?
Hartley C. White from Queens is real good. He has four cd's out, all good.