About Artifacts/yclept
hfayekay on 04/30/2014 at 02:45PM
Direct from Richmond, Virginia, underground label ARTIFACTS/yclept offers a goldmine of early 70s/80s jazz improv & post-punk sounds from related outfits Idio-Savant & Orthotonics.
A pure example of the textural free-jazz inspired sound from the thick of the new wave scene of the 70s & early 80s, Idio-Savant trumpeter Paul Watson described their process being "…like a trance like state or automatic type of playing." (Milwaukee Journal, Dec.1988) Their emotionally driven, form-defying yet maturely crafted improvisations were further lauded by such institutions as the Richmond-Times Dispatch, Cadence Magazine, & Jazz Digest. A few musical configurations later, a version of Idio dubbed "Orthotonics" successfully experimented with steering the stochastic sound into a more melodic direction, complete with post-punky intellectually warped lyrics like "Too Hot to Trotsky."
The FMA is happy to annouce 3 albums from Idio-Savant: Shakers in a Tantrum Landscape ('79), The Alpha Audio Sessions ('79), & Trans-Idio ('81) & 3 more from Orthotonics: Accessible as Gravity ('83), Wake Up You Must Remember ('84), & Luminous Bipeds ('86) now available for your listening & downloading pleasure! PLUS! You would be remiss to forego the wealth of information & graphics in the bonus biographical PDFs provided for both bands bands here (Idio) & here (Ortho).
Stay tuned for more gems from the ARTIFACTS/yclept vault coming to the FMA in the near future! 
Via Artifacts/yclept » Visit Blog
» 1 COMMENTS
blxl on 06/21/2013 at 04:15PM
The newly released Artifacts/yclept 2-disc compilation Necroscopix (1970-1981) is a simple documentary survey of a very particular time and place; a sliver of a local culture — made in imitation of, or perhaps as a salute to the work of musicologist, Dick Spottswood, one of our heroes. The best stories can't be told in this amount of space, but here's an outline.
"...in Richmond, or in any Southern city for that matter, you do see types now and then which depart from the norm. The South is full of eccentric characters; it still fosters individuality. And the most individualistic are of course from the land, from the out of the way places." 

 — Henry Miller,
"The Air-Conditioned Nightmare" (1945)
The oddest of us were, to be sure, not from the Big City, but while many here came from places like Boones Mill, Roanoke, Martinsville, Clarksville and Culpeper in Virginia, and Winston-Salem and Greensboro in North Carolina, nearly half came from the D.C. suburbs, all converging on the urban scene around the art school at Virginia Commonwealth University in the late 1960's.
And, if the South is indeed full of "eccentric characters," what is art school, if not a universally potent magnet for creative misfits? There isn't a person on these two discs who ever intended to be what the Japanese call a "salary man," and though most succeeded in that intention, some inevitably succumbed, while more than a few died resisting in their own way (see the list, please) — and others just disappeared.
Richmond is less than 100 miles from Our Nation's Capital, which in pre-digital days was still worlds away from the major centers of the Counter Culture on the West Coast and in NYC, and that remove forced us to interpret and synthesize a take on the zeitgeist that was uniquely our own.
READ MORE
Via Artifacts/yclept » Visit Blog
» 2 COMMENTS
jason on 07/07/2010 at 02:00PM
Single Bullet Theory were a DIY-punk-inspired power-pop group with a true shot at new-wave stardom in the late 70s and early 80s. They were certainly worthy; the songs were there and the energy was too. But after gigging with artists like The Ramones, Talking Heads, Patti Smith, and even finding their way onto MTV and the Billboard charts, the music industry bottleneck pressured SBT to sacrifice their pure vision for potential mass-marketability. In the process, the group lost the sense of purpose that drove them to play music in the first place, and disbanded before they could record their elusive breakthrough.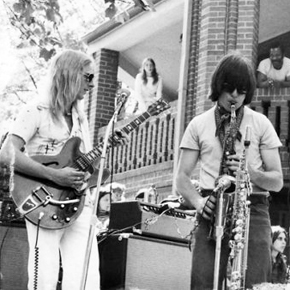 SBT: 1977-1980 compiles Single Bullet Theory's self-recorded material, and the 11-song collection offers an unfiltered vision of a band at their prime. It's compiled by Artifacts/yclept, which is both a musicians' collective from SBT's hometown of Richmond Virginia, as well as the imprint that originally released this material on 45rpm 12'' in an edition of 1000. We've previously documented the more experimental tendencies of Richmond's fertile arts scene with features on Karen Cooper Complex and Bomis Prendin, but there is much more to dig into over at the Artifacts/yclept FMA page.
The core of Single Bullet Theory -- Frank Daniel, Dennis Madigan, and Michael Maurice Garrett -- had been playing in Richmond bands since 1971 in groups like Big Naptar and X-Breed (pictured L), putting on warehouse parties and fostering a healthy music community. Both of these bands appear on the first Artifacts compilation, originally released as a flexi-disk in 1976 (they love those flexis!). X-Breed's version of "Miss Two Knives" was later recorded as Single Bullet Theory, who formed in 1976 to further refine a sound that had started by covering bands like the MC5, Velvet Underground, and the Troggs.
One of the songs below, "Keep It Tight," would be re-recorded for Single Bullet Theory's first (and only) official album, released in 1982 on Nemperor Records, a subsidiary of CBS Records. The song charted, a music video (after the jump) appeared on MTV two years later just as the label stopped promoting the band.
READ MORE
Via Artifacts/yclept » Visit Blog
» 1 COMMENTS