You came this way:
Home
>
FAQ
FAQ
What is the Free Music Archive?
The Free Music Archive is an interactive library of legal audio downloads directed by legendary freeform radio station WFMU.
The Archive revolves around our Curators, who select and upload all the music you'll find here. Curators come from all over the world and have a wide range of experience with good music. They include freeform radio stations, netlabels, artist collectives, performance spaces, and concert organizers. If FMA were a radio station, the curators would be our awesomely obsessive DJs.
In addition to enjoying and downloading free music, site visitors can set up their own accounts, make profiles, become friends with other listeners, create and share mixes of FMA music, and write posts on a their personal blogs. Listeners can also show their appreciation to FMA artists by adding them as favorites or even "tipping" them directly through the site.
Together, our curator-driven library and our distinctly social architecture create a platform that both guides and is guided by listeners. For more on FMA's philosophy and mission, see our About page.
What do you mean by "Free Music"?
All music you'll find here is free, meaning that it is available for you to download at no cost. What else you're allowed to do with the music varies depending on the license that's associated with each track.
Is the music on FMA free of copyright restrictions?
Some is, but a lot isn't. Works that aren't subject to any copyright restrictions are said to be in the public domain, which means you're free to do pretty much whatever you want with them. A work on FMA could be in the public domain for a couple of reasons. First, it's possible that its copyright term has expired. (Generally, until 2018, only works made prior to 1923 fall into this category). Second, it's possible that the work's rightsholders have waived all their rights.
Most recorded music, however – including much of what you'll find here – is copyrighted. After all, copyright protection springs into being whenever an artist writes or records a song. And, copyright owners have exclusive control over the bulk of uses of their copyrighted work, including downloads and remixes.
If a lot of the music on FMA copyrighted, how is it legal for me to use it?
For every copyrighted work uploaded to the Archive, a Curator has received permission from the rightsholders* to make that work available for free public download. Some rightsholders only want their works downloaded for personal use. Other rightsholders have also given permission for their music to be used in a variety of other ways, from simply being re-hosted on your website, to being remixed or incorporated into your film.
 FMA artists give their permission through licenses. A license is an agreement that prescribes the terms under which a copyrighted work may be used. Many of the licenses that cover works on the Free Music Archive are so-called "Creative Commons" (or "CC") licenses. CC offers a suite of pre-written licenses, each of which comes in three formats: one that humans can read, one that lawyers can read, and one that computers can read. The majority of FMA's artists Curators use CC licenses to comprehensibly express the kind of permission they want to give.
How do Creative Commons licenses work?
Currently, there are six CC licenses, which allow varying degrees of use and impose varying requirements on users. To achieve this diversity of options while keeping things relatively simple, CC mixes and matches four key license terms: Attribution, NonCommercial ("NC"), NoDerivatives ("ND"), and ShareAlike ("SA").
A brief rundown of the terms: NC allows you to use the licensed work non-commercially (which means you need additional permission from the rightsholder before using the work for commercial purposes); ND means you cannot build upon or remix the work; SA allows you to remix a work so long as you share it under the same CC license that covers the original work; and Attribution, which is currently in every CC license, requires you to give credit to the rightsholder when you use the work.
For a more detailed explanation of CC's license terms and a summary of each individual license, click here.
What exactly does "Non-Commercial" mean?
Creative Commons defines "commercial purpose" as "primarily intended for or directed toward commercial advantage or private monetary compensation." In many cases, this definition is easy to apply. Making a mix and giving it to your friend is a non-commercial use; making a mix and selling 100 copies of it isn't. 
Unfortunately, many cases aren't nearly that simple. This is particularly true online, where ad-supported blogs and other evolving revenue models have blurred the lines between non-commercial and commercial. Here are some links that might help you to figure out whether a particular use is commercial or non-commercial.
Creative Commons FAQ:
Is use X a violation of the Noncommercial clause of the licenses?
Creative Commons study:
"Defining 'Noncommercial': A Study of How the Online Population Understands 'Noncommercial Use'"
Creative Commons listserv:
"Use cases for NonCommercial license clause" 
The CC study linked above might be particularly helpful. In September 2009, CC published the results of an extensive survey gauging how creators and users in the U.S. online population define "non-commercial." One part of the survey presented respondents with specific uses and asked them to rate the uses on a 0-100 scale, where 0 was "definitely a non-commercial use" and 100 was "definitely a commercial use." 
The study summarized the results: "[C]reators and users generally consider uses that earn users money or involve online advertising to be commercial in nature, while uses by organizations, by individuals, or for charitable purposes are less commercial (but not decidedly noncommercial) and harder to classify overall. Qualifiers, such as whether the user is a not-for-profit organization or for cost-recovery purposes bear an impact on how they are classified - in this case, typically making the use less commercial." (CC Study, p. 73). Check out the graphs on pages 57 – 66 of the study for some more information.
So, for example, for all the specific uses that involved direct sales or ad-supported websites, the average rating was above 50 among both creators and users. But within those categories, ratings varied. Creators gave an average rating of 85 to a work used on a webpage supported by ads where the user profits from the ads, but an average rating of 75 where the user's profits were used solely to cover hosting costs.
It might seem backward to figure out the meaning of a contractual term by looking at the opinions of online creators and users, but it actually makes some sense, both for you as a user and for Creative Commons as an organization. After all, it's online creators and users like the ones surveyed that actually adopt and operate under CC licenses. 
As you can tell, there is not bright line to draw between commercial and non-commercial, and you shouldn't take the information you find above as formal legal advice.
What exactly does "derivative work" mean?
"Derivative work" is a legal term that comes straight from the Copyright Act. Here's how the law defines it, in part: "A 'derivative work' is a work based upon one or more preexisting works, such as a translation, musical arrangement, dramatization, fictionalization, motion picture version, sound recording, art reproduction, abridgment, condensation, or any other form in which a work may be recast, transformed, or adapted."
Generally speaking, mash-ups and remixes are derivative works. Under CC licenses, incorporating a song into a video is a derivative work, too. For more on what is and isn't a derivative work, see the Creative Commons FAQ, "Does my use constitute a derivative work or an adaptation?"
What's the deal with the music that's neither CC-licensed nor in the public domain?
The Curator should tell you about the rights situation for music that's neither CC-licensed nor in the public domain. One possibility is that another, non-CC license might apply – e.g., there's currently a special license called the "FMA-limited" license, which gives users permissions only to download a song and listen to it privately. It's the most restrictive license you'll find here, and generally (though not exclusively), you'll only find it on newly released songs from established record labels.
I'm not sure about whether I have permission to make a certain use. Who should I contact?
As a general matter checking with the Curator is a good idea. Creative Commons and the FMA can't give you definitive answers about particular uses. Creative Commons simply makes available a group of pre-written licenses, and they generally don't know anything about the specific works that are the subjects of CC licenses. Similarly, FMA doesn't know anything about the specific terms under which artists offer their music other than what the Curators tell us. So, when in doubt, your best bet is to ask the Curator.
*Music copyright is one of the most complicated areas of copyright law, partly because every piece of recorded music has two separate copyrights, one in the "composition" and one in the "sound recording." In a simple world, every song's composition copyright would be owned by its writer, and every song's sound recording copyright would be owned by its performer. (For example, Jeff Buckley would own the sound recording copyright in his cover of "Hallelujah," and Leonard Cohen would own the copyright in the composition.) But since copyrights can be and usually are bought, sold, split up, or given away, finding out who owns each of the rights to a given song can be really a difficult task. It's also a task that you don't have to worry about when you're using FMA. 
Keep in mind that this FAQ doesn't give individualized legal advice. For advice regarding your specific use issue, you should contact a lawyer. 
Helpful Creative Commons Infographic: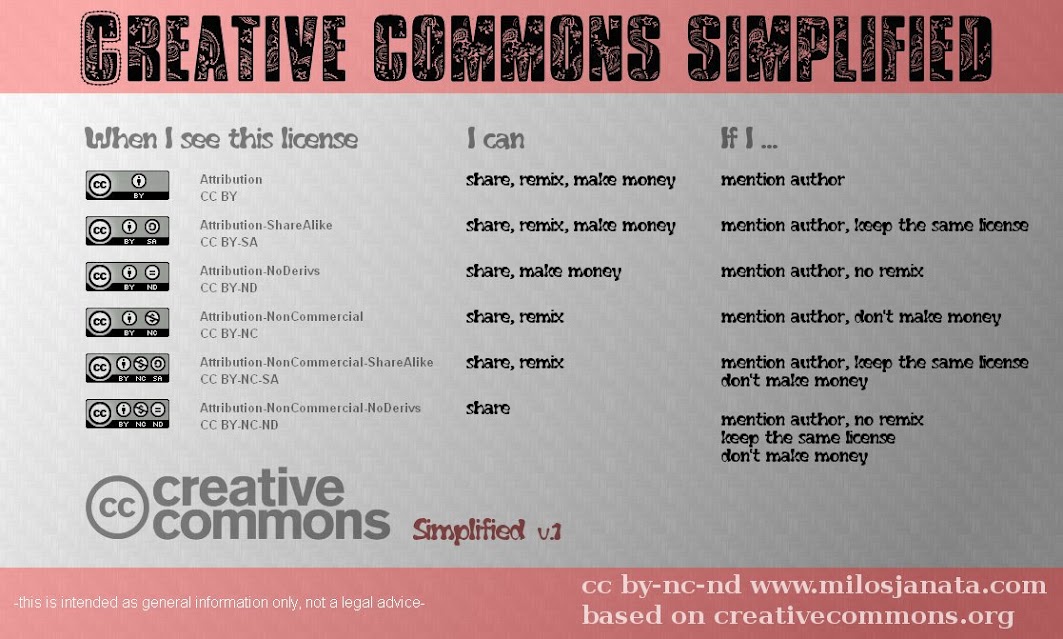 DISCLAIMER: The FAQ provides general information about legal topics; it does not provide individual legal advice. The FMA provides this information on an "as-is" basis. Use of this FAQ does not create an attorney-client relationship between the FMA and the user, and the FMA disclaims liability for damages resulting from its use.