You came this way:
Home
>
WFMU
>
Blog
>
Vialka Rock the Sun w/ SolarSoundSystem in India
WFMU : Freedom is Freeform!
About WFMU
jason on 03/06/2012 at 07:00PM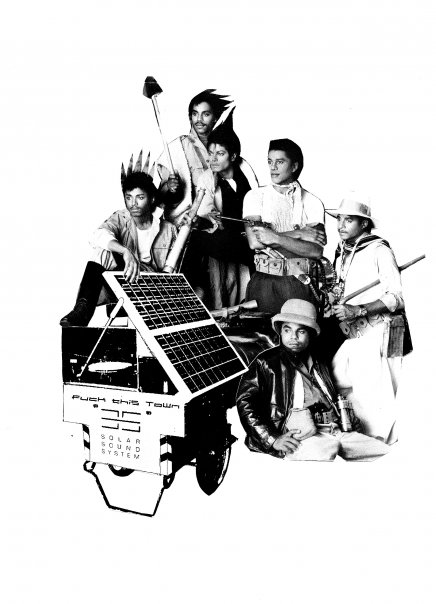 As Vialka, Eric Boros and Marylise Frecheville cover a breadth of sonic terrain inspired by physical space. Their music—a rich tapestry of European prog rock, funereal folk, Saharan blues, gypsy punk, traditional Chinese ballads, and mathy rock excursions—soaks up input from the myriad cultures they've traversed in over a decade of constant touring far off the beaten path.
This month, Vialka travel to India for Rock the Sun, an interactive collaboration with Cédric Carles' 3S Solar Sound System to promote sustainable energy:
"The team will build a mobile solar powered sound unit that can be operated without using the electric grid. After the onsite construction of the solar powered unit at Jaaga in Bangalore, the team will demonstrate its functioning at presentations, lectures, DJ-sets and concerts by Vialka in Bangalore and Pune."
Vialka's corner of the Free Music Archive has recently been updated to include several full albums, and is also linked up with the duo's solo projects, side projects, and collaborations.
Science & Superstition, their most recent LP, offers an acoustic barritone take on classic Vialka tunes like "100% Hello" and "Petit Mot" alongside a distinctly vialkan mix of traditional songs in Russian and Hebrew, tributes to Hungarian and Armenian groups, plus a guest saz solo:
The album is available for sharing throughout the world wide web under a Creative Commons Attribution-NonCommercial license. You can send donations or purchase LP/cassette versions at vialka.com.
Related Articles:
>> Vialka: Plus de vie que la musique (Joe Mc) 
>> Vialka Live at WFMU Plus Xiao He (2010)