You came this way:
Home
>
WFMU
>
Blog
>
The Paparazzi's Rococo Tape: Classic Pop Seven Yea…
WFMU : Freedom is Freeform!
About WFMU
jason on 04/25/2011 at 03:30PM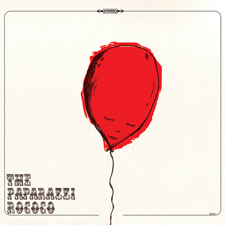 I first heard the Paparazzi song "The Rococo Tape" last year on one of the great Ampeater Free Music Archive compilations, and it was at the top of the pops (my pops), packing a ton of unconventionally hook-y ideas into less than two minutes.
I didn't know much about the group at the time, but Cleveland guitar hero and frequent WFMU guest Doug Gillard heard me play this song on WFMU before and he plays with Erik Paparazzi himself in Bambi Kino, so they brought some copies of this Serious Business Records release when they played live on Joe Belock's show earlier this month.
Turns out Erik Paparazzi originally recorded this album Rococo way back in 2003/2004, but didn't finish it until last year. Maybe because he's devoted more time to his other projects (like backing up Cat Power) or maybe it's because, even though the album has a real breezy organic almost lofi feel, it's clear that a lot of compositional craft went into each these nine tracks. Reminds me at various times of Big Star, Julian Lynch, some displaced Elephant 6...
The LP/CD is out on Serious Business Records, and while they're selling digital copies on iTunes, they also put the whole album up for free download here on the Free Music Archive and Soundcloud. Please listen, and if you enjoy, you are encouraged to help spread the word! Let's hope we'll soon hear more from The Paparazzi.