You came this way:
Home
>
WFMU
>
Blog
>
Such Fun! Cave Bears emerge from MA's Feeding Tube
WFMU : Freedom is Freeform!
About WFMU
jason on 08/08/2011 at 05:00PM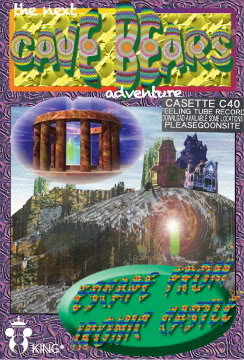 Cave Bears  is the incredibly bizarre, noise-drenched, brain-damaged sound exploration project of pre-school teacher Nick Williams, Carrie Bren & friends.
Cave Bears emerged from the same Massachusetts Such Fun Feeding Tube as Fat Worm of Error and Sam Gas Can, and have releases on some of the finest small-run tape/LP/CDr labels (Ozonokids, Yod Tapes, Grasshopper's Baked Tapes, Feeding Tube). If you throw in some self-releases and a few completely unique improvised live performances, you've got the Cave Bears FMA Profile offerings.
Jazz Hands, is embedded below, along with Horrible & Useless (Yod), which the Village Voice suggested as part of their profile and interview this week, and the Escape From Ironic Castle VHS (Feeding Tube) is pictured at right...
Cave Bears are notorious for their improvised live shows, which are often documented on tape and with video links from their suchfun live archive.
They're on tour right now with Amber Girls and a new Jump To Your Bed LP + Feeding Tube cassettes/VHS/CDR, and played Greenpoint on Wednesday with avant sound purveyors Opponents, Hexbreaker Quartet (memb Grasshopper + Telecult Powers), and Ric Royer. It was an early show, and I am upset to have missed it.