You came this way:
Home
>
WFMU
>
Blog
>
New Smersh comp: "We Like To Be Listened"
WFMU : Freedom is Freeform!
About WFMU
jason on 06/21/2011 at 03:16PM
A little over a year ago, WFMU featured Smersh -- "NJ's Prolific Legends of the Cassette Underground" -- to coincide with the release of the Smersh Library Sampler -- 15 tracks recorded between 1983 and 1994.
Working out of a Piscataway basement full of seemingly endless musical toys and creative inspiration, beat studio guru Mike Mangino and vocalist Chris Shepard wrote & recorded one song every week dating back to 1979. So this sampler was just scratching the surface of Smersh's tremendous and influential output, which ranged from industrial to pop to electronic to noise and earned them a cult following all over the world.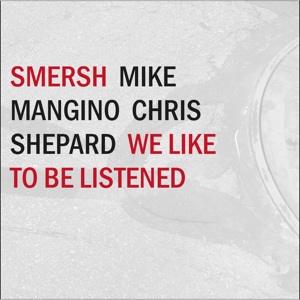 Mike has recently made some of the Smersh catalog available again through his Mirandette Popular label, along with newer electronic works by artists including The Dirty Outlet and Andrew Mascardi. From the label website: "M-Pop Recordings is a really, really small music label. We're so small we're almost microscopic. Contact us for our latest catalog."
This week, M-Pop announced the newest Smersh compilation is here: We Like To Be Listened includes five tracks that were also part of the Smersh Library Sampler (below) along with 15 more gems culled from Smersh's vast output. A personal favorite is the outtake of "Sweet Little Bishop," a bizarro-world Michael Jackson sorta sick jam which was the first Smersh recording I ever heard (via 7" on Börft), but really every track is a hit and if you like these sounds, you will like listening to We Like To Be Listened.