You came this way:
Home
>
WFMU
>
Blog
>
San Franciscan Art-Punk from Club Foot (Subterrane…
WFMU : Freedom is Freeform!
About WFMU
jason on 08/17/2010 at 05:00PM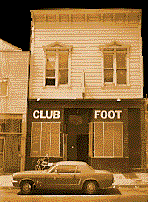 The Club Foot LP is named after one of San Francisco's premier artist-run venues of the late 70s/early 80s, and documents the jazz-punk-DIY-situationist sounds nurtured therein. Originally released in 1981 by legendary local imprint Subterranean Records (Flipper, Dead Kennedys, Inflatable Boy Clams), it was recently repressed in a limited edition of 450 12'' LP's to coincide with Club Foot's 30th anniversary and an "Artifacts from SF's Art Punk Cabaret" event at the San Francisco Public Library.
Club Foot was founded by Richard Kelly, a student of John Cage who sought to "marry high art values to the vitality of underground performance art; to fuse Frank Sinatra, Roy Orbison and Albert Ayler and project that onto the art-rock stage" (this from an article on Club Foot's history at the Club Foot Orchestra's website). The Club Foot Orchestra was originally a revolving cast of characters from the local scene, including members of the bands who appear on this compilation: Bay of Pigs, Alterboys, Longshoremen and Naked City (not the Zorn one). Though the original Club Foot closed its doors in 1985, the Club Foot Orchestra it spawned continues in a sort of tribute to the sounds heard on this recording, but now specializing in "modern music for silent film".

A few copies of the Club Foot LP repressing are still available from Subterranean. Bay of Pigs, Alterboys and Longshoremen all performed at Club Foot's aforementioned 30th anniversary celebration earlier this year at Cafe Du Nord, and we hope to hear more from them soon!